I love noodles and rice noodles are one of my favourites as I find rice noodles less oily than egg or yellow noodles. Rice noodles are usually sold dried and consists mainly of rice powder/ flour. There are so many delicious ways to cook these noodles - ranging from stir-fried, steamed and of course served in soup or broth. Today's feature was concocted while walking around in the grocery store - I had initially wanted to make potato salad but somehow ended up making rice noodles in soup instead! Even though I love potato salad, I can't eat too much of it probably because I'm not a huge lover of mayonnaise or sour cream.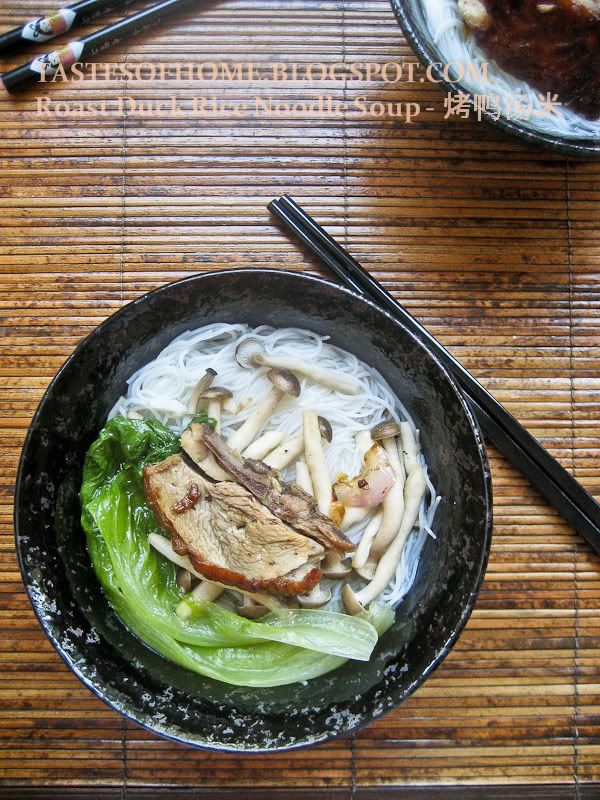 Anyways, today's rice noodles (米粉) or also known as mee hoon/ bihun in Malaysia are simply served in home-made chicken and anchovy broth topped with shimeji mushrooms and roast duck. I used roast duck as we had some leftover from dinner the night before. If you don't have roast duck readily available, just substitute with chicken or shrimp. I tried the noodles without the roast duck as well and they were still very satisfying as the shimeji mushrooms and the lettuce add good texture to the dish.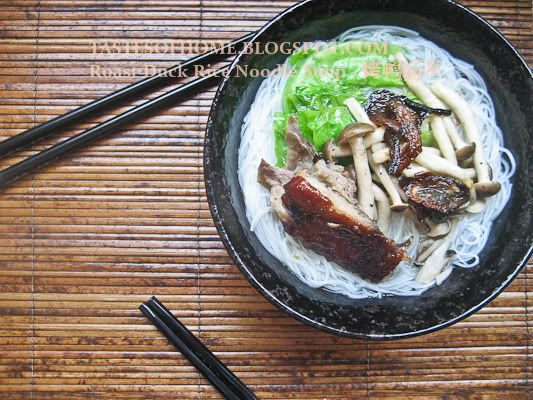 I am submitting this to Presto Pasta Nights created by Ruth of Once Upon A Feast which is hosted by Helen of Fuss Free Flavours this week. Check out the link if you want to join in the fun!




Ingredients:

1 packet of rice noodles (adjust depending on how many you are serving) - soaked in cold water and drained
1 small box of shimeji mushrooms
1 tbsp abalone sauce
2 small bunches of lettuce
4 cloves garlic, minced - for garlic oil
1 large shallot, sliced finely
8 pieces of roast duck (substitute as desired)
Splash of light soy sauce

Broth:

1 cup of dried anchovies (soaked and drained)
1-2 tbsps of chicken powder (or use home-made chicken broth if available)
6 cups of water
1 tbsp garlic oil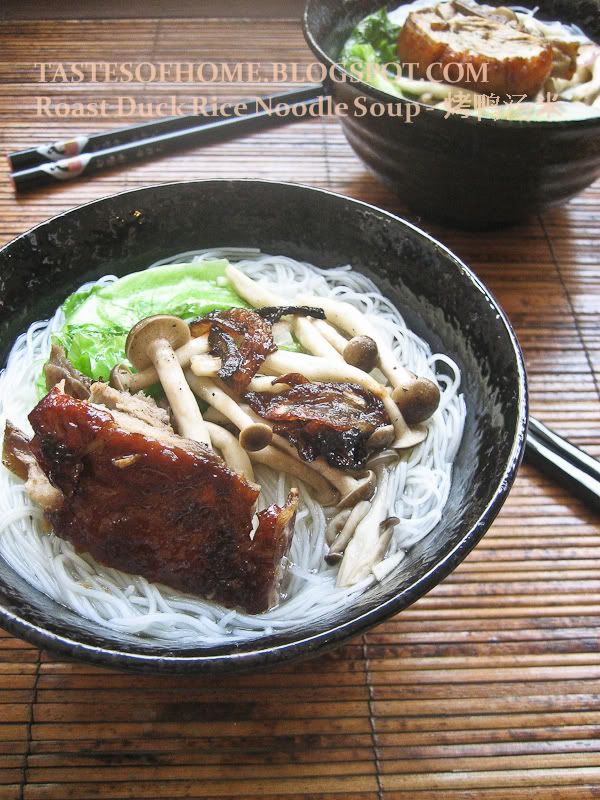 Method:

Firstly, prepare the rice noodles by soaking in cold water for about 20 minutes. Drain and set aside. Prepare the garlic oil by either stir-frying the garlic in a wok or just place the minced garlic in a bowl with 1 tbsp cooking oil and microwave for about 30 seconds on high.

Next, prepare the broth. Boil the 6 cups of water in a soup pot. Add the anchovies and chicken powder once boiling. Turn heat down and add the garlic oil prepared earlier.

Next, heat about 2 tbsps of oil in a wok and on medium heat, add the sliced shallots to make shallot oil. Watch the shallots carefully to ensure they don't burn as they will then turn bitter. Remove the shallots including the oil once golden brown from the wok. We will spoon this oil on top of the noodles when serving for added fragrance.

Now, stir-fry the shimeji mushrooms in the abalone sauce quickly - this should take around 30 seconds. Remove from wok. Stir-fry the duck pieces as well in a splash of light soy sauce. Remove from wok and set aside. When you are ready to serve the noodles, place the rice noodles in individual serving bowls. Place the lettuce in the hot broth (as lettuce wilts really quickly). Spoon the mushrooms and roast duck pieces on top of the noodles. Finally, spoon the broth with the lettuce on top of the noodles. Spoon 1 or 2 teaspoons of shallot oil on top of the noodles right before serving. Serve hot.