Here's an 'unconventional' way of cooking macaroni - this method of cooking macaroni is extremely popular in Asia especially in Hong Kong's famous 'tea cafes' (茶餐厅) which feature a lot of quick and delicious fusion cuisine. Today's macaroni is simply stir-fried with shallots and oyster mushrooms with splashes of soy sauce and sesame oil. This is a great method for using up leftover ingredients as you can see - I had one lone carrot and half a packet of oyster mushrooms sitting in my fridge after cooking my japchae earlier and I thought this would be the perfect method to finish up the ingredients. You can be creative with the ingredients and add whatever you prefer.




Apart from stir-frying, macaroni is also great cooked in some chicken broth - especially comforting when one is feeling ill as well.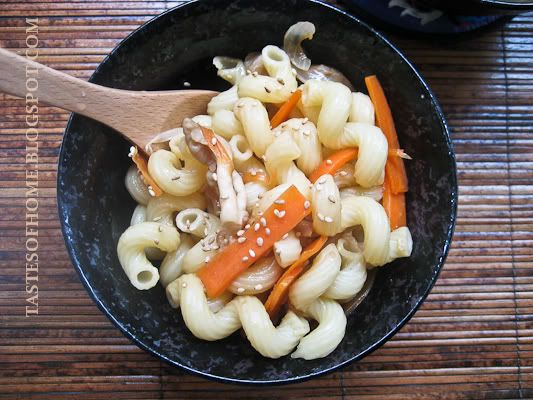 I am submitting this entry to Presto Pasta Nights created by Ruth of Once Upon A Feast. Check out the link for more information on how to join in the fun!




Ingredients:

1 packet of macaroni
1 large carrot, chopped into matchsticks
1 medium shallot, sliced finely
1 cup of oyster mushrooms, sliced
3 cloves garlic, minced
Toasted sesame seeds for garnish (optional)

Seasoning:

1-2 tbsps light soy sauce
1/2 tsp sugar
1 tbsp Chinese Rice Wine (Shaoxing Wine)
Dash of sesame oil




Method:

Firstly, cook the macaroni as you would usually according to package instructions. Drain but do not rinse. Place cooked macaroni in a large bowl. Set aside. Saute the garlic, then shallots in 1 tbsp of cooking oil till fragrant. Turn heat lower and saute the oyster mushrooms and carrots for about 1 minute. Add the soy sauce, Chinese rice wine and sugar. Add in the macaroni into the pan and stir well to coat. Add a splash of sesame oil and stir well again. Place in serving bowl and sprinkle with some toasted sesame seeds.