Sweet green bean soup is an extremely popular Chinese and Malaysian dessert. Today I am featuring the Malaysian Chinese version where candied coconut or gula melaka (Malay) is used to replace regular sugar. Gula Melaka is essentially the sugar from the coconut tree and is added to many popular Malaysian desserts for its' rich aromatic fragrance. Gula Melaka syrup is also used in the popular Chinese tofu dessert, 'tau fu fa' and even serves as a great topping for caramel custard.




Green or mung bean soup is believed to have heat-relieving (清热) properties so much so that women are usually advised not to consume too much as the Chinese traditionally believe that women who consume too much foods with cooling qualities may find it hard to conceive in future. Hence, green bean sweet soup is probably better to consume during in the summer, but of course in tropical countries, green bean soup is a favourite year-round! Coconut milk or commonly known as santan in Malaysia is added as a final touch - all in all this is a rather indulgent dessert!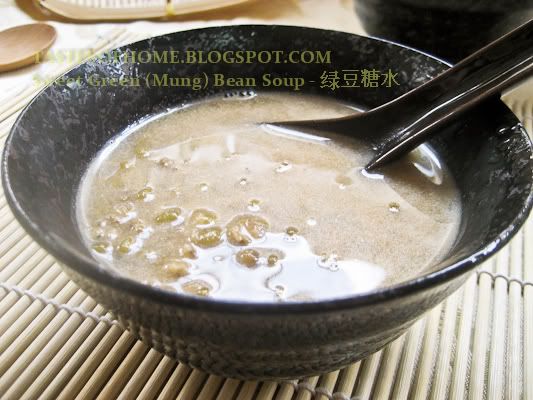 Gula Melaka is sold in logs and is dark brown in colour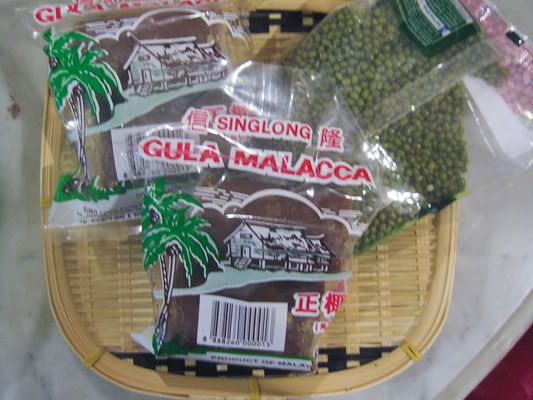 Ingredients:

1 packet of green beans, soaked overnight in water (covered) - drained
2 packets of gula melaka (candied coconut) or to taste (pictured)
8 cups water
1 tin of coconut milk
2 screwpine leaves (pandan)




Method:

Place the drained green beans and screwpine leaves in a pot filled with water then start boiling. Turn heat to medium. Continue boiling for about 1 hour. Add candied coconut which replaces sugar in this recipe. Finally add in the coconut milk and bring to a boil. Once the sweet soup starts boiling, turn off the heat. Serve hot.