Recipe adapted from Maangchi

After a slew of spicy Korean features, today I am featuring a non-spicy popular Korean dish, ddukguk or rice cake soup which is another great way for cooking dduk 떡 (rice cakes/ ovalettes) apart from the ever-popular ddukbokki, rice cakes cooked in spicy gochujang-based sauce, the No. 1 street food of Korea. Ddukbokki is usually made with rice cakes sold in tubular or cylindrical form and ddukguk is usually made with sliced rice cakes. However, I just sliced up the rest of my dduk leftover from my ddukbokki earlier for today's feature. Luckily my rice cakes were quite agreeable and it was a breeze to slice them up.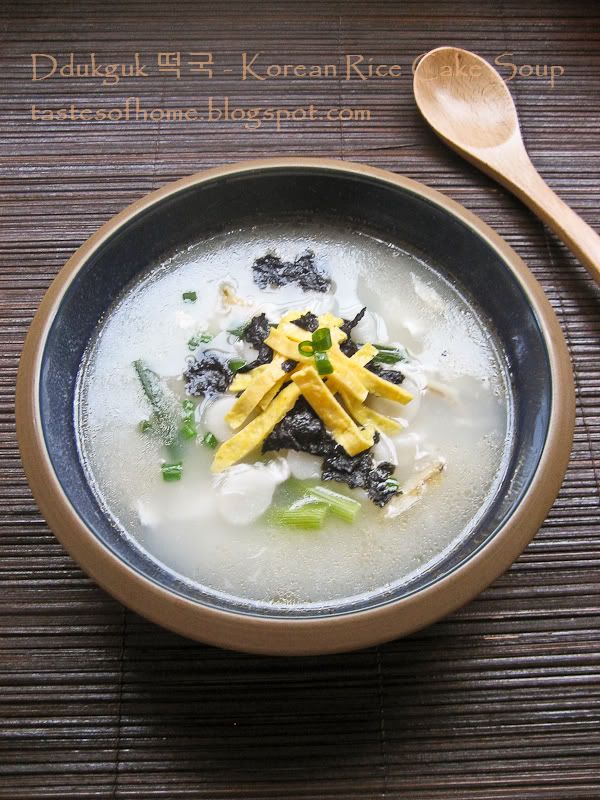 Rice cake soup was traditionally served in Korea during the lunar new year as a symbol of good fortune - the sticky texture of the rice cakes is supposed to be symbolic of good luck sticking to the person having the soup. Nowadays, the soup has became year-round fare. The broth is usually cooked with beef but I used anchovies and konbu today for a lighter version. Usually, egg yolk slivers and crushed roasted seaweed are added as garnish. Some people like to add mandu (pork dumplings) into the broth as well for an even more substantial dish.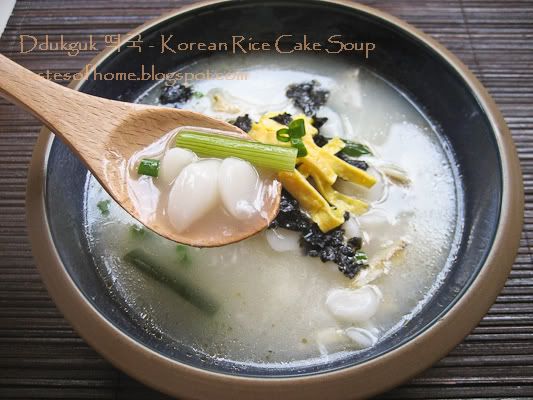 I think it's official that I love dduk - both the spicy and non-spicy versions. It is definitely a versatile ingredient to have in your pantry and provides a great alternative to rice or noodles when you want your Asian carb fix!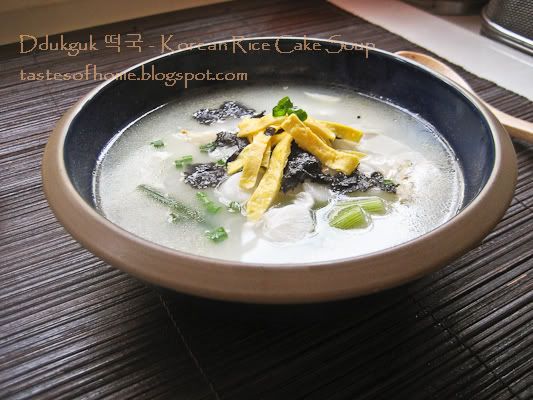 Step-by-step photos after the jump.


Ingredients:

1 cup worth of sliced rice cake/ ovalettes

Broth:
1/2 cup anchovies, rinsed
3 inches worth of konbu (kelp)
3 stalks green onions, sliced - save some for garnish if you wish
1 clove garlic, minced
1 egg white, beaten

Garnish:
1 egg yolk, beaten
1 piece of seaweed (kim/ nori)

Seasoning:
1-2 tsps fish sauce, or to taste
1 tsp sesame oil, or to taste

Method:





1. Boil about 4 cups of water with the anchovies and kelp in a soup pot. While the water is starting to boil, soak the rice cakes in water and set aside.

2. Once the water boils, turn heat to medium and remove the kelp to discard. Allow to continue simmering for about 15 minutes. Remove anchovies and discard.

3. While the broth is simmering, heat about 1 tsp of oil in a non-stick pan. Once hot, turn off the heat. Pour the egg yolk mixture into the pan. Tilt your pan to get an even coating of the egg on your pan. It should cook really quick and look paperish. Remove from pan and slice off the uneven sides. Slice into thin slivers and set aside.





4. Now, roast the seaweed by gently 'waving' the seaweed back and forth on top (not exactly touching the flames) of the flame of your gas stove for about 2 minutes and you should feel the seaweed becoming more rigid and crackly in your hand.




5. Add the green onions and garlic into the broth. Add the rice cakes and bring to a boil. Turn heat low and allow to simmer for about 5 minutes or until rice cakes are al dente, stirring constantly.

6. Pour in the egg white and stir after a few seconds. Season broth with fish sauce and sesame oil. Spoon into serving bowls and garnish with the egg slices, crushed seaweed and green onions.