Recipe from Maangchi

Whenever I sit down to a meal at a Korean restaurant, I am always delighted at the array of colourful and delicious banchan (side dishes) served. Today's feature is one of my favourite banchan, a delightfully simple marinated eggplant dish or otherwise known as gaji namul. Namul refers to vegetables that have simply been marinated usually with some soy, sesame oil and minced garlic. I was thinking on what I should make with the remaining eggplants I had leftover from my spicy Sichuan eggplant and this easy plus quick banchan came to mind.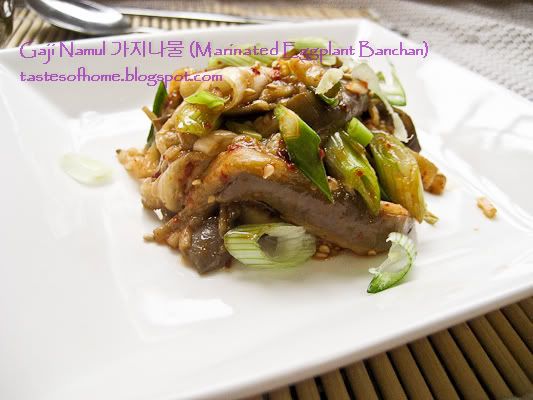 Eggplant is first steamed, then torn by hand and marinated in soy, some minced garlic, green onions, gochugaru (chilli pepper powder), sesame oil and sprinkled with some fragrant sesame seeds for added texture. I hope you will give this a try since it is so easy and if you are a fan of eggplant, you will almost certainly love this everyday Korean dish. Serve as part of a Korean meal or simply as a vegetarian dish on its' own with steamed rice.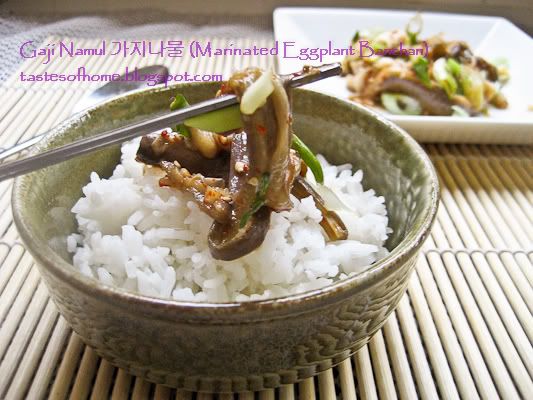 Ingredients:

1 Chinese eggplant, cut lengthwise
1 tbsp soy sauce
1 stalked sliced green onion/ scallion
1 clove garlic, minced
1/2 tsp sesame oil
1/2 tsp gochugaru
1 tsp toasted sesame seeds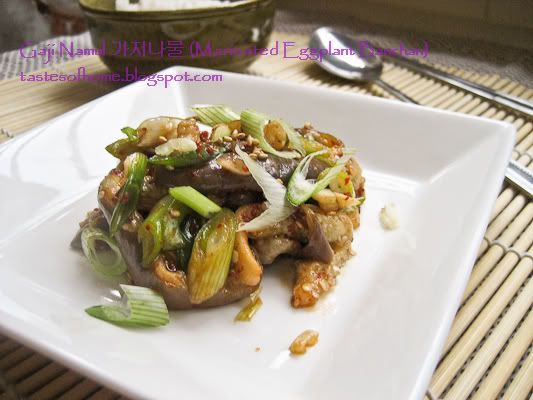 Method:

Steam the eggplant slices over rapidly boiling water until soft about 10 minutes. Remove from heat and once cool enough to handle, tear up the eggplant slices by hand. Place in a bowl. Add the seasonings above and the sesame seeds as well. Mix well with your hands. That's it!