Today's feature is my stir-fried udon styled after the famed Shanghai Noodles. As is traditional, I included cabbage and pork slices. If you are not able to find freshly made and good quality thick Chinese noodles, I would recommend for you to use udon noodles as the latter are usually more consistent in quality and does not contain too much alkaline water. Hence, if you are using udon you can skip the step of running the noodles through cold water after boiling. One important thing to note before frying the noodles is to make sure that the noodles are throughly dried after boiling before adding to the wok for frying. This ensures that the flavours will be fully absorbed by the noodles.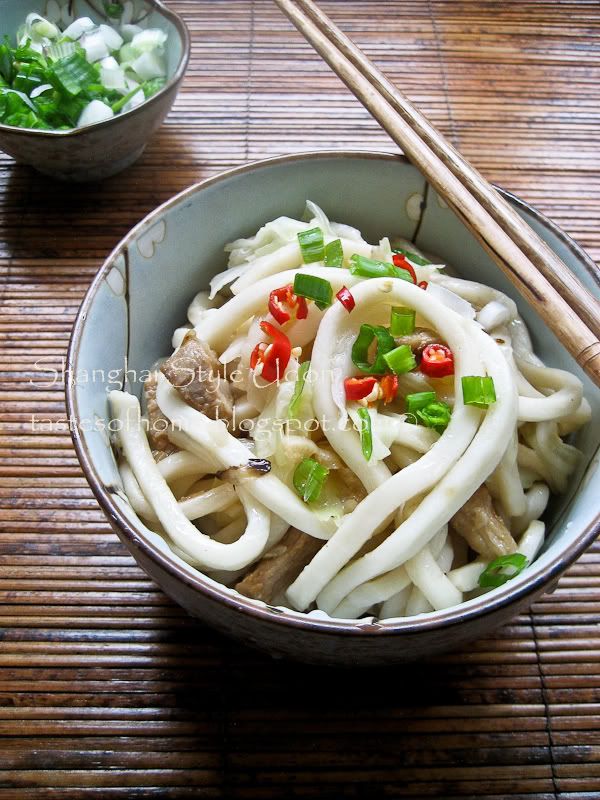 Shanghai cuisine (上海菜), also known as Hu Cai (沪菜) is a delicious culmination of cooking styles from its' nearby provinces like Jiangsu and Zhejiang. Among many popular Shanghai dishes are steamed mitten crabs, lion's head meatballs, xiao long bao (mini steamed pork buns), 'eight-treasure' duck and of course Shanghai noodles. I love how black vinegar is put to good use in a lot of Shanghainese dishes and of course it is included in today's noodle recipe that perfectly rounds off all the yummy flavours.




These noodles make an extremely quick and satisfying meal and should definitely be on your weeknight menu!

For another easy udon recipe of mine, try:

Stir-fried Udon with Chicken and Mushrooms



Ingredients:

3 packets udon noodles (you can find in the refrigerated sections at most Asian grocery stores)
4 cloves garlic
1/2 pound worth of pork (try to use some with fatty bits), sliced
1/2 cabbage, shredded or sliced thinly

Marinade for pork:

1 tbsp Shaoxing Wine (Chinese Rice Wine)
1 tbsp light soy sauce
1 tsp dark soy sauce
2 tsps mirin
1 tbsp abalone sauce (you can substitute with oyster sauce)
1 tsp corn flour/ corn starch

Seasoning for noodles: (mix in a separate bowl and do a taste test as usual)

4 tbsps water
2 tbsps light soy sauce
2 tsps sugar
1 tbsp Shaoxing Wine
1 tsp black vinegar (Chinkiang vinegar - balsamic is a good substitute)
Dash of sesame oil
Dash of white pepper

Garnish:

2 stalk green onions, sliced
2-4 bird's eye chilli peppers, sliced




Method:

Firstly, boil enough water to immerse the udon noodles in a large soup pot. Once water is rapidly boiling, place the udon noodles into the pot, all the while separating the strands of noodles with tongs or chopsticks. Once you see all the noodles separated, remove from boiling water and drain. Set aside to cool completely before using.

Meanwhile, marinate the pork with the above ingredients for about 10 minutes. Saute the minced garlic in about 2 tbsps oil, add the marinated pork and stir-fry till cooked. Dish out and set aside.

Heat 2 tbsps of cooking oil again and add the shredded cabbage. Cook till wilted and soft. Dish out and set aside.

Heat 2 tbsps of oil again and once hot, add the noodles and the seasoning into the wok. Stir around until water evaporates. Add in pork slices and cabbage shreds. Mix well. Dish out. Garnish with green onions and red chilli peppers if desired.