Recipe adapted from Christine's Recipes

Spicy tuna encased in layers of pillowy soft and fluffy bread - typing that makes me hungry. Being an amateurish amateur baker, I am still astounded and amazed that I am able to produce such good and I mean good bread. This is the magic of tangzhong (the famed water roux starter method). The texture is just incredibly cottony-soft. You have to try this for yourself and you can do this even without a bread machine - just knead the dough the traditional way which is what I did. Today is the third time I am making bread with tangzhong and it is getting easier (the kneading part even by hand), the dough does not feel as unbearably sticky as it did the first time, I did not even need to add any additional flour at all and the results were perfect.




Spicy tuna is one of my favourite fillings for sandwiches and it made a great filling for today's feature as well. Not only did I fill the buns with spicy tuna (mixed with shallots and mayonnaise), I spooned some on top of the buns as well for yummy edible garnish. I have heard of this method for making bread a long time ago but it was only until recently that I put my heart to it after seeing the wondrous results on Christine's Recipes. As always, this is a great basic bread recipe that you can tailor for any fillings you fancy or just leave it plain for soft and fluffy toast.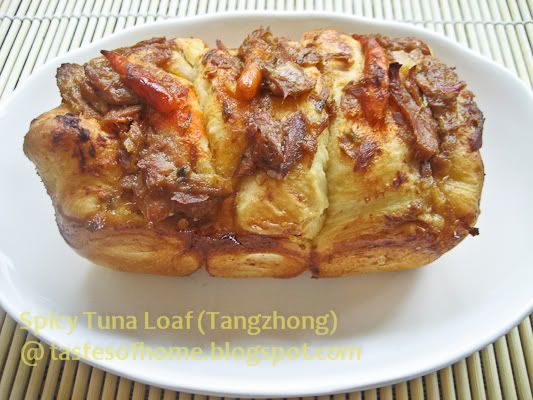 I think I mentioned before that bread-shaping was the most fun part in making bread for me but I think the proofing actually comes a close second. It's just so wondrous how the dough seems to grow before your very eyes and also of course it shows that your yeast did not expire!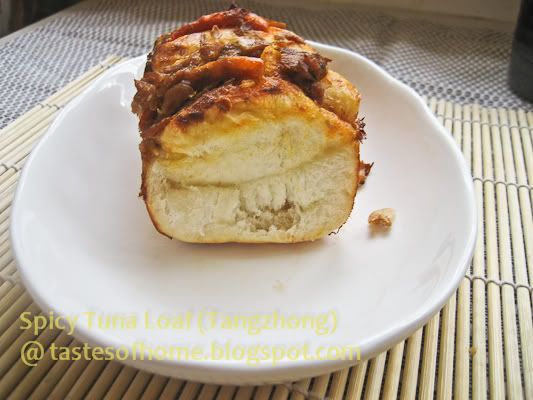 Love the texture!

Ingredients:


For the starter:

1/3 cup bread flour
1 cup water (room temperature)

For the bread:

2 1/2 cups bread flour
3 tbsp + 2 tsp sugar
1 tsp salt
1 large egg, room temperature
1/2 cup milk
1 tbsp dry milk powder
Half of the tangzhong from above
2 tsp instant yeast
4 tbsps butter (room temperature)

Filling:

1 can of spicy tuna flakes (or just use regular tuna if you don't like the spicy version)
3 tbsps mayonnaise
2 small shallots, minced

Baked this bun separately in a ramekin just for fun...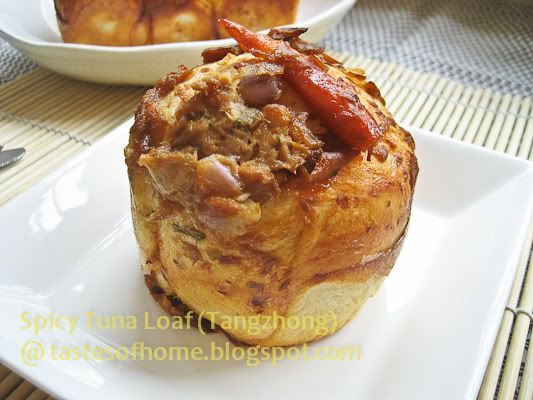 Method:

For the starter:


1. Mix the bread flour with the water well, making sure there are no lumps.
2. Cook the mixture on medium-low heat and stir with a wooden spoon or spatula frequently to keep from burning or sticking.
3. The flour paste should be getting thicker and thicker slowly. Once you see lines appearing after running your spatula through your mixture, the tangzhong is ready. This took me about 8 minutes but the time may vary so watch carefully.
4. Place the tangzhong in a bowl and wrap with clingwrap with it touching the top of the tangzhong to prevent from drying out. Let cool in room temperature and then place in fridge. I left mine overnight before using.

For the bread:

1. Firstly, combine all the dry ingredients in a large bowl (large enough for kneading) - the bread flour, sugar, salt, yeast. Make a well in the center of the ingredients. In a separate bowl, whisk the wet ingredients together, the egg, tangzhong and the milk. Pour slowly into the well of the first bowl.
2. With your hands, mix the ingredients well together until a crumbly dough starts to form. The dough will be sticky. Knead with your hands for about 5 minutes. Add in the butter and continue kneading.
3. I kneaded for about 20 minutes at least. Use the heels of your palms to knead. If you're using a bread machine, add the dry ingredients first then the wet ingredients. Add the yeast into the yeast dispenser if you have one on your machine if not, add it in last.
4. The kneading gets pretty messy especially if you did it like me - the hard way! Knead until when you stretch the dough, a kind of membrane forms and the dough feels elastic and smooth.
5. Shape the dough loosely into a ball. Place in a well-greased bowl and cover with a damp kitchen towel and allow to rise to double its' size (around 1 hour).
6. Transfer the dough to a clean floured surface. Deflate the dough by pummeling on it lightly. Divide the dough into 12 roughly equal portions. Roll each portion into a ball shape and let rest covered with cling wrap for at least 15 minutes.
7. Roll each ball into a flat oval shape. Fold from top to bottom and flatten with rolling pin. Spoon about 1-2 tsps of filling into the middle of the dough and loosely shape into a ball and seal with your fingers. Place dough into a greased loaf pan. Continue with the rest of balls with the remaining filling.
8. Allow to proof for the second time about 40 minutes. Spoon more tuna filling onto the top of the buns in the loaf pan.

Before baking:

1. Glaze the buns with beaten egg mixture and sprinkle some toasted sesame seeds on top (optional).
2. Bake the buns in preheated oven of 175 degrees celcius for about 30 minutes till golden brown.