May I present the second Thai dish on this blog, Thai green curry chicken. Green curry (kaeng khiao wan) is one of the many varieties of curries in Thai cuisine and is usually known as the mildest form in terms of spiciness. If you prefer spicier curries, just add in more Thai green chilli peppers while you are making the paste if you go the full route but if you're using curry paste, just add more chilli peppers while cooking. I decided to just go with using fresh green curry paste today as I could not find coriander root and I find that the fresh paste (Thai Choice) I use taste really good especially after I doctor it up with more shallots, garlic, kaffir lime leaves and fresh lemongrass.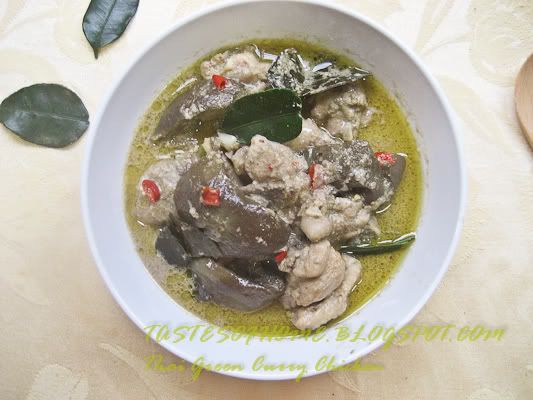 I find curry paste (fresh preferred to canned) a great help in the kitchen especially when you don't want to spend too much time in the kitchen but making your own curry paste is also not difficult provided you have the time, inclination and of course all the available ingredients. I would also recommend using a mortar and pestle instead of a food processor for better texture rather like making sambal belacan.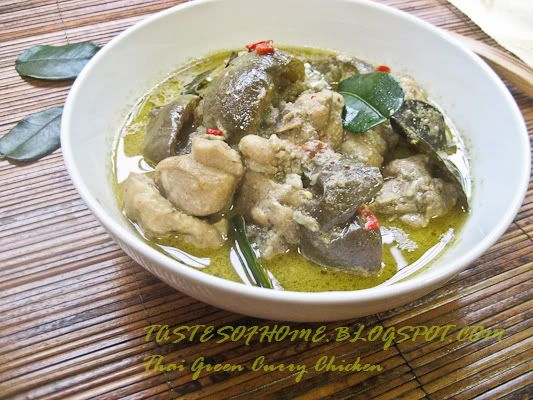 I love adding eggplants or brinjals into curries as well, and I find it goes especially well with Thai green curry. I couldn't find the little Thai eggplants so I substituted with some mini Chinese eggplants which provided great texture and complemented the chicken really well.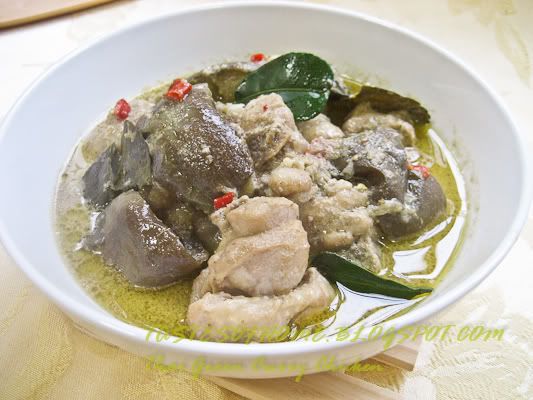 Ingredients:

6 chicken drumsticks, chopped (or use boneless thighs or breasts)
3 mini eggplants - quartered (or substitute with equivalent amount of regular eggplants)
6 cloves garlic, minced
3 small shallots, minced
1 stalk fresh lemongrass, bottom part smashed and sliced
6 medium sized kaffir lime leaves, bruised
6 bird's eye chilli peppers, sliced
1 cup coconut milk
1/4 cup water
2-3 tbsps fresh curry paste
1 tbsp fish sauce (add more if required after taste test)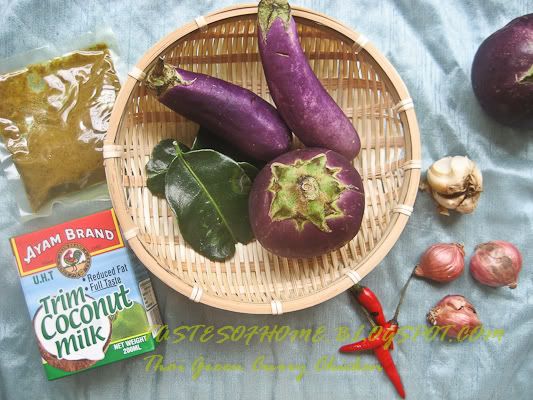 Method:

Firstly, heat up a wok or pan with about 1 tbsp of cooking oil. Once hot, turn heat to medium-low and saute the minced garlic, shallots, chilli peppers, lemongrass and kaffir leaves till fragrant. Add in the curry paste and stir around till the curry paste turns fragrant as well. Add in the chicken and stir-fry around for about 5 minutes.

Pour in the coconut milk and mix well. Bring to a boil. Add the water bit by bit and make sure most of the chicken is covered. Bring to a boil again. Add the eggplants. Turn heat to medium-low and cover, allowing to simmer for at least 20 minutes - checking frequently to make sure the curry does not boil over. After 20 minutes, turn the heat up and season with fish sauce. Make sure the chicken is cooked and do a taste test. Add more fish sauce if desired. I did not need to add sugar as the curry paste already contained a tiny bit of sugar, as I don't like my curries too sweet. Serve hot with steamed rice.