I am such a huge fan of noodles that it's not even funny, I seriously think noodles are one of the things I can't live without so it is an intrinsic challenge for me to go on any protein-only diet. Today's recipe is my version of the famous and deceptively simple Hong Kong noodle dish, 豉油皇炒面 (soy sauce noodles) using udon. I love using udon as there is not much alkaline water in the latter plus quality is almost always consistent and of course is widely available. This dish was inspired from Hong Kong TVB's cooking show that no longer airs, 'So Good' - I just love the practical cooking tips in the show plus the candid and matter-of-fact humour of the host, 'Ah So'. Such a pity that only 2 seasons were aired.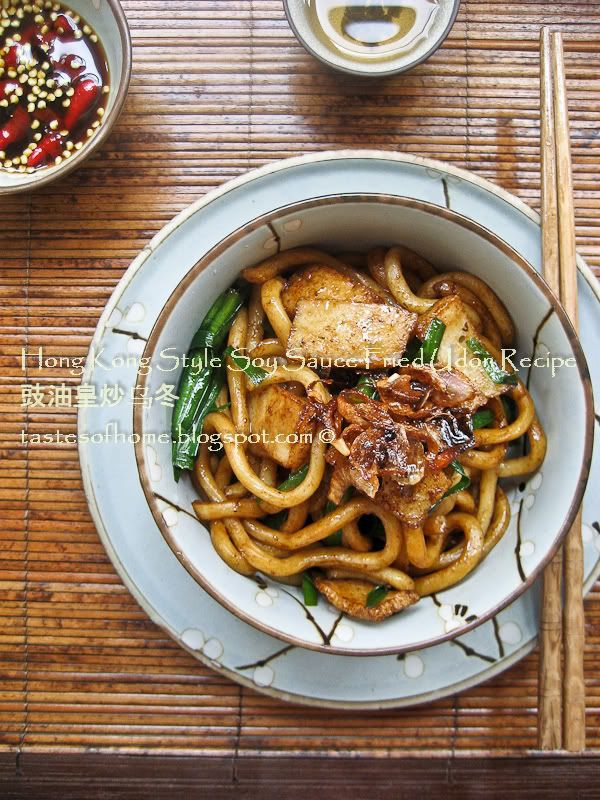 So, armed with some tips that Ah So provided for this everyday yet hard-to-execute-perfectly dish and my own understanding of the noodle dishes, I decided to give this classic a try. Firstly, the udon noodles should be completely dry/ cool after being refreshed in boiling water in order for the noodles to absorb the flavours in the dish. Secondly, it is better to saute each ingredient separately to avoid muddled flavours, much like how fried rice should be cooked. These noodles are usually cooked with beansprouts but I did not have any on hand so I used chives. One interesting tip I learnt from 'Ah So' is that if you are using beansprouts, to get rid of the grassy smell from the vegetables, boil them together with a tiny dash of sesame oil and some ginger slices, then saute them with some garlic (to be removed later) and some green onions.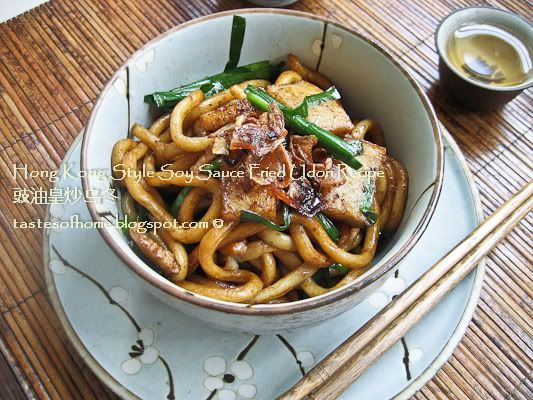 Apart from the delicious flavours, you will love the simplicity of this dish with such a delightfully short list of ingredients. What's more, it is so quick to cook as well - for this noodle dish to be sumptuous however, it is important to use a Chinese wok for the magical 'wok breath' or 'wok hei' since the flavours are so simple. The correct soy sauce to use is mushroom flavoured dark soy sauce 草菇老抽 for the deeper soy flavours and the gorgeous dark mahogany colour that you will not achieve with regular light soy sauce. (note: this is not the thick soy sauce used a lot in South East Asian cooking though of course you can use that but it will be a different dish altogether). Dark soy sauce is aged longer than light soy sauce which is probably why its' Chinese name literally translates to old soy sauce. It contains added molasses and the longer aging time produces a richer and deeper tasting soy flavour, hence is used more in cooking rather than as a dipping sauce unlike its' 'lighter' counterpart.

This is my entry to this week's Presto Pasta Nights hosted by myself for the very first time. Check out this announcement I made earlier on how to participate.

Photo featured on front page of Serious Eats on January 29, 2011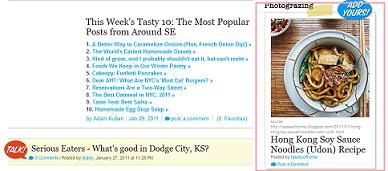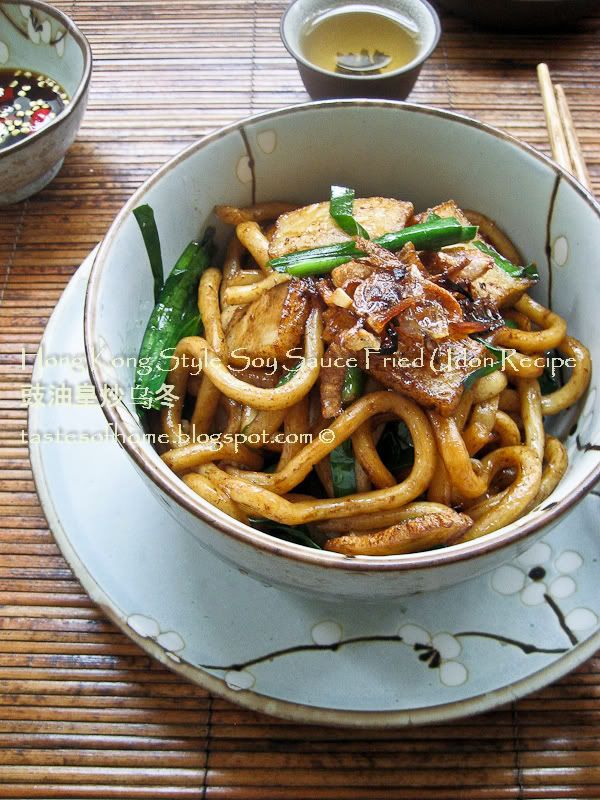 Ingredient: (Serves 3)

3 packets of fresh udon noodles
6 shallots, sliced (for making shallots oil although this is optional, the classic HK style usually does not call for shallots oil)
4 garlic cloves, smashed
Generous handful of Chinese chives
4 fish cakes, sliced (about 1- 1 1/2 cups worth) - you can substitute with other kinds of seafood or just skip this for a vegetarian dish
2-3 tbsps of Mushroom flavoured dark soy sauce (available in most Asian grocery stores)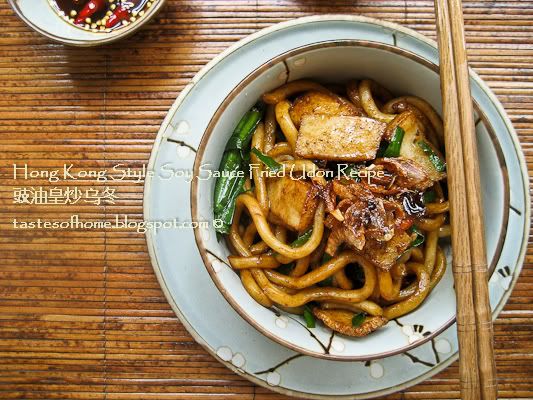 Method:

Firstly, refresh the udon noodles in boiling water for 1-2 minutes. Remove from water and drain well. Place on a platter and allow to cool completely.

Meanwhile, heat up your wok. Once hot, add about 3 tbsps of oil to prepare the shallot oil. Turn heat to low and slowly fry the shallots until they become crisp and golden brown. Remove shallots together with the oil and set aside.

Clean your wok briskly. Heat until hot again. Add 1 tbsp of oil and fry the fish cakes until slightly crisp on the outside. Remove from wok and set aside.

Again, clean your wok briefly - heat up the wok, add 1 tbsp of oil and heat until hot. Turn heat to low and add smashed garlic cloves. Add in the chives and quickly stir-fry around for about 1-2 minutes. Remove from wok and set aside.

Clean your wok. Heat wok until almost smoking. Add 2 tbsps of oil. Swirl to coat your wok. Add in the udon noodles and fry (this is for the noodles to be more fragrant) for a quick 1 minute. Turn heat to medium and add in the chives and fish cakes. Stir-fry around to mix evenly.

Add in the dark soy sauce, NOT by pouring directly onto the noodles but gently from the edges/ sides of your wok, the correct way to do it is to kind of run a 'circle' with your hand while tilting the bottle around the edges of the wok so that the liquid will trickle into the noodles from the edges of the wok. I usually do this directly from the bottle (just one circle is enough) but if this is your first time, it's safer to use a spoon. Turn up the heat again.

Immediately stir-fry the noodles to coat evenly (do this gently as to avoid breaking the noodles). If you pour the soy sauce directly onto the noodles, it will be quite a feat to evenly distribute the sauce. Serve topped with some crispy shallots that was made earlier (optional).

TIPS:

1. Allow the noodles to cool and dry completely before frying to ensure that they will fully absorb the flavours.
2. Use a Chinese wok for vital 'wok breath'. You simply cannot achieve this magical wok essence with pans.
3. Use mushroom flavoured dark soy sauce and do not pour directly onto noodles, do it from the sides of the wok.
4. Saute each ingredient separately to avoid muddled flavours.