Jjajangmyeon has reached cult status in Korea and is hailed as one of the country's national dishes, it is probably the most popular delivery noodle dish and is definitely one of the most delicious Korean noodle dishes in my opinion. The early ancestor of jjajangmyeon is the Chinese classic black bean noodles or known as zhaziangmian 炸酱面- both names literally translate to 'fried sauce noodles'. Most of the Chinese dishes found in Korea hail from northern China due to geographical proximity and were brought in by Chinese immigrants to Korea via the Incheon port about 100 years ago. Jjajangmyeon however bears little resemblance to the original in both method of cooking and taste. Jjajangmyeon includes a lot of different vegetables like zucchini, carrots, potato and radish in the sauce while a typical Chinese cook would probably never dream of adding such into zhaziangmian. Different as these dishes are, I find both versions delicious and as is traditional, I love eating my jjajangmyeon with danmuji (yellow pickled radish) which is also an essential ingredient when making kimbap.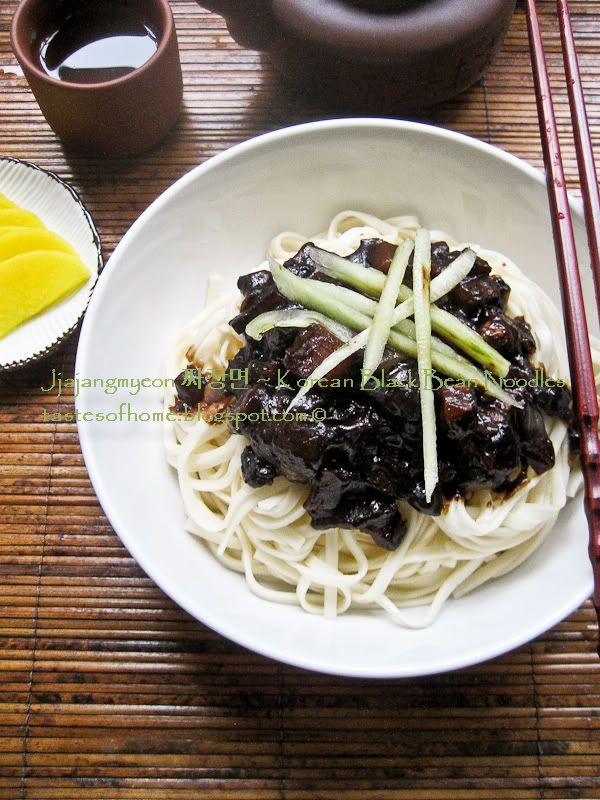 In a typical Korean Chinese restaurant, jjajangmyeon is usually made with freshly handmade noodles (sutamyeon) while the mainstay of the sauce is chunjang (pictured below), a paste made from roasted soybeans and caramel. I did not have the luxury of fresh handmade noodles, hence I used a dried variety of wheat noodles used for jjajangmyeon (pictured below) - if you can't find these noodles either, you can substitute with other wheat noodles or even linguini. If you are Asian, it is probably hard to be ignorant of hallyu - the Korean wave referring to the widespread 'exportation' of Korean culture especially via the country's entertainment industry to most parts of Asia. Admittedly, I used to be addicted to such dramas but nowadays if I do catch one, my eyes will be more glued to the food since as a food blogger, I am constantly on the look-out for new cooking ideas - such is the life of a food blogger! Jjajangmyeon features heavily on a lot of Korean dramas' menus, one is almost always bound to see the characters slurping up these yummy noodles. Looks like Korean dramas are now doing what Chinese immigrants used to do i.e. introducing its' cuisine to foreigners!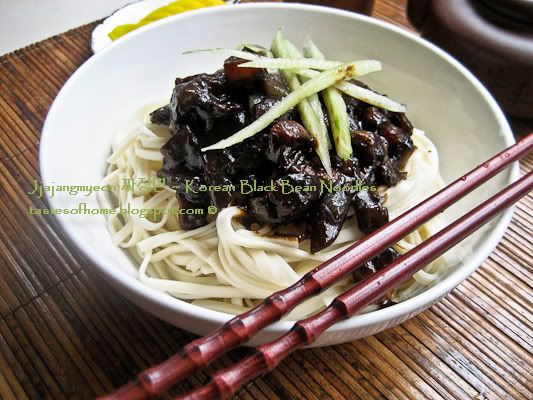 I am sending this as an entry to Presto Pasta Nights for 2011's first round-up hosted by the creator herself, Ruth of Once Upon A Feast. Check out the links for more details on how to participate.

Serves 4 generously.

Ingredients:

1/2 pound of fatty pork, diced
Wheat noodles (1 packet will serve 4)
2 cloves garlic, peeled and smashed
1 carrot, cubed
1 onion, cubed
1 radish (daikon), cubed
8 tbsps of chunjang (black bean paste)
1-2 tbsps sugar
2-3 cups of water
8 slices of danmuji (yellow pickled radish)
Half a cucumber, sliced into thin slivers

Chunjang, sold in convenient little packets and the wheat noodles used today.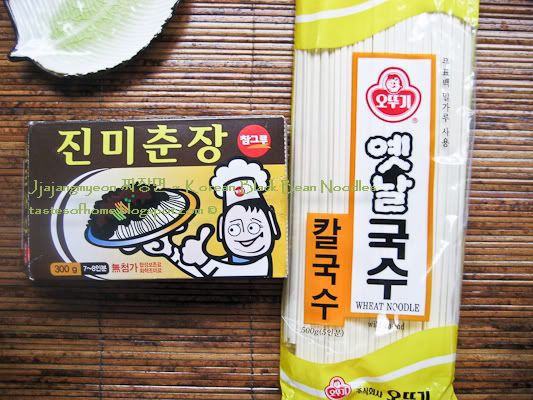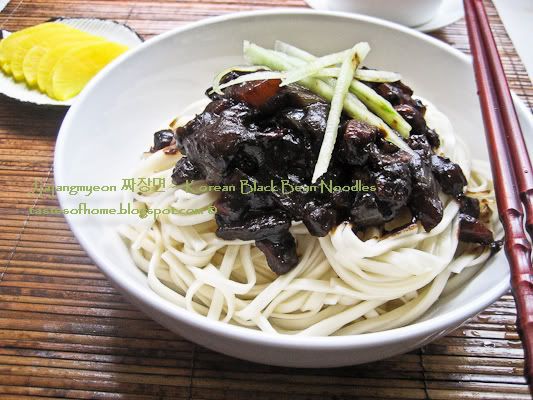 Method:

Firstly, heat about 1 tbsp of oil in a pan. Saute the diced pork together with the garlic until golden brown. Remove garlic. Turn off heat and leave the pork in the pan. You will use this pan later to saute the vegetables as well.

In a separate pan, heat about 2 tbsps of oil. Once hot, turn heat to medium-low and add the chunjang gently to minimize splattering. Stir fry for about 1-2 minutes. Turn off heat.

Now for the vegetables, start by heating up the pan with the pork again. There will be oil from the pork hence no need to add more oil for cooking the vegetables. Add the radish and carrots first and stir-fry for about 1-2 minutes. Add the onions and stir fry for another 2 minutes until soft. Add the water and cover, boiling on medium heat for about 20 minutes.

After 20 minutes, remove cover. Add in the fried sauce earlier and mix well. Bring to a boil. Dilute about 3 tbsps of corn flour in 2 tbsps of water in a separate bowl and pour into the sauce to thicken. Add sugar. Turn off heat.

Boil the noodles in a pot according to package instructions or cook until al-dente. These wheat noodles get soft pretty quick, so keep a close watch.

Heat up the sauce again. Remember to do a taste test and add more sugar if desired. The chunjang is already salty so there is no need to add salt or soy sauce.

To serve, place noodles in serving bowls and ladle a good dollop of the sauce on top. The person eating should be the one mixing up the noodles. As the noodles may get mushy quite quickly, it is important to serve this dish hot. Garnish with some sliced cucumbers and serve together with the danmuji.




All mixed up!