As I have mentioned earlier in my honey soy salmon post, I will be collaborating with Yuen Chun, the preferred brand of cooking sauces in our family on Tastes of Home. I was kindly invited to a tour at one of their facilities in Kuala Lumpur yesterday and of course I brought my mom along as a guest, she definitely has been using their sauces way longer than I have! According to mom, my late great grandparents lived near another Yuen Chun facility in Kuala Lumpur and she still remembers looking with curiousity at the giant urns containing fermenting soy sauce while taking a bus ride to visit her grandparents with my late grandmother when she was a child.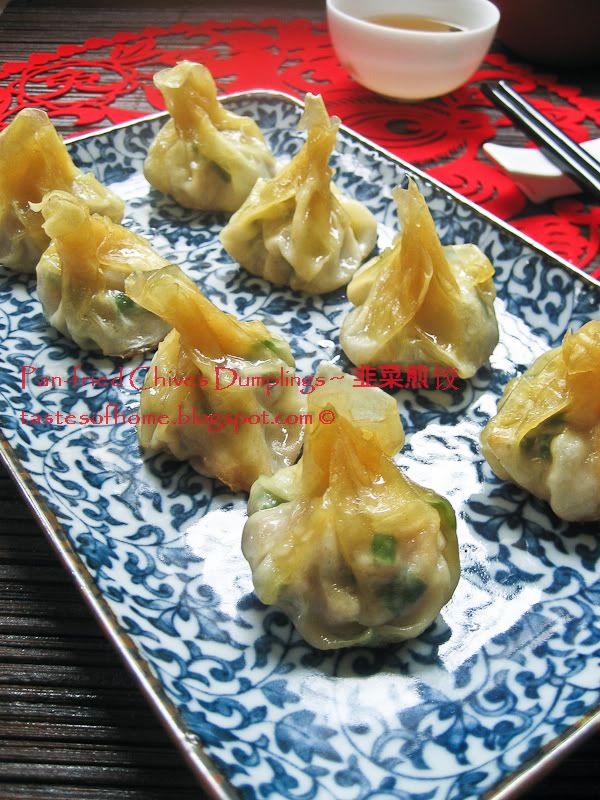 Apart from the taste and quality of the sauces that we prefer, Yuen Chun is more than just a brand of cooking sauces to our family as it has been used in our family kitchens since the time of my late maternal grandmother whom we addressed as 'Popo'. It brings back fond memories of my popo, I still recall how us grandchildren would sit around her listening to her reminiscing about her childhood, sadly by the time I was interested in cooking, my popo's health deteriorated rapidly so I never had a chance to learn cooking from her directly. I am sure though that she too would be elated to know that I am working with her favourite brand of cooking sauces now.




As Chinese New Year is almost knocking on our doorstep, I thought it fitting to present some easy dumplings, twisted at the top to resemble the money bags of ancient Chinese times to my dear readers. I used chives, pork and shrimp as the filling and for a touch of easy luxury, I added Yuen Chun's abalone and chicken sauce. The chives added great texture and flavour to the dumplings while the abalone sauce marinade provided a delicate and pleasing fragrance. I simply pan-fried the dumplings today but these will taste just as good steamed, cooked in broth or deep-fried. Your choice!

Abalone and Chicken Sauce used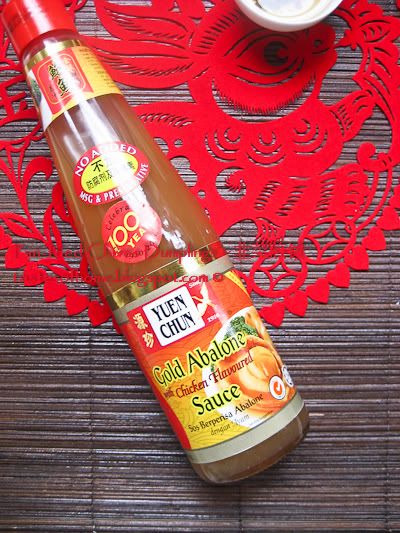 Ingredients:

20 wonton skin wrappers
1/2 pound of pork with a hint of fat (to be minced by hand or alternatively buy ground pork)
1/2 cup worth of shrimp, minced
3 inches worth of ginger, slivered
Handful of chives, sliced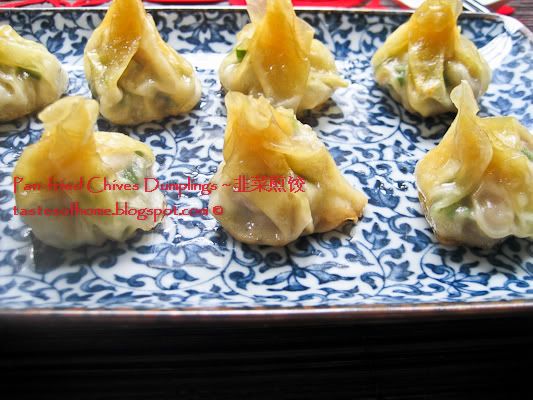 Marinade:

3 tbsps of Yuen Chun abalone and chicken sauce
1 tbsp of Chinese Shaoxing Wine (Chinese Rice Wine)
Dash of white pepper
Dash of salt
1 tbsp mirin (optional)
1-2 tsps cornstarch (for binding)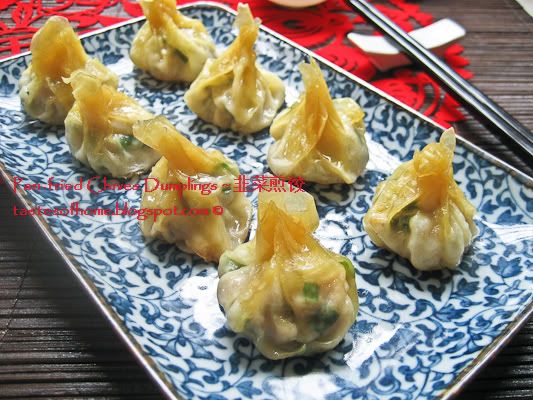 Method:

Firstly, mince up the pork and set aside. Chop up the chives and mix well with the pork. I like to put the chives into the pork and shrimp and mince it up together again to make sure they mix well. Place in bowl and set aside. Saute the ginger slivers in 2 tbsps of cooking oil till aromatic and add to your mixture. Mix well again with a pair of chopsticks. (The mixture will be hot after the addition of the oil).

Marinade the pork and shrimp mixture with the above ingredients for about 30 minute.

Now for the wrapping. Working with one wrapper at a time, place 1 tsp of the filling into the middle of the wrapper, wet the edges with water, gather the edges together and twist gently to seal. Repeat with the remaining wrappers until filling is used up. As you are wrapping the dumplings, place a damp kitchen towel on the rest of the wrappers to avoid from drying out.

Heat up 2 tbsps of oil in a pan and swirl to coat. Turn heat to low and place the dumplings in the pan gently. After about 1-2 minutes, add about 1/4 cup of water and cover. Cook for about 10-15 minutes depending on how many dumplings you put in at one time. The wrappers should turn translucent when cooked. Serve hot.

More on the tour
Although I have been on my fair share of factory tours as an analyst, this was my first tour in my capacity as a blogger so I was doubly excited, especially since we have been using their products for ages. Here are some shots I took at the facility, Yuen Chun has another facility which conducts the soy sauce fermentation, those that you see in giant clay covered urns. Did you know that the longer the length of fermentation, the more expensive the soy sauce is? Totally interesting to learn more about a product that is probably in every Chinese/ Asian kitchen, right?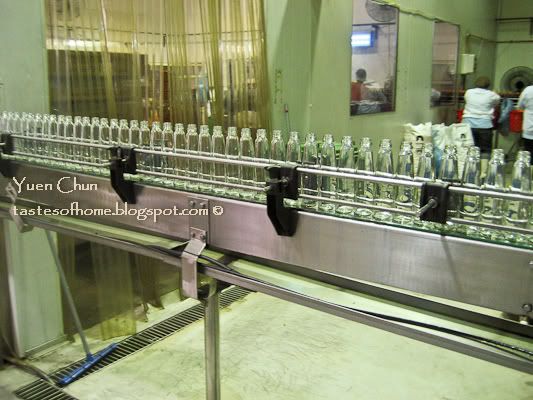 A selection of Yuen Chun's sauces.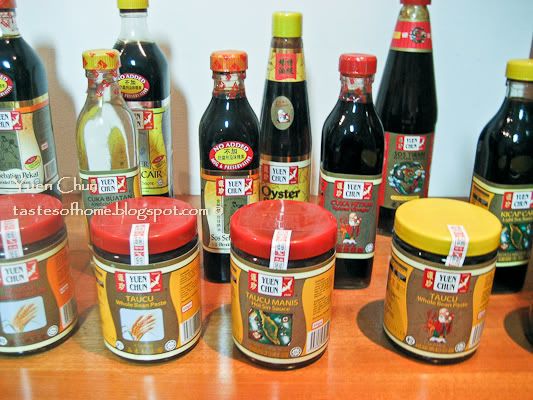 Note to Readers: I only endorse/ recommend products that I fully believe in or have used before and liked on Tastes of Home. My opinions remain solely my own and I maintain full control of the contents in all my blog posts. Thanks.