This is the first round-up I am doing for Presto Pasta Nights and it has now reached the 198th instalment! I love participating in this event and I am honoured to be doing this week's hosting. We have a great selection of both classic and fusion pasta dishes this week. Without further ado, let's go through the delicious pasta entries for No. 198!

Entries are posted in the order that they were received

First up, we have Shu Han from Mummy I Can Cook with her mouthwatering and gorgeous Pumpkin Ravioli with Basil Browned Butter. The nutty flavours of the browned butter must have complemented the pumpkin to perfection. The pasta was actually made of sourdough, a healthier alternative according to Shu Han.




Next, we have Beth from Seventh Level of Boredom with her comforting and delicious Creamy Orzo with Peas dish. I love peas so this pasta dish is right up my alley.


Sue from
Cous Cous & Consciousness
sent in an appetizing and vibrant dish of
Spaghetti with Shrimp and Lemon Oil
inspired by one of my favourite chefs, Giada de Laurentiis. Sue also gave us some insight on her memories of her first trip to the US where she visited San Francisco, definitely one of my favourite cities.
Gay from
A Scientist In The Kitchen
gave us another great seafood pasta dish of
Cream Dory and Linguine
. What a great idea for cooking dory fish!
Next, we have Nicole from
Cocoa and Coriander
's baked dish of
Cheesy Butternut Squash Pasta
. Love the fact that butternut squash is so fiber-rich!
So many pasta ideas already right? There's more!
Check out Vanessa from
Sweet Artichoke
's
Bean Penne
cooked in yummy and earthy pistachio pesto.
Tina from
Life In The Slow Lane At Squirrel Head Manor
with her comforting dish of
Penne with Ricotta and Bacon
of Rachael Ray fame.
Rupa from
A Virtual Vegetarian
presented her delicious
Pasta Puttanesca (Vegetarian Version)
which won her a first prize in a cooking competition.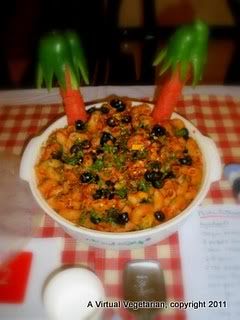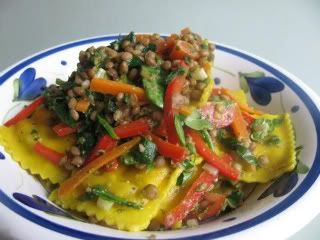 The Sweet Kitchen
submitted one of my favourite pasta dishes,
Pasta Carbonara
with great tips and shares a little about the origins of the classic pasta dish. A cardinal rule we all
know
should
know, NO cream ok?
Kirsten from 
From Kirsten's Kitchen To Yours
whipped up a yummy dish of
Capellini with Moroccan Style Sun-dried Tomato Pesto
, her Moroccan twist on Pesto Rosso.
Next, we have Kait from
Pots and Plots
with her flavourful yet simple
Turkey Sausage Bolognese
.
Tigerfish from 
Teczcape - An Escape To Food
, who always has creative and healthy dishes submitted her
Tomato Beef Pasta
. Another great fusion pasta dish with some curry powder added into the sauce and paired with some bok choy.
Ruth of
Once Upon A Feast
, the creator of this event joined in the fun herself, with her
Pasta Soup
undoubtedly a welcome dish in the midst of flu season!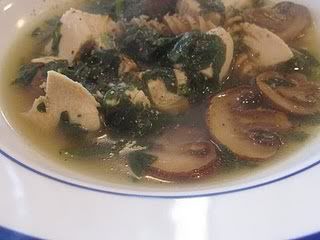 Muneeba from
An Edible Symphony
gave us a pretty bow-tie pasta dish of
Farfalle with Broccoli and Beef
.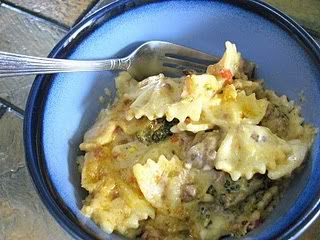 Lastly, here is my own entry to this week's round-up,
Hong Kong Soy Sauce Udon
, my interpretation of the Hong Kong everyday noodle dish with chives and fish cakes.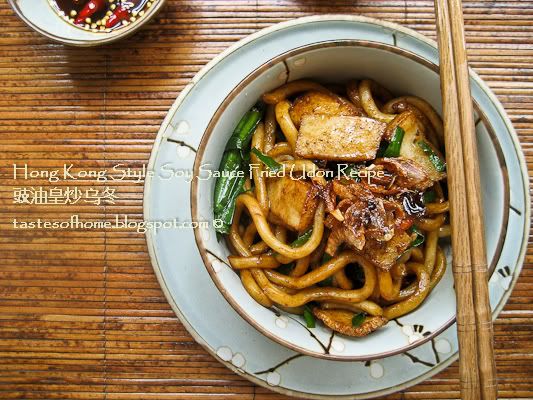 This concludes the round-up for Presto Pasta Nights No. 198 and a big thank you to everyone who participated this week and of course to Ruth for graciously allowing me to host. Check out
Presto Pasta Nights
for information on how you can participate next time if you missed this round. Next week's host will be the creator herself, Ruth of
Once Upon A Feast
, send your entries via email to her at ruth (at) 4everykitchen (dot) com . See you next week!