Growing up in Malaysia, I have been exposed to Indian cuisine since childhood and I am a big fan of a lot of Indian dishes. Most of the Indian dishes found in Malaysia are said to be from the southern part of the country as immigrants brought in their cuisine years ago. Now, of course there is a breed of unique 'Malaysianised' Indian cuisine that is no less delicious so I am not sure how authentic my recipe for tandoori chicken is but it is definitely delicious and easy to make. Traditionally, tandoori chicken is cooked in a clay oven known as a tandoor which incidentally is also the kind of oven used to cook naan, the famous Indian bread that complements tandoori chicken perfectly. I believe that tandoori chicken hails from the Northern part of India and started becoming extremely popular during the time of the Mughal Empire in Central and Southern Asia.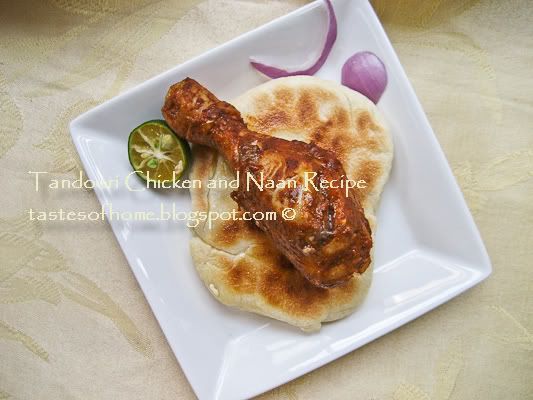 For today's feature, I simply marinated my chicken drumsticks overnight in some yoghurt, garam masala, chilli powder and calamansi lime juice. I then roasted the chicken in my oven, but you can opt to place it on the grill - tandoori chicken by the way is widely known as India's very own version of barbequed chicken. As I roasted my chicken in the oven, it lacked the characteristic smoky flavours but was still pretty delicious, but if you have a barbeque grill, I would suggest using that instead of baking in the oven.




I was actually a bigger fan of the naan I made today, the first time ever for me to make naan from scratch! It was an incredibly fun exercise for me to make (successful!) naan and I am already getting requests on when I will be making them again from my guests! Honestly speaking, I was apprehensive while making the naan after reading countless failed attempts by others all over the web - it was such a relief that they turned out well. Instead of toasting my naan in the oven since I don't have a pizza stone, I pan-fried the naan which worked out very well.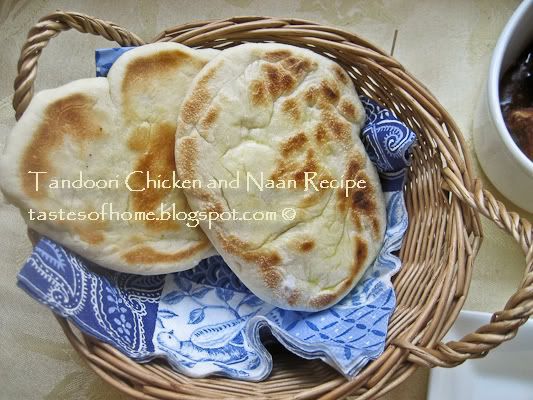 If you are a fan of naan and would like to try making it at home, you have to try this - I promise you will not be disappointed!

Ingredients:

For chicken:

6 chicken drumsticks (or use legs)
2 Calamansi limes
1/4 red onion, sliced

Marinade:

4 tbsps plain yoghurt
1 tsp salt
4 cloves garlic
2 small shallots
1 inch worth of ginger, skinned
4 tsps garam masala
4 tsps chilli powder
2 tbsps lime juice
2 tbsps oil

For Naan:

1 tsp rice vinegar or white vinegar
50 ml full cream milk (either fresh or powdered diluted with water) - I used warm milk
1 tsp sugar
200 ml water
1 1/2 tsp instant yeast granules
3 cups all purpose flour
1 tsp salt

Method:

For chicken:

Remove the skin from the chicken. Mince the garlic, shallots and ginger together until fine and place in shallow bowl. Alternatively, you can use a food processor to pulse. Next, add in the yoghurt and the rest of the ingredients to the bowl. Place the chicken drumsticks into the marinade, coat well with your hands then place covered in fridge overnight or at least for 2-3 hours.

To cook the chicken, simply roast in oven at about 350 degrees F. You can also use the grill to cook the chicken.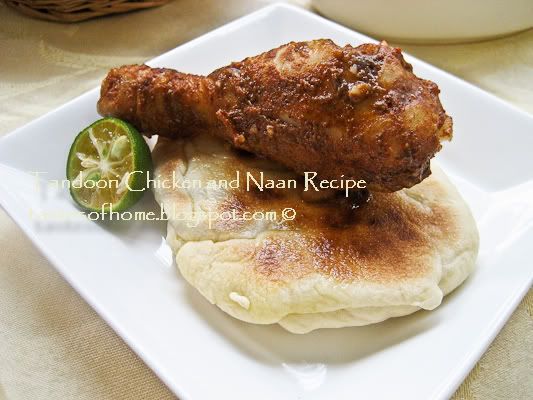 For naan:

1. You have to start by making the soured milk and the yeast mixture. Mix in the vinegar into the milk and set aside. Dissolve the sugar in half of the water (100 ml) and sprinkle the yeast on top. Set aside. Wait for 15 minutes for both to take effect. The soured milk will start to curdle almost immediately and will thicken a little. The yeast mixture will foam and look frothy (pictured below).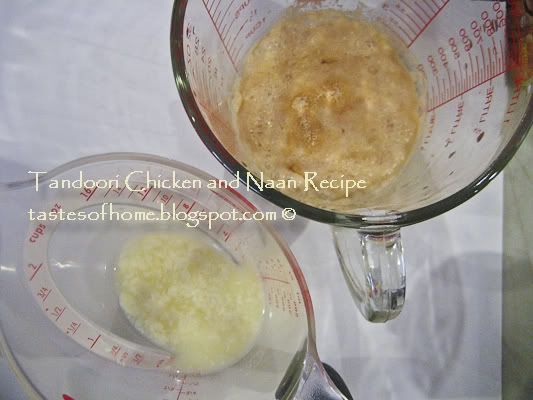 2. Mix the salt and flour together in a large bowl. Create a well in the middle with your hands. This is where you will pour the yeast mixture and the soured milk in. Add the yeast liquid, soured milk and the rest of the water and start mixing with your hands to form a dough.




3. Start kneading the dough for about 15 minutes (at least) and the dough should turn smooth and elastic. If not, knead a little longer.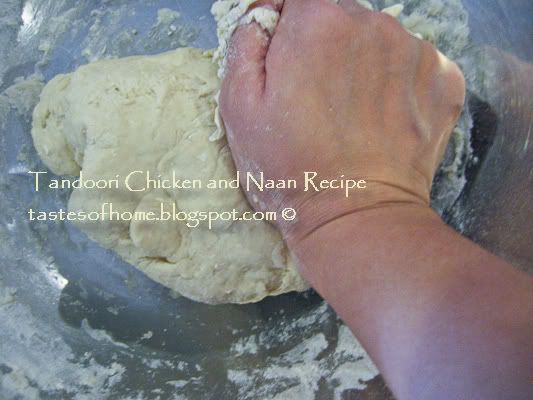 4. Place the dough in a well oiled mixing bowl and cover with a damp cloth. Leave to rise for about 2 hours until doubled in size. The timing in how long it takes to rise will vary in different weathers as it depends on the humidity in the air. But if you feel that the dough is much softer to the touch, you should be doing it right.

5. Knead the dough again a little bit, then roll into a thick roll. Divide into 8 or 10 equal pieces. Roll each piece into a ball and place on a floured surface for the second round of proofing, about 30 minutes.

6. Flatten the balls into ovals with your palms. Lay them on a floured surface and cover with a clean and dry cloth. Set aside to rise until dough feels spongy which should take another 30 minutes.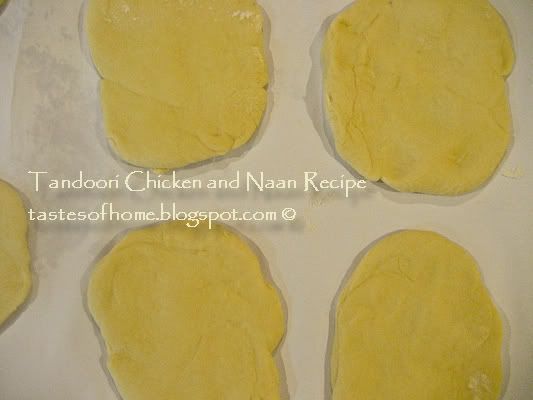 7. Heat up a pan on high heat. Once it is hot, turn the heat to medium low unless you have a heavy bottomed cast iron skillet of which you can keep the heat on high. The reason for turning the heat to medium low for regular pans is to avoid burning of the naan. The naan is not really pan fried per se but more toasted in the pan as there is no grease involved. 'Pan-fry' the naan for about 2 minutes on each side (covered), checking frequently to avoid burning.

8. Once cooked, brush some butter on the naan right out of the pan. Serve immediately with tandoori chicken or other curry dishes.