I love stir-frying food and the Chinese believe that stir-frying is one of the best ways to preserve the nutrients and the natural flavours of many ingredients like vegetables. Although a stir-fry is relatively simple, it is important to remember a few steps for a guaranteed delicious version. I like my vegetables to retain some of its' crunchiness in stir-fries and that is why I usually blanch the vegetables briefly so that they don't have to be stir-fried in the wok for too long. Apart from texture, vegetables staying too long in the wok will also result in browning of the vegetables (especially in green leafy vegetables) which is in my opinion not visually appealing.




Another important element is the magical wok breath which really ups the ante on this seemingly easy dish which unfortunately is not really attainable with electric stoves and non-stick pans. However, if you are not too picky like yours truly, using a non-stick pan will still produce a yummy and healthy stir-fry dish. I used to be hesitant in using Chinese woks as I always had the misconception that everything will end up sticking to the wok and the cleaning up would be a nightmare. But as I found out soon enough, as long as your wok is hot enough, there will be no sticking - simple right?




I hope you enjoy this simple stir-fry which happens to be one of my favourite home-cooked Chinese dishes. The shimeji mushrooms add great texture and lend a pleasing earthy flavour to the dish.



Ingredients:

1 head of cauliflower, cut to small florets (soak in water with a tsp of salt briefly)
5 cloves garlic, roughly minced (I don't like to mince too finely as I don't like the garlic sticking to the vegetables too much)
2 clusters of Shimeji mushrooms (chop off ends and separate)
2 tbsps oyster sauce
1 stalk green onion (optional) - this is to remove the 'grassy' smell of the cauliflower
Enough water for blanching
Splash of light soy sauce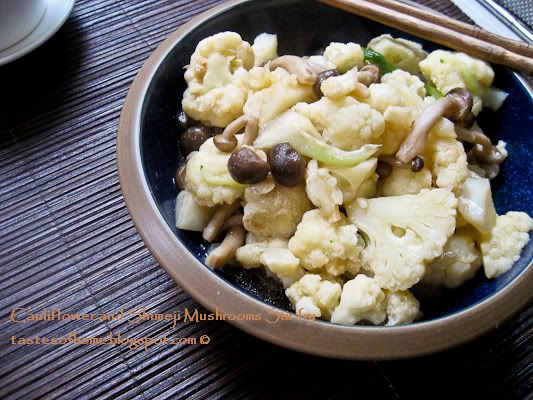 Method:

Firstly, blanch the cauliflower in boiling water for about 2 minutes. Dish out and drain. Do the same for the shimeji mushrooms (1 minute).

Heat up your wok until almost smoking. Add about 1-2 tbsps of cooking oil. Turn heat to low and add in the garlic and green onions if using. Add a dash of light soy sauce. Stir-fry till aromatic. Add in the cauliflower and shimeji mushrooms. Turn heat to high and stir-fry around quickly. Add in the oyster sauce and stir well to coat.

Add about 4 tbsps of water into the wok. Cover for about 30 seconds. Do a taste test and add more soy if desired. Dish out and serve hot.