Congee or porridge is one of my favourite Chinese comfort foods. Congee can be served as breakfast, lunch and is also popularly served at dim sum restaurants, the most popular being congee with pork and preserved eggs. The Chinese believe that eating congee helps to alleviate 'heatiness' in the body and is a great antidote especially when one has been consuming too much rich food. The consistency of congee is different in various parts of China, we have the silky smooth consistency from the Cantonese which is my favourite and we have a version where the grains of rice and broth are clearly discernible, from the Teochews. The consistency of congee is very much a personal preference and you can add more or less water depending on how thick you want your congee to be.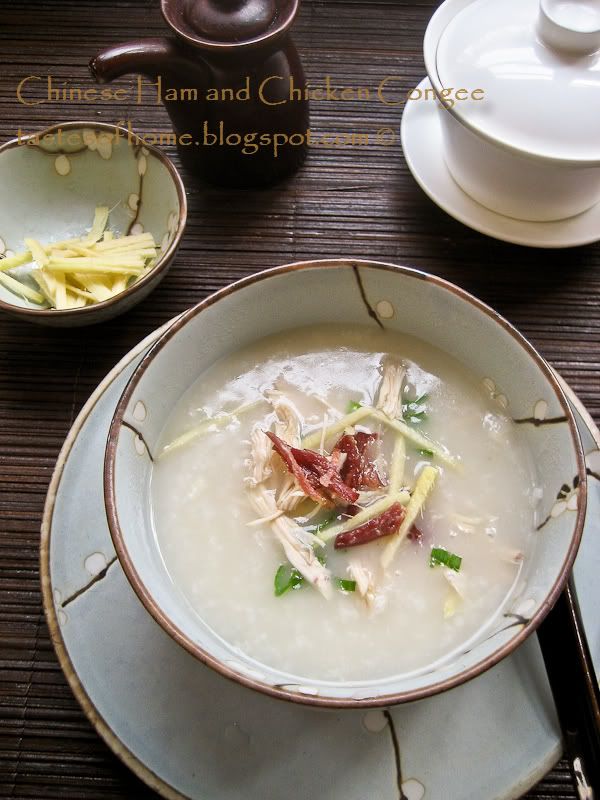 I used homemade chicken and Chinese ham (金華火腿) broth to boil the rice grains today. There's really nothing like homemade chicken broth, I also love how Chinese ham (Yunnan ham) lends a rich and savoury flavour to the stock resulting in a pot of congee filled with delicious umami flavours. For a pot of silky smooth congee, you should soak the rice in water for at least 1 hour prior to boiling, I also used the old trick of putting a porcelain soup spoon into the pot of congee today - as the congee boils, the spoon will spin around helping to further break up the rice grains resulting in the smooth consistency.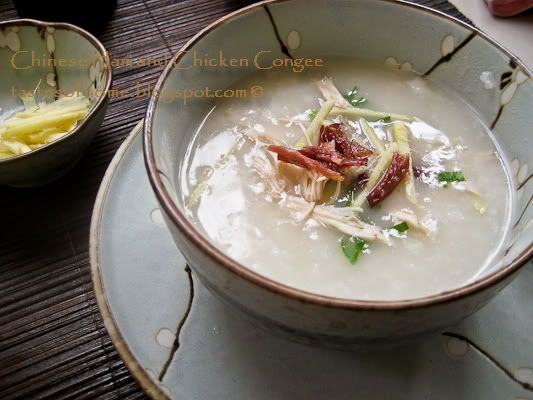 Congee is also sometimes boiled plain with just a pinch of salt and takes the place of rice, served with various dishes at the table. Congee is extremely easy to make, it just requires some boiling time and your attention to the stove! My method is more of the traditional method however, nowadays you can use a crock pot where you don't have to 'look after' the pot of congee at the stove, but to me there is nothing like tradition (sometimes!).


Ingredients:

2 cups of homemade chicken broth (flavoured with 1 inch worth of Chinese ham) - save the chicken for shredding
1/2 cup of rice, soaked in 2 cups of water for at least 1 hour
2 inches worth of Chinese cured ham - rinsed (You can substitute with Virginia smoked ham)
2 cups of water

Condiments:

2 inches worth of ginger, sliced/ slivered
3 stalks green onions, sliced
Soy sauce
White pepper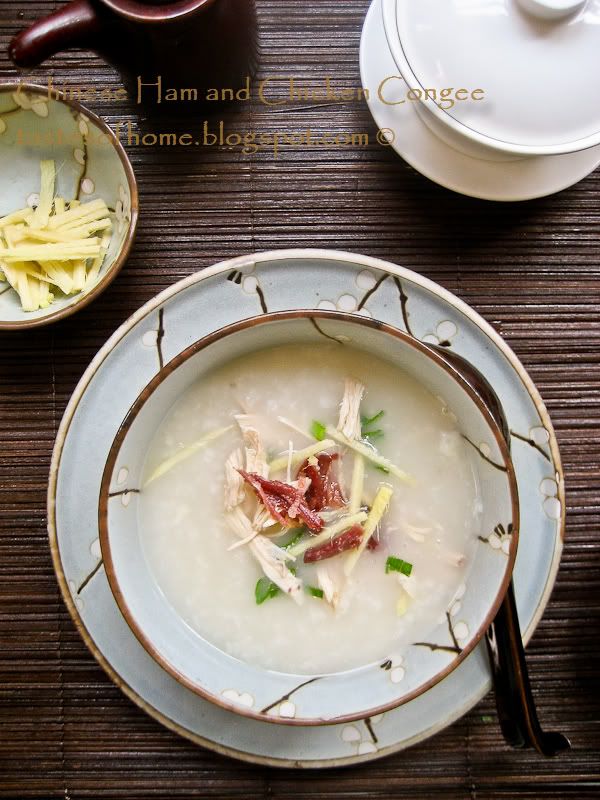 Method:

Firstly, soak the rice as above. Pour in your chicken broth and rice in a large pot. Bring to a boil. Add a small knob of ginger into the pot. Add in the water and bring to a boil again. Turn heat to medium and allow to boil, uncovered - check frequently. After 30-40 minutes, turn heat to low and allow to boil, stirring occasionally.

Prepare the chinese ham by slicing into slivers and stir-frying briefly with a small amount of oil (1 tsp) in a pan or wok. Set aside. This will be served with the congee at the table.

After about 2 hours, your congee should be ready. Serve with the shredded chicken, Chinese ham and condiments above at the table.