The dragon or giant garouper is a highly prized Chinese delicacy and monster sizes have been sold for very high sums. This rather fearsome looking fish consumes a lot of other fishes, crabs and even lobsters and are usually found in deep-sea areas. I used just a chop of the fish today and from the size of the fish 'steak' I am sure you can guess that the whole fish would have been pretty massive. The texture is quite tender and the flavour delicate - this is a great type of fish for most methods of Chinese cooking from steaming to braising. Today's feature was first pan-fried then topped with rather copious amounts of ginger slivers, red chilli slices (for a touch of heat) in a savoury yellow bean sauce.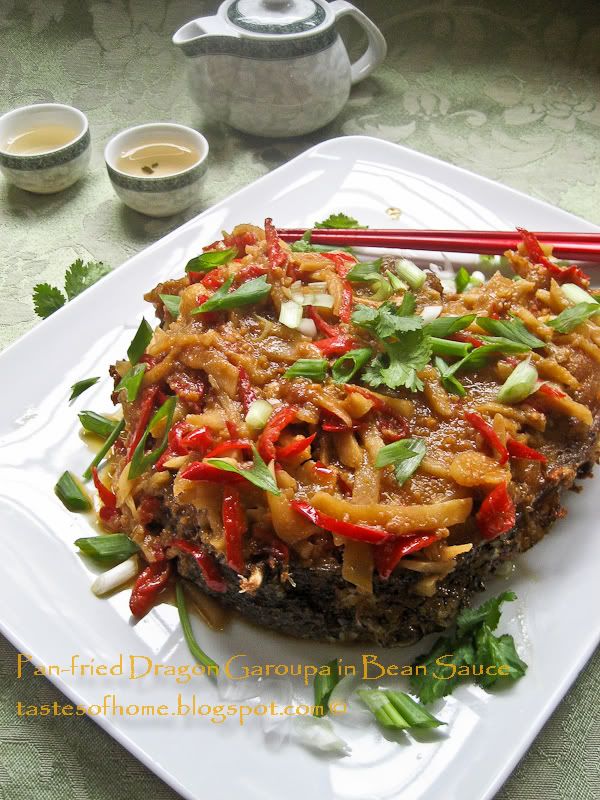 Yellow bean sauce differs from black bean sauce, another popular Chinese condiment as although both are made from fermenting soybeans, yellow bean sauce has a lighter flavour. As the bean sauce is already salty, you only need to add a tiny splash of light soy sauce to bring out the flavours of the dish. This recipe works well with most kinds of white fleshed fish. The key to pan-frying fish is low heat and of course patience. If you don't have the time or inclination to stand at the stove for at least 20-30 minutes depending on the size of your fish, by all means do go ahead and deep-fry the fish! I actually love both pan-fried and deep-fried fishes though the former feels a bit lighter on the palate at least for me.




A traditional Chinese wok works best for this dish as you can really taste the elusive wok breath that kicks this simple home-styled dish up more than a notch. Just be sure to heat your wok until almost smoking BEFORE adding oil and also rub some salt onto the surface of the fish which will also help minimise sticking. I used to be hesitant in using Chinese woks and preferred to stick to the safer non-stick pans but after I started using this trick, I totally love my traditional wok now and would (probably) never go back to non-stick pans at least for Chinese dishes.

Note: This dish was cooked by my mom, I was in charge of photography and of course eating!

Ingredients:

1 piece of white flesh fish (I used dragon garoupa) - rub lightly with some salt and marinate for about 1-2 hours
4 inches worth of young ginger, slivered/ sliced
2 red chilli peppers, sliced
2-3 tbsps of yellow bean sauce (taucu) - depending on the size of your fish
1/2 - 1 tsp light soy sauce (adjust according to size of fish used)
1/4 cup of water

Garnish:

1 stalk green onion, sliced
1 stalk cilantro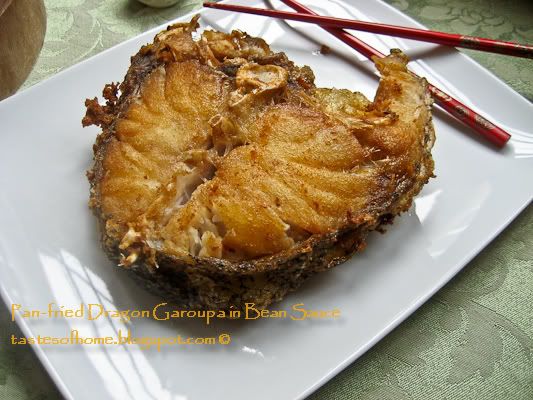 Method:

Firstly, heat up your wok until almost smoking. Turn heat to low. Add in about 4 tbsps of cooking oil.

Place the fish gently into your wok and pan-fry over low heat for about 20 minutes on each side until golden (please adjust timing depending on the size of your fish) but make sure that the side of the fish you are pan-frying is cooked before turning over. You should refrain from turning over the fish again and again as this will hamper the frying plus you will probably end up breaking the fish which may look rather unsightly.

Once both sides of the fish have been cooked to a nice golden brown hue, remove from heat. Set aside.

Now, for the easy part - the sauce!

Fry the ginger, garlic and red chilli slices until aromatic. Add in the taucu paste. Add about 1/4 cup of water. Do a taste test and add a tiny splash of soy sauce depending on how salty you want it. Bring to a boil and pour over previously pan-fried fish. Serve hot.