These pancakes are a Chinese favourite and are popularly served as dessert in Chinese restaurants, usually with another sweet dessert soup like red bean soup or sweet peanut soup. I thought my pancakes were not crispy enough but surprisingly one of my guests preferred it this way. These pancakes are usually made with red bean (azuki) paste but since I still have an almost whole packet of lotus paste from my steamed buns I decided to use lotus paste instead. Both work equally well in my opinion. As some of you may know, I really don't have much of a sweet tooth but these pancakes are one of my exceptions - I am also usually the one hoping to get the end-pieces at the table since I actually enjoy the pieces with more skin compared to the pieces with more filling.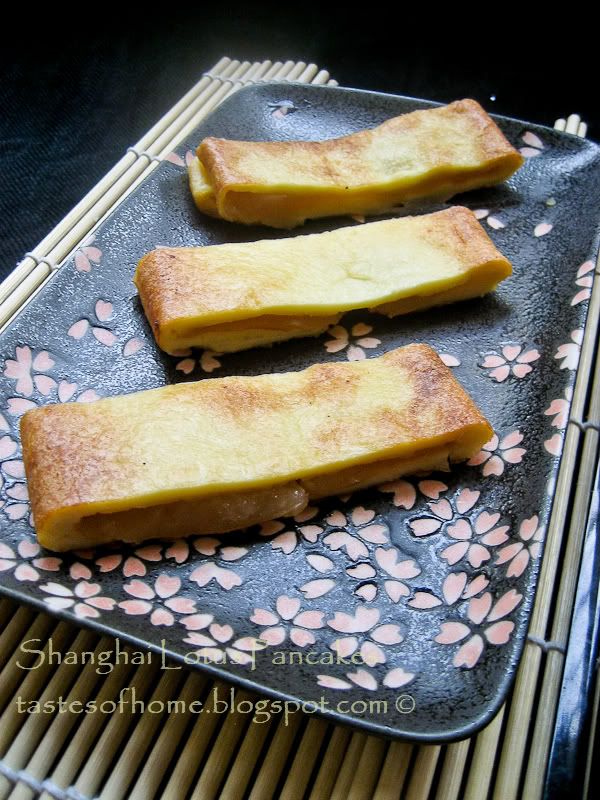 Literally translated, 锅饼 means wok cakes, an apt description. The pancake batter is extremely simple where flour, water and eggs are mixed together. The harder part I think is that the pancakes have to be thin enough yet pliable as you will have to 'wrap' the pancakes around the lotus paste filling. I shall aspire to do a better job next time in terms of the thinness of the pancakes but luckily for me these thicker pancakes were still quite well-received by my guests. Funnily enough, my mom said that when she was a child this was how she remembered Chinese pancakes, a thicker and softer version of the ultra-crispy ones served in many Chinese restaurants nowadays. These pancakes are best served freshly fried.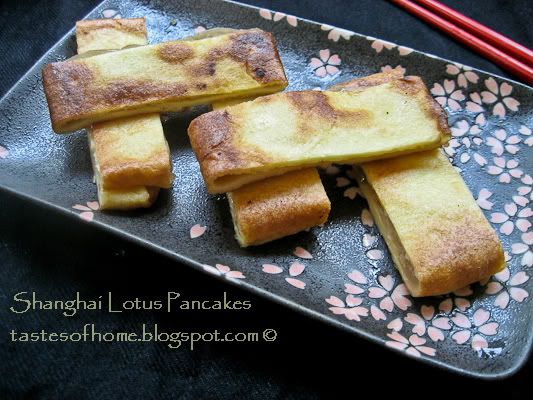 Recipe from Chinese Snacks by Huang Su Wei

Ingredients:

Batter:

2 eggs
3/4 cup all purpose flour, sifted
3/4 cup water

Filling:

Lotus paste or red bean paste (Store-bought)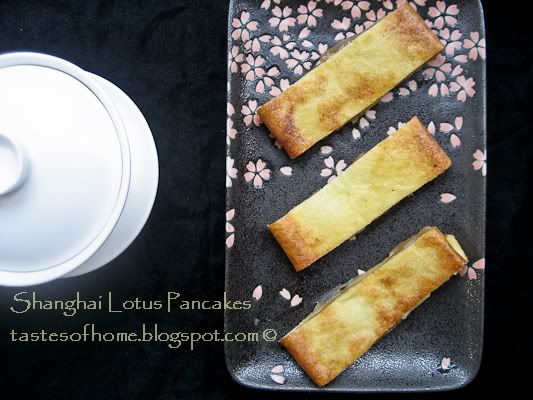 Method:

Firstly, mix the eggs and water together well. Next, add in the sifted flour and stir well to mix. Your batter is ready.


Prepare a sheet of plastic wrap for molding the lotus paste.
Heat up a wok or pan until hot. Turn heat to low and add about 3 tbsps of cooking oil. Swirl to coat. Add about 1/3 of the batter and spread to form a thin pancake. Wait for about 30 seconds to 1 minute (depends on the size of your pan), turn the pancake out onto a flat surface or flat plate.
Prepare the lotus paste filling by spooning onto the plastic wrap and form into a flat square shape, make sure that the filling is smaller than the pancake as you need to wrap it up with the pancake.
Place the plastic wrapped filling on top of the pancake and pull away plastic, leaving lotus paste in the middle of the pancake. Wrap and seal with some of the uncooked batter.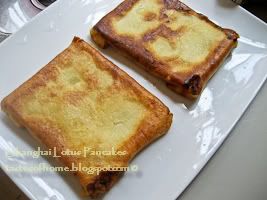 Heat up your pan or wok again. Turn heat to low. Add about 6 tbsps of oil. Swirl to coat. Gently place the pancake into your pan and fry each side until golden brown. Repeat the above steps with the remaining batter. Slice to serve.