Oh My! Omo! Yet another fried rice feature from yours truly - yes I do have a fatal fondness for fried rice and noodles along with handbags, shoes okay the list goes on. Anyway, I thought another feature on kimchi fried rice or kimchi bokkeumbap was in order especially since I had a jar of 'aging' kimchi sitting in my fridge. As you may know, fried rice is based on the leftover philosophy and can be highly personalised in a myriad of delicious ways. Kimchi fried rice or kimchi bokkeumbap is no different in that usually 'older' kimchi which may become a little too sour to just eat on its' own is used to finish up leftover kimchi in a quick and delicious way. Older kimchi is also used in another popular and extremely heartwarming dish, kimchi jjigae or kimchi stew. Strictly speaking, today's fried rice is 'Sino-Korean' as I used Chinese waxed sausage which is a kind of preserved sausage that is sweet tasting and is firm in texture. The sweetness from the sausage added good contrast to the pungence and acidity of the kimchi, I think my Chinese-influenced kimchi bokkeumbap was quite successful if I may say so myself.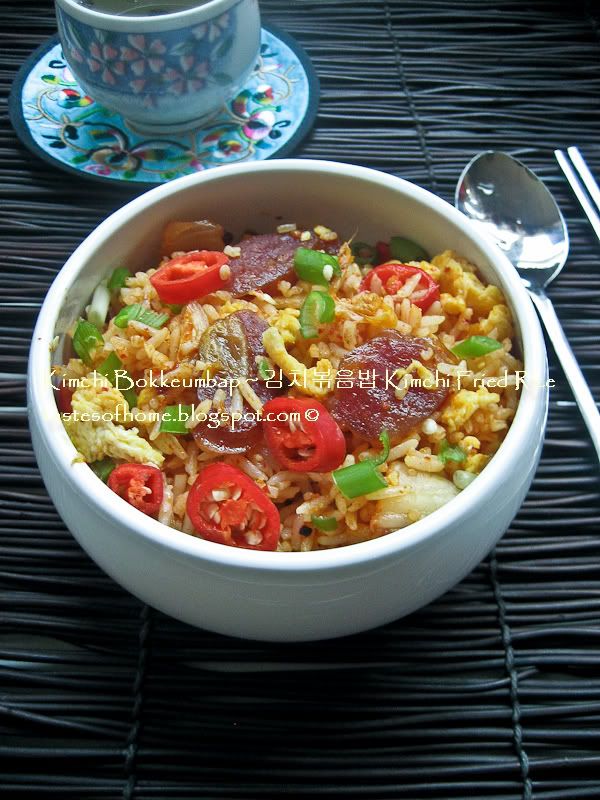 To flavour the rice, I merely added some gochujang (Korean red pepper paste) which is probably the most popular condiment in Korean cuisine and some garlic. Gochujang is already salty as it is a combination of fermented soybeans and chilli peppers so there is no need to add salt or soy sauce. The rice is usually topped with a sunny side-up egg but I decided to use sliced up omelette instead. The ingredients for fried rice can be as simple and bare as you want or as luxurious and abundant as you want. With kimchi fried rice you will need kimchi (of course!) and day-old rice, the other ingredients are entirely up to you so just be creative and have fun!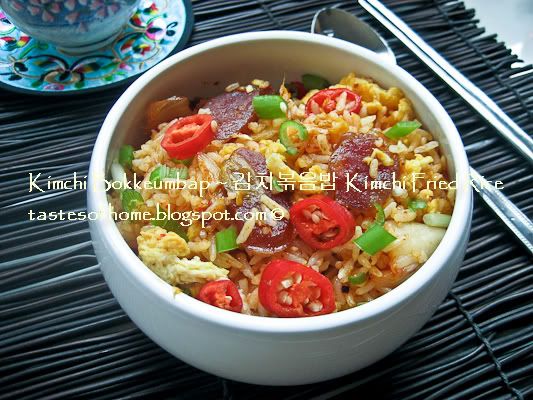 Note: I used a Chinese wok as I like my fried rice to have some wok breath.


Ingredients:

1 cup day-old steamed rice
1/2 cup kimchi
8 slices Chinese waxed sausage
1 stalk green onion, sliced (save the green parts for garnish if you wish)
1 red chilli pepper, sliced
1 egg, beaten in a bowl
1 tsp gochujang (Korean red pepper paste)
2 cloves garlic, smashed
Enough cooking oil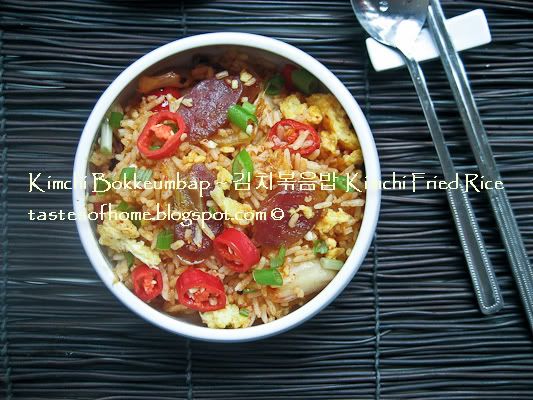 Method:

Firstly, make sure the day-old rice is not clumpy and gently squeeze with your hands to remove and clumps. This will make the frying part easier as you will not be trying to break the rice apart with the spatula.

Next, fry the egg first. Simply fry the beaten egg mixture in the wok and cut up with your spatula. Remove and set aside.

Clean your wok. Heat about 1-2 tbsps of cooking oil in your wok. Once hot, turn heat to low and add in smashed garlic cloves, sliced green onions, and sliced red peppers. Fry until aromatic. Add in kimchi and stir-fry around again for about 30 seconds to 1 minute. Turn heat higher. Add in gochujang. Stir fry around to mix well with the kimchi. Remove garlic cloves and discard.

Add in the rice and fry around till well coated. Finally add in the previously fried omelette and mix well. Dish out and serve hot.