Another steamed bun feature? Ok, I know I just very recently featured a sweet version, steamed lotus paste buns but today's feature is a savoury version filled with gorgeous caramelized pork and the buns look significantly different, I just could not resist posting these. I love these cute little buns for the versatility (you can insert any filling of your preference) and of course for their soft and fluffy texture, finally another plus that these Chinese buns are easy to make at home, anytime by anyone. Once you discover how easy it is to make these delicious buns at home, you will be hooked! These style of Chinese buns are extremely popular snacks (小吃) in Taiwan and are said to be of Fuzhou origin and are known as 割包 or 'Gua Bao' in Mandarin, literally 'sliced-wrappers'. These sandwich-style buns are probably one of the easiest Chinese buns in terms of shaping as well. When making Chinese buns, I prefer to use pao flour which is a bleached version of all-purpose flour to avoid a rather unsightly yellowish tinge.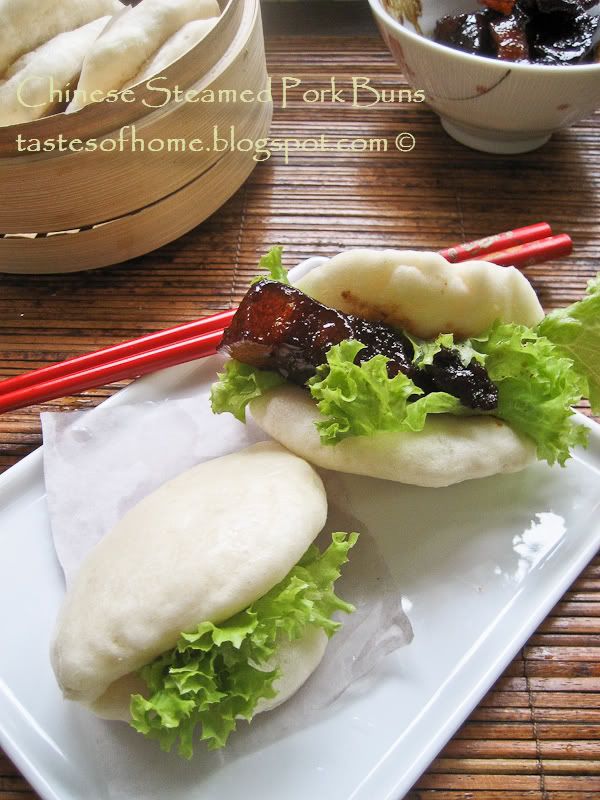 For today's feature, I used a simple braised pork in sweet soy sauce filling sandwiched with some crisp lettuce. Cucumber or green onions/ scallions will also work great. Other ideas for fillings that come to mind include roast duck slices with green onions and barbequed pork with generous dabs of hoisin sauce. These buns were very well received and were filling yet refreshing (courtesy of the crisp lettuce), if you make these smaller-sized, these Chinese sandwiches will be great served as hors d'œuvres at your next party.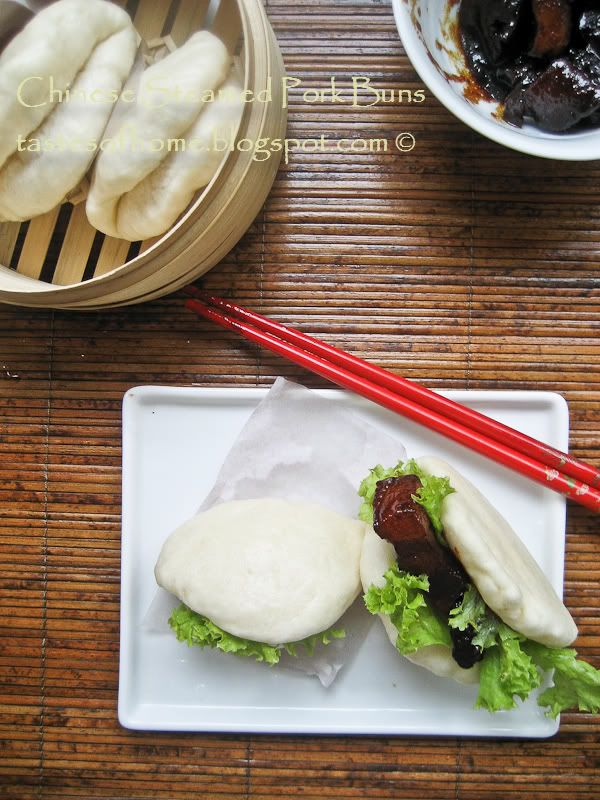 You can always opt to just get store-bought versions of this popular bun which are available in most Asian grocery stores, but it is just so much more satisfying to make these on your own - don't you think? In addition, your family and friends will definitely be impressed with your amazing bun-making skills!

For the Chinese buns: (Makes 12 decent sized ones)

Ingredients:

1 1/2 tsps active dry yeast
1/2 cup warm water
1/4 cup caster sugar
1 cup pao flour
1/2 cup self-rising flour
2 tbsps butter, melted

Method:

1. Firstly, prepare the yeast mixture by mixing the yeast and 2 tbsps of warm water, 1 tsp of pao flour and 1 tsp of self-raising flour in a small bowl and set aside for 15 minutes. The yeast mixture should froth (pictured below), if not redo this step as it means your yeast has 'died'.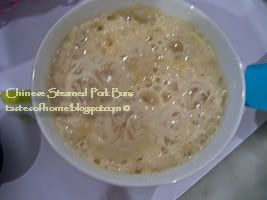 2. Now it's time for the dough. In a large mixing bowl, sift in the remaining self raising and pao flour together. Add in the yeast mixture, sugar, melted butter and the rest of the warm water. Stir with a wooden spoon gently to form a soft dough.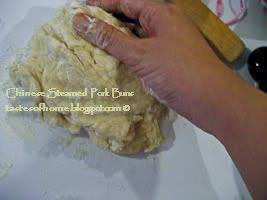 3. Turn the dough onto a well-floured work surface and start kneading for about 10 minutes until dough becomes smooth and elastic.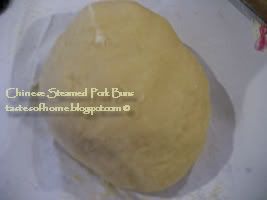 4. Oil a large bowl and place the kneaded dough into the bowl. Cover with a damp kitchen towel and leave in a place away from drafts for proofing about 1 hour or until doubled in size.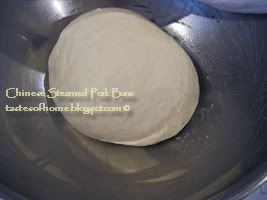 5. Turn dough onto a well-floured surface and gently punch the dough down. Knead again for about 5 minutes until smooth. Roll to form a log of sorts.
6. Divide the dough roughly into 12 portions, shape each portion into a ball and roll flat with a rolling pin.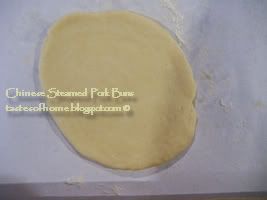 7. Fold the tips to 'meet' each other and gently press the sides of the semi-circle with the palms of your hands as the center part of the bun should be thicker.
8. Place the folded buns onto parchment/ baking paper squares (cut larger than dough) as they will expand while steaming.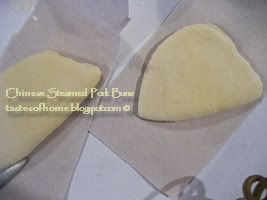 9. Steam over high heat for about 15 minutes. Gently open up the buns and put in whatever fillings you desire. Serve hot or warm.
I love to eat these buns plain too!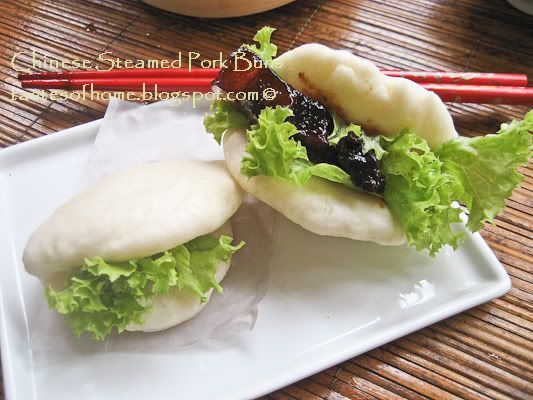 For the Braised Pork: (A feature in my Yuen Chun Recipes series)
Ingredients:
6 cloves garlic, minced
16 inches worth of pork or ribs (try to pick ribs with some fatty parts) - marinated with about 1 tsp of salt and 1 tsp of corn flour for at least 1 hour (place in fridge)
For the braising liquid: (as usual, please do a taste test)
1.5 cups of water
3/4 cups of thick (dark) soy sauce (I used the
Yuen Chun
brand, pictured below)
3 tbsps of light soy sauce
4 tbsps of sugar
Method:
Firstly, saute the garlic in about 2 tbsps of oil until aromatic. Next, place the pork in the pan and fry quickly for about 1-2 minutes. Remove and set aside.
Prepare a heavy bottomed pan or pot for braising (I used a claypot). Prepare the braising liquid as above and remember to do a taste test and adjust for sweetness and saltiness as preferred. Place the lightly fried pork and garlic together with the braising liquid into the pot and bring to a boil. Turn heat to low and allow to simmer for about 1 hour with the lid on checking and stirring infrequently. After 1 hour, the liquid should reduce to about 6 tbsps. Stir the pork to coat well. Serve as filling with the buns above or with rice.