I hope that everyone is having a great Chinese New Year and as we officially cross into the year of the Rabbit, I wish everyone a better year ahead. Although not traditional fare at Chinese New Year's, chicken wings are perfect for all seasons and festivals (at least to me!). Today's chicken wings are first deep-fried till golden brown then coated in a flavourful and citrusy sauce which contains lemon and plum flavours. The sauce have some 'east meets west' elements in that the famous British sauces of HP and worcestershire plus soy sauce are used. While doing some of what I call my 'culinary research' online, I thought it was interesting to discover that worcestershire sauce is actually a unique culmination of Britain's vast colonization in the past as it contains soy sauce and tamarind, both traditional Asian condiments. Fresh lemon slices and Chinese plum sauce provide refreshing citrusy flavours with a bit of spice from the Asian chilli sauce used. I have been a big fan of using Chinese plum sauce in my dishes lately as I find the latter produces a really rich and natural fruity fragrance in a lot of dishes that call for sweet and sour flavours like my Cantonese sweet and sour pork.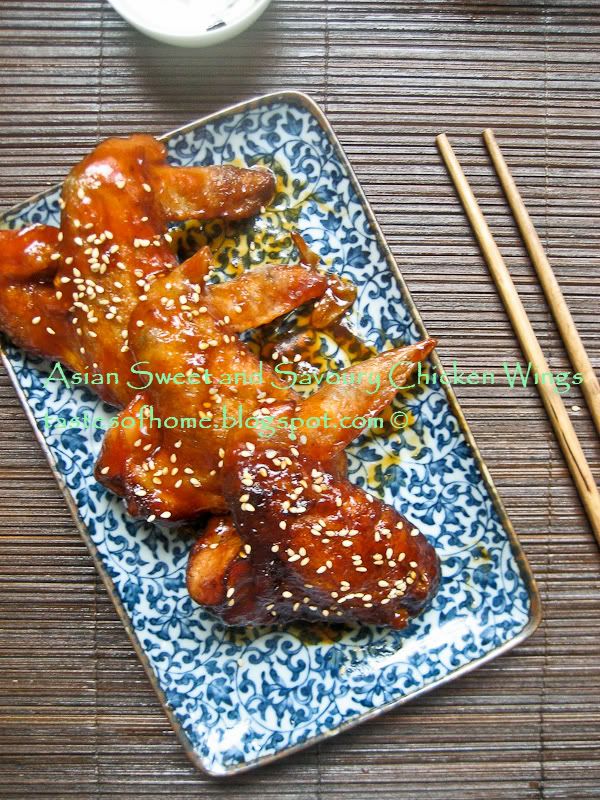 This fusion recipe is another one in my series of Yuen Chun recipes, an ongoing project on Tastes of Home. As my regular readers may gather by now, the Yuen Chun brand of sauces has been a preference in our family since the time of my late maternal grandmother who was an excellent cook. I used their plum sauce today which provided rich sweet and sour notes that complemented the lemon and ketchup perfectly.




These finger licking good chicken wings will definitely prove to be crowd-pleasers!

Plum sauce used







Allow about 2-3 hours for marinating the chicken wings so do prepare in advance.

Ingredients:

Sauce:

6 tbsps ketchup
6 tbsps chilli sauce
2 tbsps HP sauce
2 tbsps Worcester sauce
4 tbsps sugar or to taste
1 tbsp Chinese Shaoxing Wine
3 tbsps plum sauce
4 slices lemon
7 tbsps water
3 tsps corn flour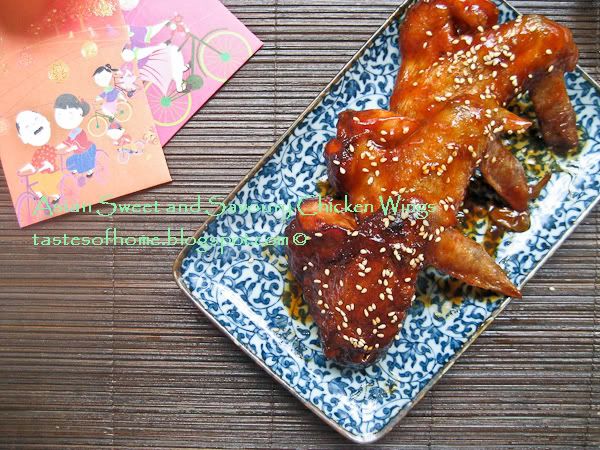 Other ingredients:

8 chicken wings
Enough oil for deep-frying
2 tbsps soy sauce
1 tsp salt
1 tbsp corn starch
4 cloves garlic, minced
Generous handful of sesame seeds, toasted or dry-fried till fragrant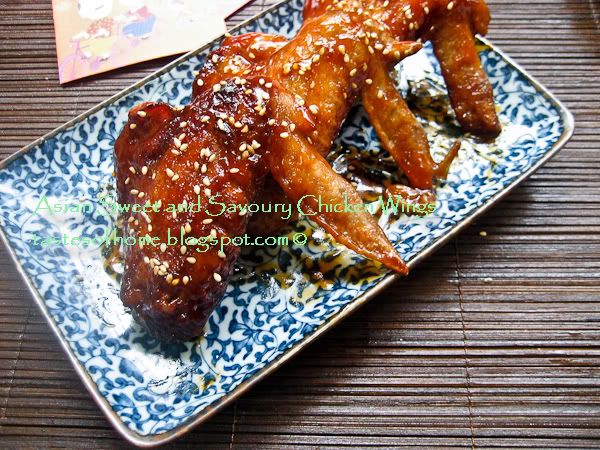 Method:

Firstly, marinate the chicken wings in the soy sauce and salt for about 2-3 hours, covered in the fridge.

Prepare the sauce by mixing up all the ingredients above and bringing to a boil. Remove lemon slices and discard. Set aside.

Add the cornstarch into the chicken wings, mix well. Deep-fry the chicken wings till golden brown. Drain and set aside.

Clean your wok. Heat up about 2 tbsps of cooking oil. Saute the garlic until fragrant on medium heat to avoid burning. Pour in the sauce above and bring to a boil. Add in the fried chicken wings and stir-fry around to coat chicken with the sauce well. Cook until sauce reduces and thickens considerably creating a glossy sauce on the wings. Dish out. Sprinkle with the toasted sesame seeds and serve hot.