The winners of this Giveaway are Jeannie, Benny and Rosa. Thanks to everyone who participated!

Noodles are one of my absolute favourite foods to cook and of course to eat! Today's feature is an extremely simple dish of udon noodles cooked in some wholesome homemade chicken broth and flavourful abalone sauce (pictured below and included in today's giveaway!) . If you are not a fan of udon noodles, you can of course substitute with your favourite kind. The noodles are first cooked very briefly in boiling water then set aside. What I love about using udon noodles is that I can skip the step of running the noodles under cold water after boiling. I then prepared the soup based with my homemade chicken broth, a bit of abalone sauce, dashes of soy sauce and Chinese rice wine for some added fragrance. The noodles are finally topped with some chopped green onions and a tiny bit of garlic oil. As with a lot of noodle dishes, this recipe can be personalized however you like it, simply add some fish cakes for an easy meal or add some abalone slices for a luxurious bowl of noodles. After a few days of feasting during Chinese New Year's, I hope this simple dish will be a nice deviation for you from all the rich dishes we have been enjoying.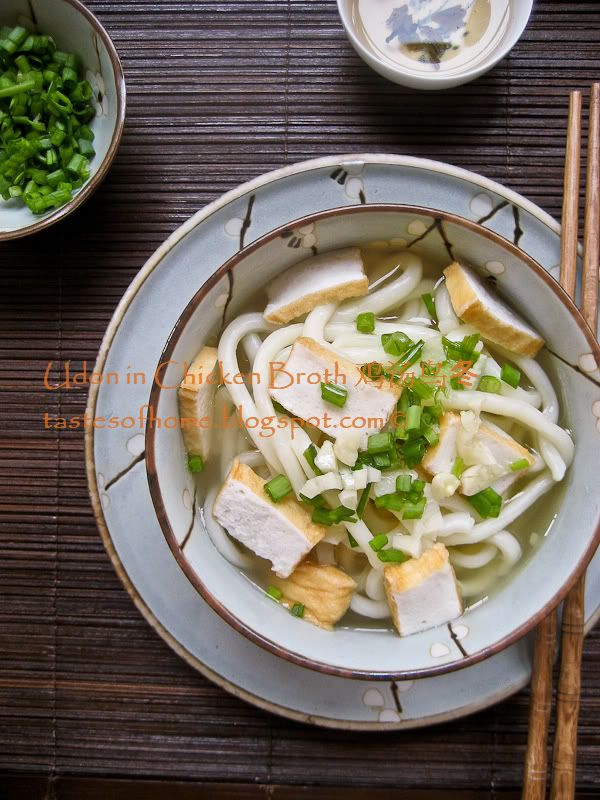 Now, for some little cooking gifts from me! This is the first ever giveaway on Tastes of Home and I am pleased to announce that this giveaway is being generously sponsored by Yuen Chun. As my regular readers may know by now, Yuen Chun has been the preferred brand of Asian cooking sauces in my family ever since my late grandmother started using it in her kitchen. I am pleased to have a chance to share with you the products that I have been using in a lot of my recipes so that you can try them out for yourselves. For some inspiration, check out my range of Yuen Chun recipes that I created, ranging from Chinese-French fusion to classic Chinese homestyle dishes. Also, there will not be one winner but three winners for this giveaway. Kindly leave a valid email address so that I can contact you and please note that this giveaway will close on February 22, 2011 at 10 am (Malaysia time). A great selection of sauces by Yuen Chun will be given out which will include their range of oyster sauces, soy sauces, abalone sauce, Thai stir-fry sauce, vinegar, plum sauce plus a bag and an apron.

RULES:

TO JOIN, choose one from the four options below OR do as many as you want!: (each task will be considered a separate entry, doing more will increase your chances of getting picked, please leave a separate comment for each thing you do )

1. Leave a comment here stating your favourite kind of noodles;
2. Visit Yuen Chun's official website, check out the products and leave a comment here stating which product you most want to try;
3. Link to this post on your facebook then leave a comment here staying you did so;
4. Visit Yuen Chun's facebook fan page, 'like' it and leave a comment here saying you did so.


Additional Information:

The first prize winner will get 3 bottles of each sauce, second will get two bottles and finally the third prize winner will get one bottle of each. All winners will receive a 'special edition' bottle of Yuen Chun's premium soy sauce, an apron and a bag. Winners will be randomly picked.

Just some of the sauces that will be included



I am also sending this simpe recipe to this week's Presto Pasta Nights, one of my favourite blogging events created by Ruth of Once Upon A Feast and hosted by Helen of Fuss Free Flavours.

Ingredients:

2 packets of fresh udon noodles
Water for boiling
4 tbsps abalone sauce
2 cups chicken broth (used canned chicken broth if you don't have homemade broth on hand)
1 cup worth of tofu fish cakes (you can just use fish cakes or your favourite seafood)
Dash of soy sauce or to taste
Dash of Chinese rice wine
Dash of sesame oil
4 stalks green onions, chopped
4 cloves garlic, minced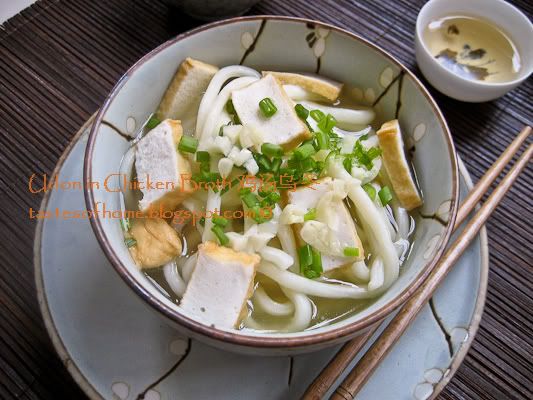 Method:

Firstly, briefly cook the udon noodles in boiling water, separating the strands gently with a pair of chopsticks. Remove and drain, then set aside.

Cook the fish cakes in boiling water for about 1-2 minutes, then remove from water and set aside.

Next, prepare the soup base by boiling the chicken broth and abalone sauce together. Once boiling, add in the soy sauce, rice wine and sesame oil. Do a taste test and add more soy sauce or salt if desired.

Prepare the garlic oil by placing the minced garlic in a microwaveable bowl, add about 3 tbsps of cooking oil into the bowl. Microwave on high for about 30 seconds or till hot.

Place the noodles onto individual serving bowls. Add in the fish cakes. Ladle enough soup into each bowl. Garnish with the chopped green onions and spoon some garlic oil onto the noodles before serving.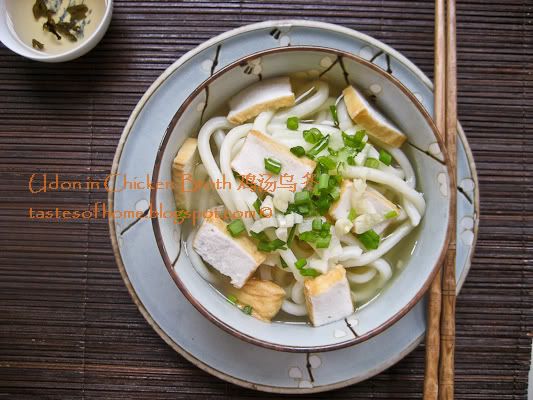 How I make chicken broth at home:

I always use free-range whole chicken when I cook homemade chicken broth. The skin is first removed to minimise the fat content. After boiling for at least 2-3 hours, allow to cool till room temperature, place broth (covered) in the fridge for a couple of hours, then take out from the fridge and you should see a layer of fat on top of the broth. You can then easily remove most of the fat by spooning off the top layer and discarding.

For clearer looking chicken broth which is preferable to me, filter the broth through gauze/ cheesecloth at least once. Your homemade chicken broth is now ready for all kinds of culinary uses or just simply add some salt to taste, garnish with some chopped green onions and enjoy your chicken broth on its' own!