I have no idea why I did not make baked eggs sooner, for one reason or the other, making this always slipped my mind. This is such an easy and delicious way to enjoy eggs that it is almost a travesty I made this so late. I mean, I adore love eggs for breakfast, lunch, dinner or snacks, half-boiled, hard-boiled, fried, steamed - I've probably ate egg in all its' bareness or dressed up in all its' finery but I had never tried baked eggs until now, that is. Apart from the taste and texture of the baked eggs I adored, I loved that it was oh so easy, no need to use a stove, just one (or two!) dishes to clean, it's almost like a lower maintenance version of a breakfast omelette. I mean, what could be easier than throwing eggs, butter, a bit of cream, some herbs of your choice for flavouring and a sprinkling of cheese into a dish and then putting it in the oven?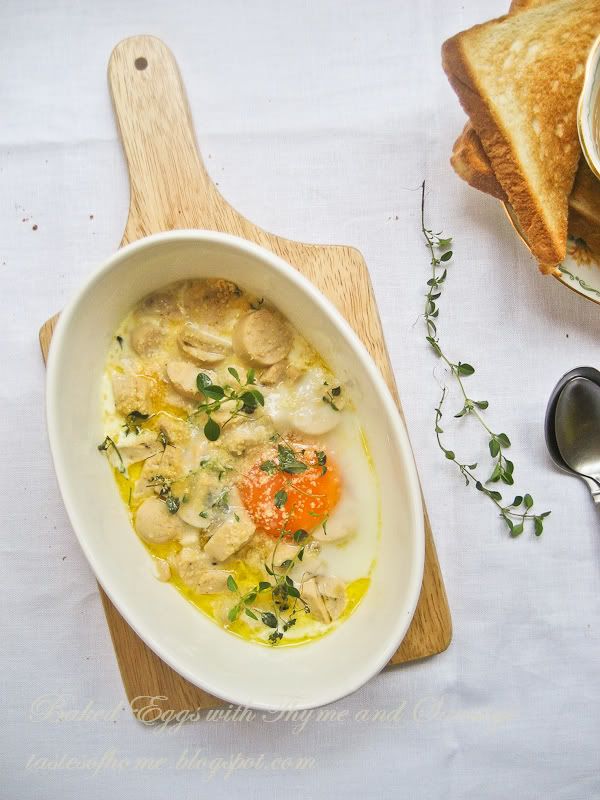 All in all, this is a great breakfast dish especially on those lazy mornings when you want something a little more substantial than toast and coffee.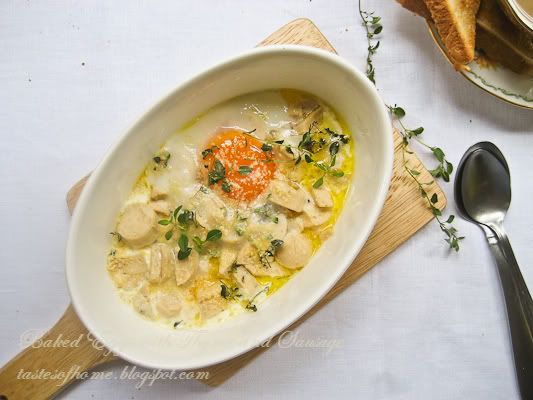 Recipe adapted from Food Network

Serves 2

Ingredients:

2 eggs
1 tbsp heavy cream
1/2 tsp unsalted butter (if using salted, adjust the amount of salt for flavouring accordingly)
1-2 chicken breakfast sausages (you can substitute with bacon or ham according to your preferences), sliced
Handful of fresh thyme (save some for garnish), chopped up
Sprinkling of parmesan cheese (you can substitute with your favourite kind of cheese and freshly grated is probably best but I ran out)
Salt & Pepper, to taste
Toast (optional) - great for dunking into the baked egg




Method:

Pre-heat your oven to 150 C. Firstly, prepare a ramekin or oven-proof bowl. Spoon the cream and butter into the dish. Place in oven on the middle tray for about 5 minutes until butter becomes bubbly.

Meanwhile, beat the eggs in separate bowls taking care not to break the yolk.

Remove the dish from the oven. Place the sliced sausages in the dish. Pour the eggs gently into the dish and then top with the thyme. Sprinkle with the parmesan cheese and add a little salt and pepper (do not overadd at this stage since you can always add more while eating if not salty enough).

Bake in oven for about 10-15 minutes depending on how runny you want your egg yolks to be. Serve hot with some fresh toast.