To say I love croissants is an understatement - this buttery, flaky, and decadent French concoction is my no. 1 favourite pastry. I am not quite sure why I took this long to feature croissants though, I think I was rather nervous with all the endless debates and tips on how to make the 'perfect' one. I think the very first time I made French pastries was at least 8 years ago, at the time food blogs were not de rigeur and I just made pastries blindly, oblivious to all the various debates and literature. Ignorance can be bliss sometimes. That saying reminds me of one of my old history teachers who always used to shout "ignorance is not a sin" rather very sarcastically whenever any one of us students could not answer her questions in class. I was fortunately safe from that since I was (I am?) such a nerd and always read way in advance of what she was teaching. I think I was labeled 'prim and proper' behind my back in secondary school although my mom would probably beg to differ.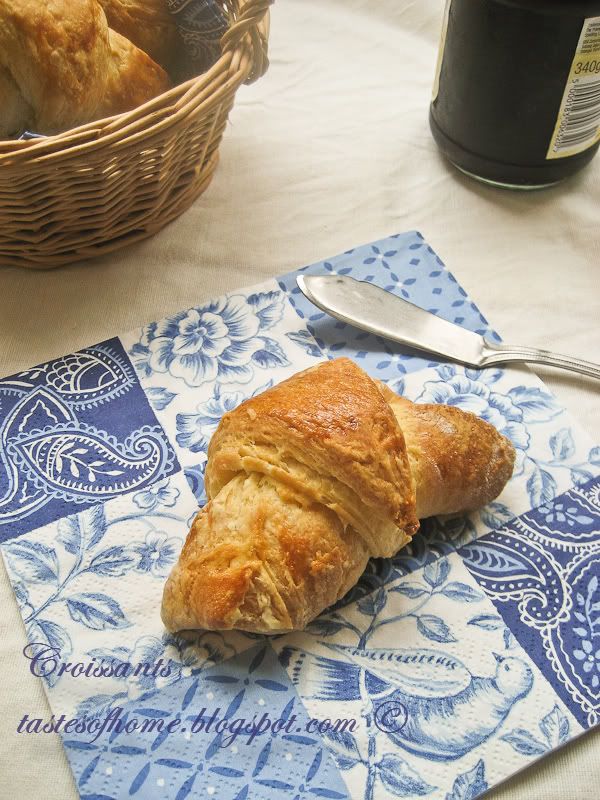 So, what made me get out of my pastry rut and make croissants? I would have to attribute this to all the talented bloggers on the web who have been featuring so many delicious and professional looking pastry concoctions, naturally I was inspired to try my hand at some. I actually bought the butter required for this recipe about 2 weeks ago (do people still use fortnights?) and everytime I opened the fridge, I was reminded of my resolution to make these flaky pastries, so here they are. I have always believed that with awareness and interest, one is able to learn anything. These croissants were perfectly flaky and the recipe is pretty easy to follow. Just plan in advance as this is a two-day affair since the dough should preferably be left overnight before being shaped into croissants.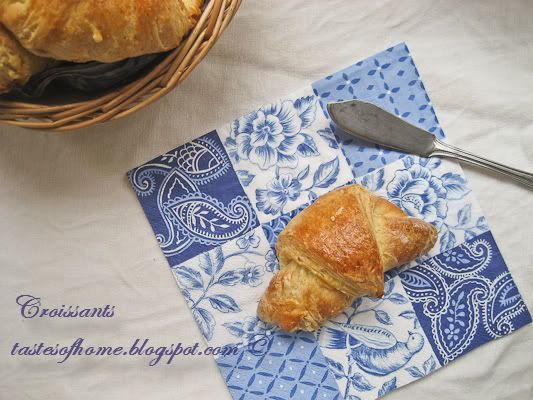 Note: This dough contains yeast which is typical of Baker's croissants but differ from the lighter and flakier version of Patisseur's croissants (essentially classic puff pastry or pâte feuilletée)

Recipe from King Arthur Flour

Makes 24 croissants. (I made 12 and made palmiers with the other half)

Ingredients:

2 large eggs (cool)
Warm water
5 1/2 cups all purpose flour and more for dusting
1/4 cup sugar
2 1/4 tsps instant yeast
1/2 cup dry milk powder (optional)
2 tbsps butter, melted

1 7/8 cups unsalted butter/ 425g butter (cool to touch but not room temperature)
3/4 tsp salt (omit if using salted butter)
1/2 cup all purpose flour




Method:

1. Start the dough with a sponge by cracking the eggs into a measuring cup (allows for 2 cup measurement) and fill with warm water until fills 2 cups. Beat until well blended and pour into a large mixing bowl. Add 1 tbsp of the sugar, 3 cups of the flour and the yeast. Mix until well blended. Cover and set aside for the yeast to start working.


2. For the butter inlay, some flour is added to make it more stable. Add about 1/2 cup flour with the butter and mix well until well blended (no hard lumps) but don't let butter melt. I did this with a spoon by hand. If you use a mixer, do not beat at high speed as we do not want to incorporate air. Lightly flour a plastic wrap and gently place the butter onto it. With a dough/ pastry scraper, pat butter into an 8-inch square. Wrap the butter and chill in fridge on a tray or flat surface for at least 30 minutes.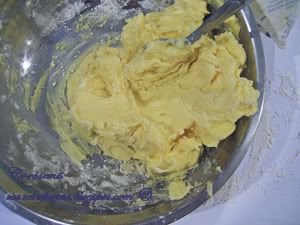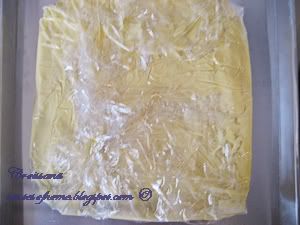 3. To finish the dough, add in the melted butter into the sponge made earlier in (1). Whisk together the remaining 2 1/2 cups of flour, dry milk, the rest of the sugar and the salt. Add to sponge and mix until you form a soft dough. Start kneading, adding more flour as needed for about 5-6 minutes until elastic and smooth.
4. Once the dough is smooth, pat into a square shape, wrap loosely and chill in fridge for at least 30 minutes.
5. Remove chilled dough from fridge and put it on a lightly floured surface. Gently roll into a square about 12 inches across. Unwrap the butter slab onto the dough and place in center of dough at a 45 degree angle, so it looks like a diamond in the square.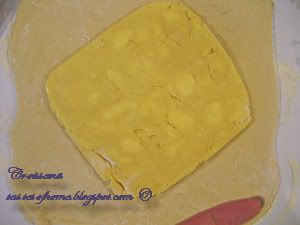 6. Fold the flaps of the dough over the butter inlay (as pictured below) like an envelope. Pinch and seal the edges together gently with your fingers and add water to moisten fingers as necessary.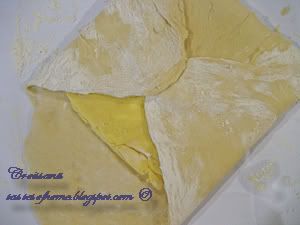 7. Dust the top with flour, then turn the dough package over and with a rolling pin, gently shape into a rectangular shape. Pick up the dough package to make sure the underside is not sticking, add more flour if so. Roll out the dough into a 20 by 10 inches rectangle.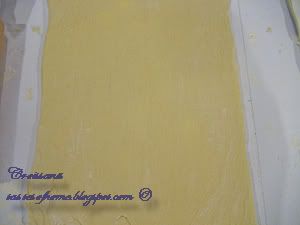 8. Dust the top of the dough of any excess flour. Fold the bottom third of the dough onto the center and the top third of the dough on top of the folded dough, like a business letter. Even up the corners so that they are on top of each other. Tack the corners with moistened fingers as necessary. This is your first 'turn'. There will be 4 turns in total.
9. Turn the folded dough 90 degrees so it looks like a book ready to be opened. If the dough still feels cool to the touch, do another turn as above. If not, place in fridge for at least 30 minutes before making the second 'turn'. Once you complete 4 turns, wrap in plastic and place in fridge and allow to chill overnight.
Shaping:
1. Use half of the chilled dough and roll to a 12 by 18 inch rectangle. Trim the edges of the dough with a pizza wheel or sharp knife. Cut the dough in thirds lengthwise and in half through the middle. This will give you six 4 by 9 inch pieces. Cut each piece in half diagonally and arrange them so the points of the triangles are facing away from you. Cut a 1/2 inch notch in the short edge of the triangle.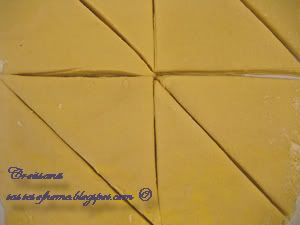 2. Roll up the dough, starting with the notched edge and working toward the point. Ensure the point is tucked under the bottom of the croissant. Form the crescent shape by gently bending the ends toward the center where the tip is tucked underneath. Place the croissants on lightly greased baking paper. Cover and chill for 30 minutes. You can also freeze the croissants at this point.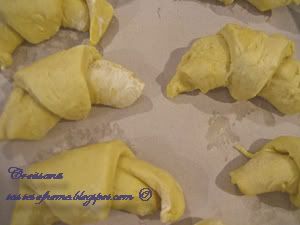 3. To bake: preheat oven to 425 F. While the oven is heating, brush the tops of the croissants with egg wash (1 egg with 1 tbsp water). Once the oven is hot, bake the croissants for 15 minutes, then reduce the oven's temperature to 350 F. Bake for another 15 minute or until a deep golden brown. Remove from oven and allow to cool on cooling rack.
Tips:
1. Make sure to check the expiry date on your yeast. I like to take a small amount and add about 1 tbsp water to make sure it is still active. (The mixture should bubble and foam after about 15 minutes).
2. While rolling and making the turns, should any butter pop out of the dough, 'patch' the hole up with some flour and chill in fridge for 30 minutes before taking out for rolling again.