My love affair with pastry-making at home continues - today with a popular Chinese version of swirly and flaky pastries filled with sweet lotus paste. Chinese pastries also require a quite bit of patience and dedication but compared to the classic puff pastry I made recently, requires far less waiting times, rolling plus folding and dare although it's not necessarily easier to make compared to French pastries. These swirly pastries always catch my eye whenever I walk past a Chinese bakery and you may have probably seen sweet snacks in Asian grocery stores as well. Traditionally, these are served with a piping cup of hot Chinese tea since the tea serves as a great balance to the sweetness and slight oiliness of the pastry but I enjoy these with a hot cup of strong coffee as well. These pastries are enjoyed throughout the day as a snack, at dim sum brunches or as dessert after a meal.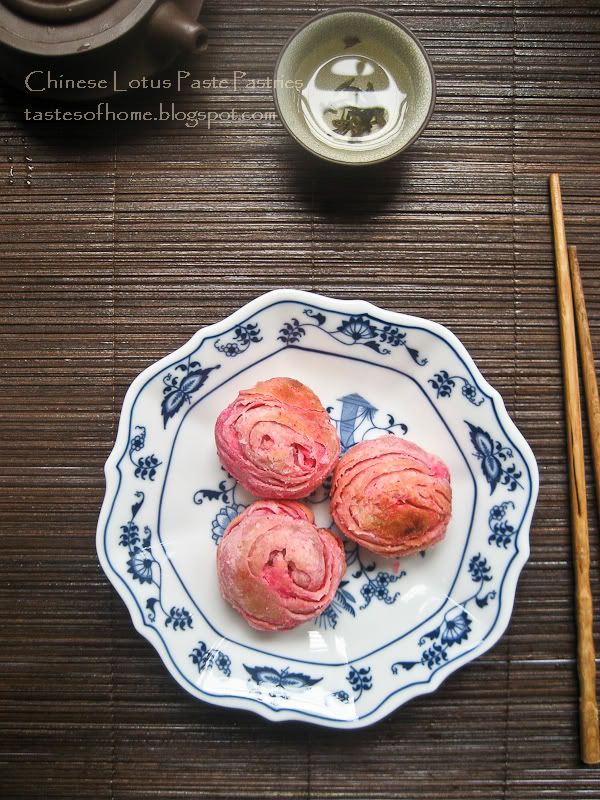 For Chinese pastry-making, usually there are two kinds of doughs required that will be combined to give us that characteristic flaky texture, namely the oil dough and the oil 'skin'. Two types of flour are used in this recipe as well, cake flour and bread flour which contain different protein levels where the cake flour is low-protein and bread is high-protein. If you don't have cake flour, you can substitute safely with superfine flour which contains more or less the same level of protein. You can also play around with the dough by flavouring the dough with essences of green tea, yam, pandan and the like. For today, I decided to leave it plain and just used a bit of red food colouring for a pinkish hue as. If you like pastries in general I think you will like these popular Chinese version and once you find out how easy it is to make these at home, I hope you will give this recipe a try.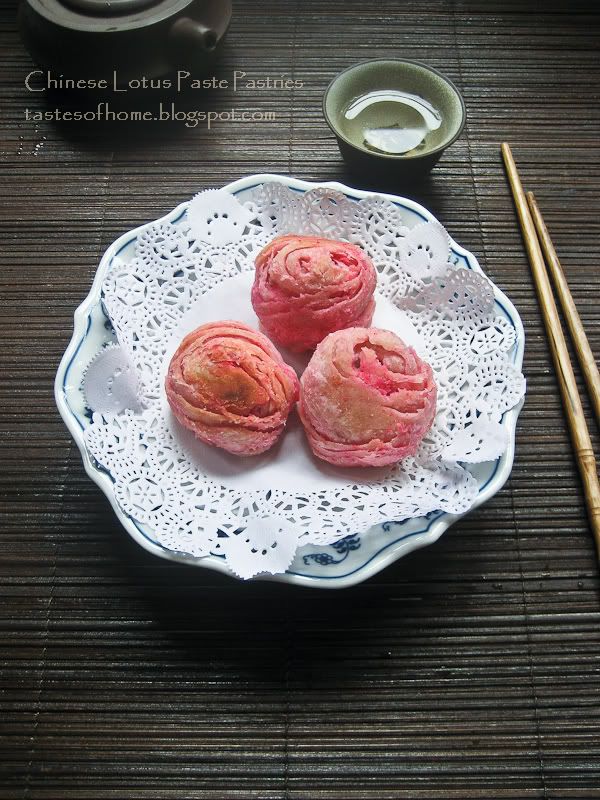 For another popular (and even easier) Chinese dessert using lotus paste, check out my steamed lotus buns.

Recipe adapted from "All About Kueh and Pastries"

* It is quite necessary to have kitchen scales for this recipe.
Ingredients:

(A) Oil 'skin':

45g bread or high protein flour
75g cake or low protein flour (or superfine flour)
10g sugar
45g warm water
37g shortening

(B) Oil dough:

120g cake flour (low protein/ superfine)
60g shortening
2 drops of red food colouring (optional)

Filling:

Enough lotus paste (I only used about 100g worth)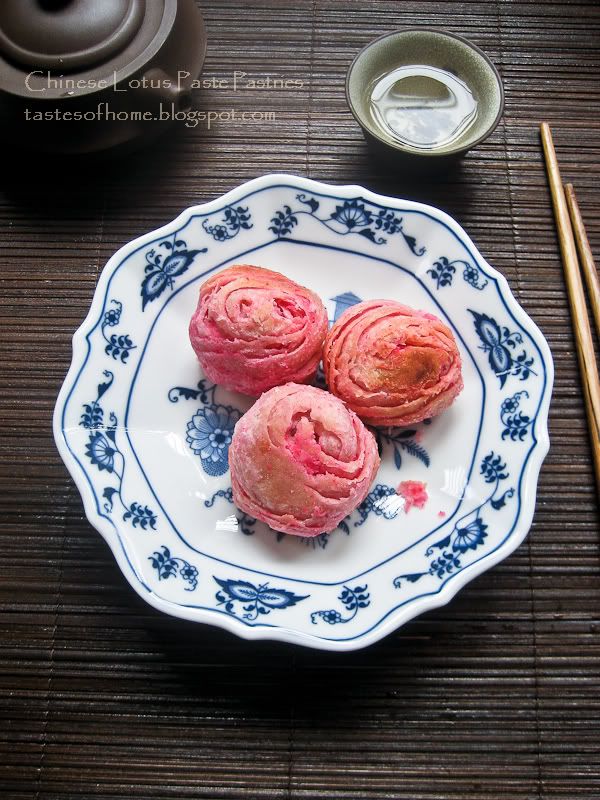 Method:

For (A)

Sift bread and cake flour together. Add the sugar to warm water and stir till sugar dissolves.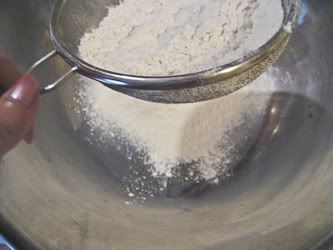 Add syrup to flour mixture and mix well. Add shortening and knead to form dough. Set aside to rest for about 20 minutes. Note: Setting aside allows the dough to loosen and will become smoother.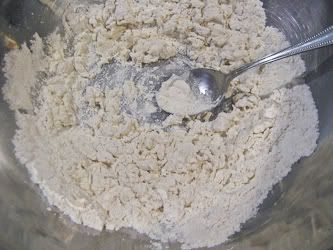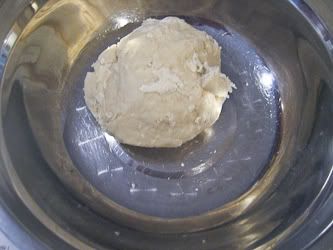 For (B)

Sift cake flour into a bowl. Add shortening, food colouring if using and mix well.



Flatten dough from (A) and wrap (B). Seal the opening and flatten it by rolling out into a rectangle of about 1/4 inch thick.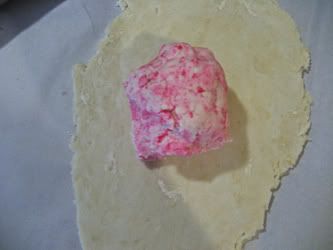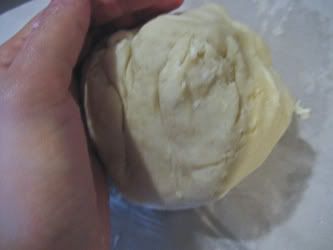 Fold the dough like a business letter, imagine the dough as 3 sections and fold the top towards the middle portion then the bottom on top of that.




Try to align the corners with a bit of dough stretching but not too hard and it's not necessary to have the corners aligned perfectly.

Roll out dough again (this is just like doing a turn in French puff pastry), then roll up gently.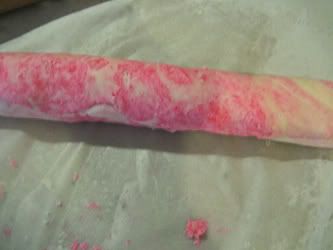 Slice the roll into more or less equal portions. Set the slices face down.

Take a slice and flatten it either with a small rolling pin or with your hands. Spoon about 1 tsp of lotus paste into the middle and seal by twisting gently. Place on platter or tray seal-side down and lightly flatten the bottom. You should be able to see the swirly effect already.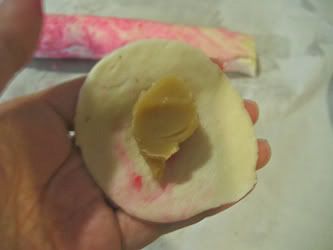 Pre-heat oven to 160 C. Deep-fry the pastries in hot oil for about 3 minutes. Remove and drain on paper towels.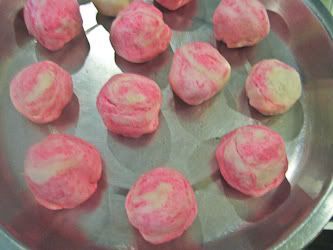 Bake the fried pastries for about 15 minutes.
Notes:

- With this pastry, I did not have to have dusting flour for rolling, the dough did not stick probably due to the shortening.
- I found shortening way greasier than butter so be warned (this was my first time using shortening).
- For weighing out the ingredients, I recommend weighing the dry ingredients first and placing each in separate bowls before weighing out the shortening which you will have to do twice to avoid all the washing in between unless you don't mind.
- Roll out the skins thinly but not too thinly so that the lotus paste does not 'escape'.