I am one of those 'funny' people who always seem to find it difficult to make choices at restaurants when it comes to ordering as I can't seem to make up my mind, perhaps that is due to my tendencies as a Libra gal? I almost always feel a slight tinge of regret after I order as soon as the server retreats from my table with the menu, although that habit is slowly improving I should think. BUT whenever I step into Starbucks, I already know what I want to drink - green tea frappucino. So, imagine my delight when I discovered how to make green tea latte (frappucino without the crushed ice really) at home recently. Extremely simple to make at home, I love that you can use whichever brand of milk you like best and of course adjust the strength of the matcha according to your desires, plus in the interests of frugality is much less costly to make at home PLUS no lines. So, really the advantages are endless.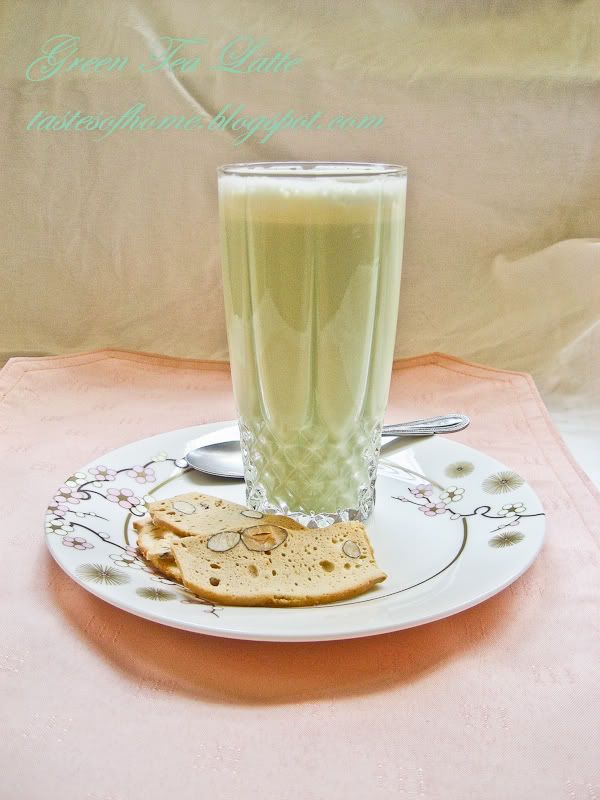 Green tea tastes a little different in comparison to its' Chinese counterparts as the latter is roasted whereas green tea leaves are steamed then dried so it tastes a little milder while retaining more of the 'grassy' scent. To make this drink, you will need matcha powder which is widely available at Asian grocery stores, whipping cream, sugar (or honey) and milk. Easy right? This is also the first drink 'recipe' I am featuring on Tastes of Home and I figured might as well make my first drink feature one of my absolute favourite drinks. I hope that you will give this a try and for those of you green tea frappucino or green tea latte fans, you will love how simple this is to make at home.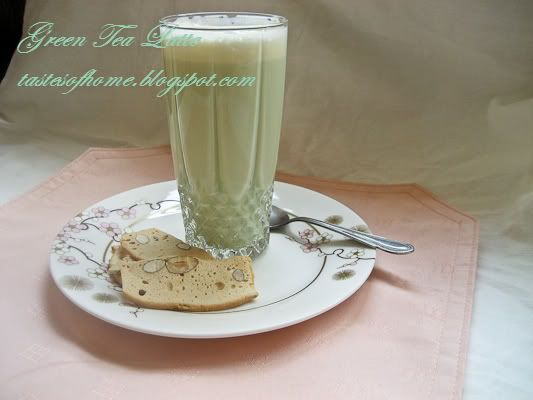 Ingredients (Serves 2)

500 ml low fat milk
1 tbsp sugar or substitute with honey
1/4 cup whipping cream
4 tbsp matcha powder (or less if you want it milder)

Traditional Method: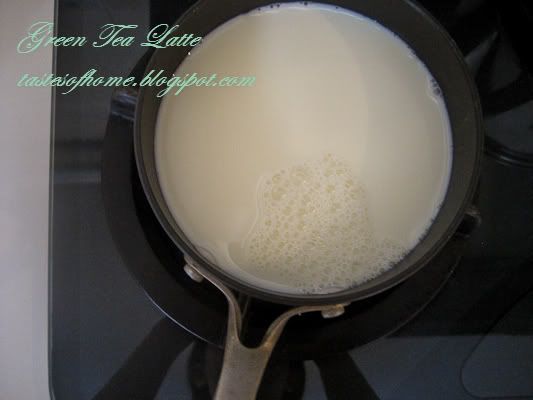 Firstly, boil the milk on low heat until it starts to simmer gently. Add in the matcha powder and sugar. Stir well. Remove from heat and allow to cool a little. Pour milk mixture into a jug or bowl that can withstand heat. Allow to cool to room temperature. Chill in fridge covered for about 2 hours. At the same time, chill two serving glasses as well.




After 2 hours, prepare the cream. Pour the whipping cream into a clean bowl and start whisking either by hand or with a machine. Whisk until cream becomes thick and (very) soft peaks form which will 'tip' over. Your whipped cream is ready. Alternatively, use canned whipped cream.




Pour the chiled latte into your serving glasses. Top with a dollop each of whipped cream and dust with some matcha powder. Serve immediately.

Note: Blend the chilled latte mixture with ice in a blender if you desire.

Short-cut Method:

Heat milk in microwave for about 1 minute on high. Stir in green tea powder. At this stage you can actually choose to serve this hot. If not, cool to room temperature then chill in fridge for about 1-2 hours. Prepare whipping cream as above. Spoon some on top of the green tea milk mixture. Serve.