I am fully Hakka which means both my parents are from the Hakka clan but regretfully my spoken Hakka leaves much to be desired. I am also a little embarassed that my blog hardly feature Hakka recipes. Today's feature is a classic Hakka dish which is popularly known as abacus beads in Chinese - these beads are actually little yam (taro) gnocchis which are made out of mashed yam and tapioca flour. The 'beads' are then traditionally cooked in a savoury mixture of soy sauce, ground pork and dried shrimp bits. As this dish is so simple, the freshness of the yam is extremely important since it would affect the texture of the gnocchis. The texture of these beads are tender on the inside and chewy on the outside. This dish is also a two-day affair where after steaming the yam, it is mashed up with tapioca flour and then shaped and left to rest overnight after being steamed again before being stir-fried which according to my mom would produce a better texture.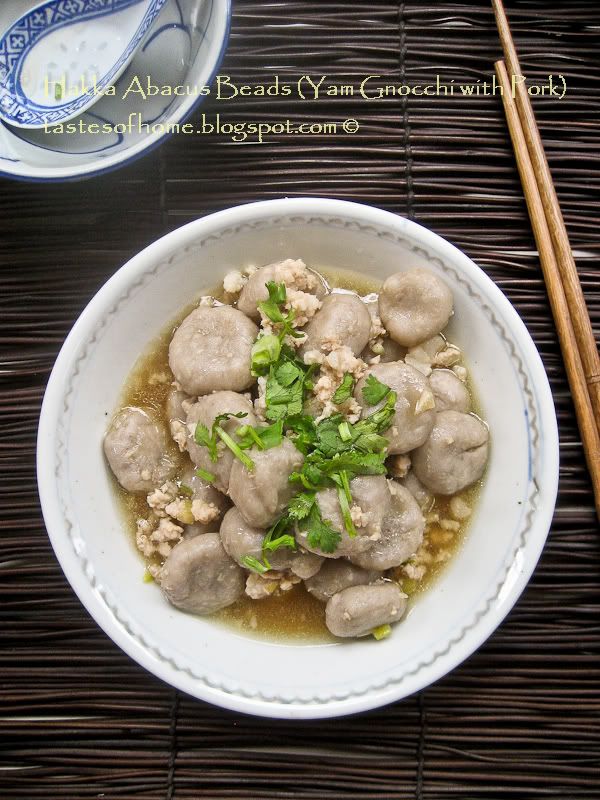 This is truly a dish that brings me back to my roots. Hakka cuisine is generally known for its' earthiness and simplicity, nothing too fancy. Abacus beads is just one of many classic Hakka dishes - I am already planning my next Hakka feature, perhaps the ever popular salt baked chicken which is one of my favourite methods of preparing chicken. As with many dishes, there are many schools of thought (yes, there are many sub-clans within the Hakka clan as well) on preparing this simple dish like say instead of steaming, some prefer to boil the yam beads. With the stir-frying step, we usually just use minced pork, dried shrimp bits and some garlic but you can add other complementary ingredients like mushrooms, slices of crunchy wood-ear fungus and dried tofu pieces.




Step-by-step photos for shaping yam after the jump.

Ingredients:

1 whole yam/ taro - remove skin
8 tbsps tapioca flour/ tapioca starch

1/4 cup of dried shrimp (soaked)
1/2 pound of pork, minced (or buy ground pork)
3 cloves garlic, roughly chopped
Handful of cilantro and green onions (garnish - optional)
Dash of light soy sauce
1/4 cup water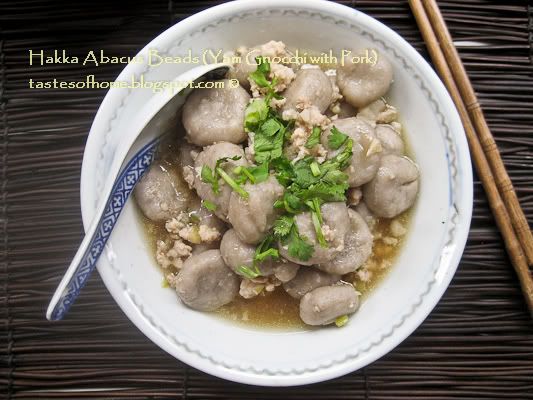 Method:

Shaping:

Yam or taro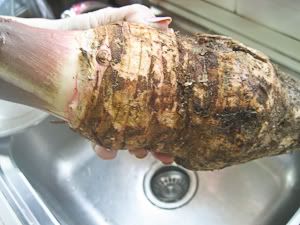 Remove skin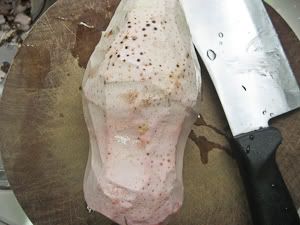 Prepare the yam beads the night before cooking. After removing skin from the yam, slice it up and place on a plate for steaming. Steam the yam pieces for about 20 minutes on high heat until soft. Remove from heat.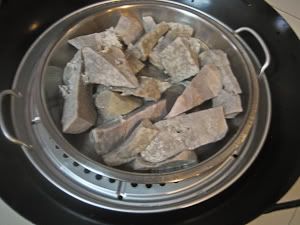 Mash up the soft yam pieces with a potato masher or fork. Now, add tapioca flour and mix well with a fork.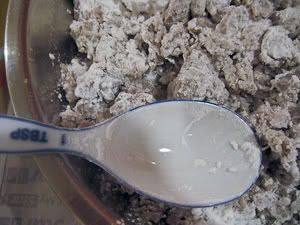 Form into a soft dough (will be crumbly).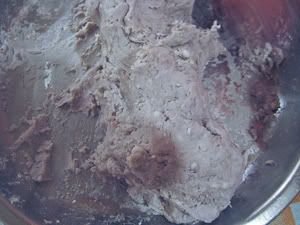 With clean hands, start shaping the yam dough into little balls. Make a slight indentation in the middle lightly with your thumb or finger. Place on plate (will be steamed again). Repeat with remaining dough.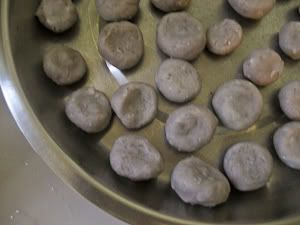 Steam the yam beads over high heat for about 15 minutes. Remove from heat and allow to cool. Once cooled, cover and place in fridge.
Stir-frying:
Remove the yam beads from the fridge and allow to rest till room temperature. While resting, mince the pork with a cleaver or alternatively use ground pork. Saute the garlic in hot oil until fragrant. Add minced pork and dried shrimp bits and fry till aromatic. Add 1 tbsp of light sauce. Add the water. Bring to a boil. Lower heat and cover for about 5 minutes.
Place the yam beads into the wok and stir around until sauce thickens a little, about 5 minutes. Remove from wok and serve hot. You can stir the yam beads for longer if you want the sauce to be thicker. Garnish with chopped cilantro and green onions (scallions).