I love cold noodles and today's feature is a version of the popular Japanese summer dish, hiyashi chuka. It is said that when you see restaurants in Japan serving hiyashi chuka, summer has officially arrived. Although it is not summer yet, I am one who enjoys cold noodles anytime of the year. I used cha soba noodles today but the traditional dish calls for fresh ramen as I prefer the former. Hiyashi chuka is one of many Chinese-influenced Japanese dishes like buta kaku-ni (Nagasaki style braised pork) . A lot of the Chinese-influenced Japanese dishes we see today were brought in via Nagasaki between the seventeenth and nineteenth century when Nagasaki was Japan's only open port. There is even a Japanese adaptation of China's famous Dongpo Pork where a soy and bonito stock mixture is used to simmer the pork until tender.




The taste of this gorgeous noodle dish is light and refreshing on the palate where a tangy soy and vinegar based dressing is used. The ultra-thin slivers of omelette, cucumber, carrots, ham and crabstick make for an incredibly colourful and vibrant topping. The arrangement of the topping on top of the bed of noodles also reminds me of how Korea's famous bibimbap is served. The preparation of this noodle dish is pretty simple, there is not much cooking involved but it may be a little time-consuming as there is a fair amount of chopping involved. To make the dish as pretty as it should be, you should try to slice the toppings as thin as possible. I admit my knife-work is hardly up to par so I cheated a little by using a peeler to peel off thin slices of cucumber and carrots before slicing them up as thinly as I could.




I always found it interesting that although the weather in Malaysia is hot throughout the year, cold noodles are not part of the repertoire in Malaysian cuisine, instead Malaysian food is known for its' hot and fiery flavours. Perhaps Malaysian cuisine operates along the same concept as Szechuan food since the weather in both places are humid hence eating heat-inducing foods helps to whet the appetite. I am also sending this as an entry to Presto Pasta Nights created by Ruth of Once Upon A Feast and hosted by herself this week.

Photo featured on front page of Serious Eats, March 6, 2011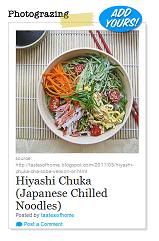 Ingredients: (Serves two generously)

1 packet of cha soba noodles

Dressing:

1/3 cup water
4 tbsps light soy sauce (shoyu)
2 tbsps sugar
4 tbsps rice vinegar
1 drop of sesame oil

Toppings: (You can also add sliced ham, roasted seaweed and other suitable toppings of your choice)

1 Japanese cucumber (substitute with regular if you want)
1 carrot
2 stalks of green onions (scallions)
6 crabsticks
4 cherry tomatoes, halved

For the egg:

1 tsp sugar
1 tbsp mirin
1/2 tsp salt

Garnish:

Handful of toasted sesame seeds (I used both black and white but you can just use white)

Method:

Firstly, cook the noodles according to package instructions. Drain and run though some cold water. Once cooled to room temperature, place in fridge.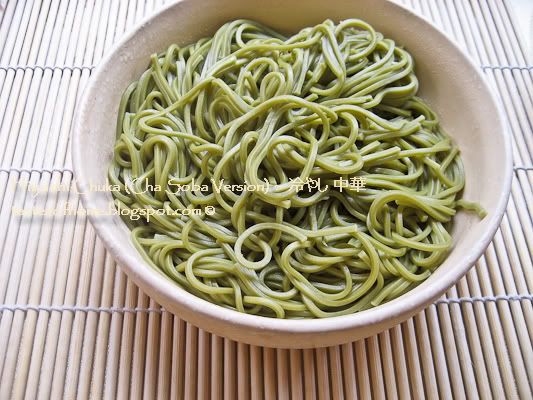 Now, for the toppings. Prepare the omelette first by mixing the egg together with the condiments listed above in a bowl. Heat up a pan with a small amount of oil. Slowly pour the egg mixture into your pan until it forms a thin layer. Fry until set. Remove and allow to cool.

Start slicing up the toppings above as thinly as you can (except for the cherry tomatoes). Roll up the omelette and slice up the omelette as well as thinly as you can.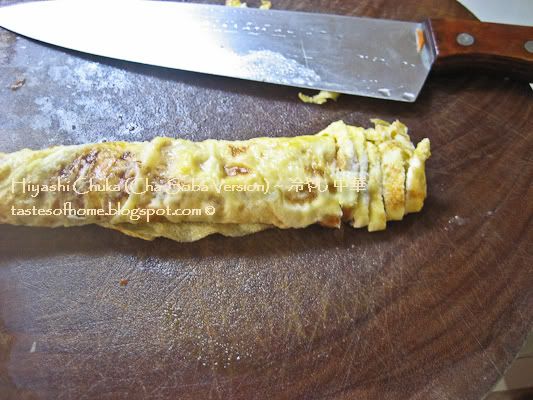 Prepare the dressing by mixing up the ingredients above. Do a taste test and add more vinegar, sugar or soy sauce depending on your preference. Place in a serving bowl.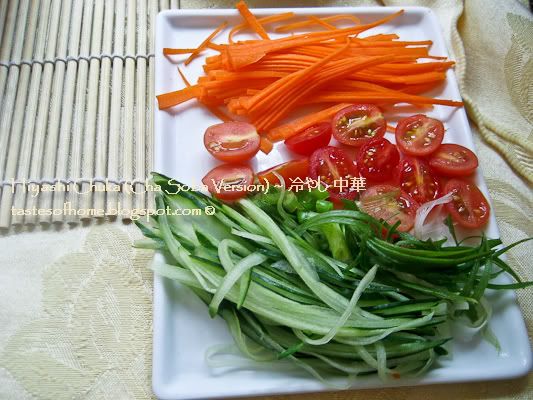 Lastly, for assembly, place the cold noodles in serving dishes and arrange the slivers of cucumber, carrot, egg and crabsticks on top of the noodles in a circular fashion. I placed the scallions in the middle. Place the tomato halves on top of the noodles as well. Sprinkle with a handful of toasted sesame seeds. Serve the noodles with the dressing in a separate bowl at the table for your guests to pour in as much dressing as they prefer.