This popular home style Japanese dish belongs to the category of ofukuro no aji dishes or literally translated, "Mother's taste". Niku means meat while jyaga or jaga means potatoes, these are the two classic ingredients in the dish while you can play around with the rest of the vegetables. I love simmered dishes and the flavours of this dish are clean, fragrant (from the sake and the sauteed onions) and has a tinge of natural sweetness from the carrots. Traditionally, peas are included in the dish as well but I skipped those and added some green onion slices instead. With the vegetables, meat and potatoes in the dish, this is a great one-pot meal on those busy or lazy days.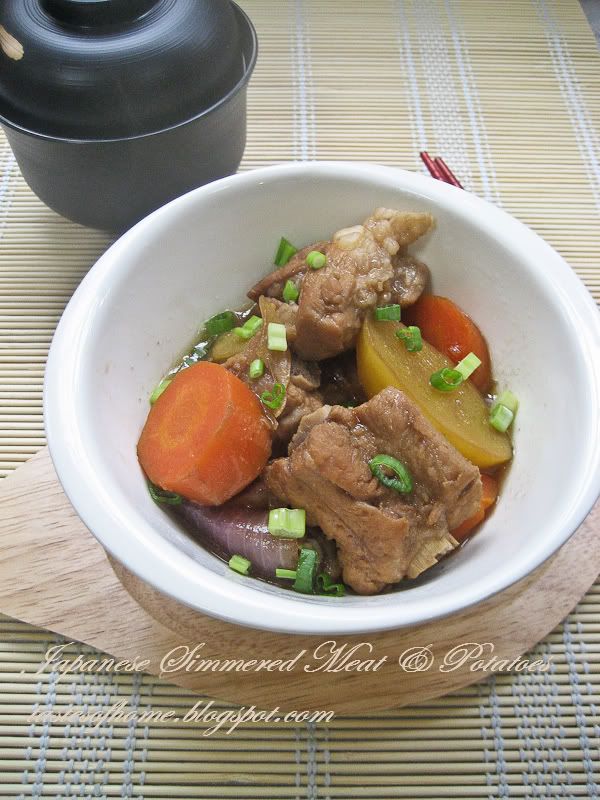 Japanese cuisine is often seen as delicate and artistically arranged but this colourful home style dish is a little bit more rustic in appearance yet no less tasty. The seasoning consists of shoyu, sake, mirin and sugar, a simple concoction that complements the spareribs, potatoes and carrots perfectly. This is also an extremely simple dish to prepare and the ingredients easily found. I must mention too that it is totally worth it to keep mirin in your pantry, you can use this indispensable Japanese condiment in a variety of other dishes, I like using mirin in some of my Chinese cooking as well to add that touch of fragrant sake aroma while lending a pleasing glaze to dishes as its' texture is almost like syrup.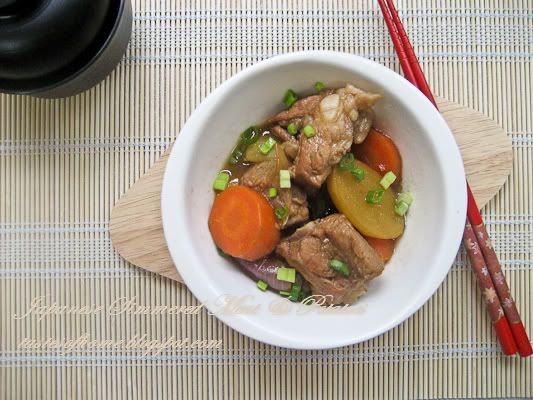 I hope you will give this easy recipe a try the next time you wish to cook your meat dishes a little differently, a definite good addition to your Japanese homecooking repertoire.

Recipe adapted from The Japanese & Korean Cookbook

Ingredients:

250g spareribs or beef fillet (thinly sliced if using beef)
1 large red or yellow onion
1 tbsp cooking oil
1 pound worth of small young potatoes, peeled and halved
1 tbsp chopped garlic
2 medium sized carrots, peeled and sliced to 1/4 inch discs
2 stalks green onions/ scallions, sliced

Seasonings (Mix in a separate bowl and do a taste test)

1 tbsp rough sugar or 2 tbsps regular sugar
5 tbsps shoyu (Japanese soy sauce)
2 tbsps mirin
2 tbsps cooking sake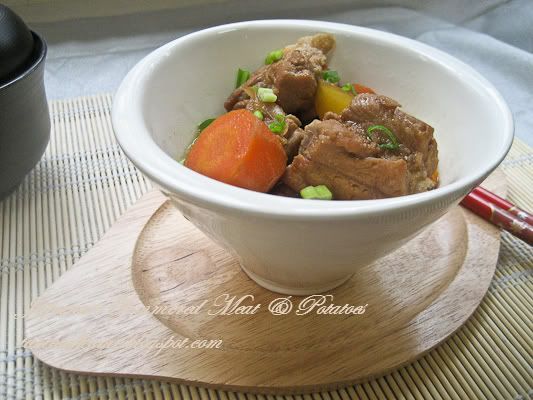 Method:

1. Marinade the spareribs in 1 tsp corn starch (corn flour) for about 20-30 minutes. You can skip this step if you're using beef.

2. Prepare the potatoes first, after halving, soak in lightly salted water. Start slicing the carrots, onion and green onions. Set aside.

3. Heat 1 tbsp cooking oil in a shallow pan that can be used for simmering (with cover). Once hot, turn heat to medium high and add in garlic and onion slices. Once aromatic, add in the spare ribs.

4. Once the ribs or meat change colour, add in the potatoes (drained of water). Once potatoes are coated with oil, add in the carrots. Add enough water to cover all the ingredients. Bring to a boil.

5. Allow to boil on high for 2 minutes. Move the potatoes to the bottom of the pan as they take longer to cook and place the other ingredients on top of the potatoes. Turn heat to medium-low and add in the seasonings. Simmer partially covered for 20 minutes or until most of the liquid has evaporated.

6. Make sure the potatoes are well cooked through. If you are using peas, now is the time to add them. If not, dish out and garnish with the green onion slices. Serve hot with rice.