This popular homestyle Korean rice dish is like a simpler cousin of the famous bibimbap. Unlike bibimbap which is typically prepared with a variety of vegetables and meat, kongnamul bap only requires rice and beansprouts. The rice is cooked together with the beansprouts and then served with a spicy sauce of sesame seeds, gochugaru (Korean chilli powder), red chilli peppers and sliced green onions. This dish of course lends itself to a variety of interpretations where you can add minced beef, chicken or whatever you fancy. This humble yet extremely tasty dish is something that a lot of Korean families whip up when there is nothing much left in the refrigerator. This simple rice dish provides crunchy textures with the beansprouts and toasted sesame seeds and the refreshing and spicy sauce provides just the right amount of flavour while being easy on the palate, altogether a very satisfying dish.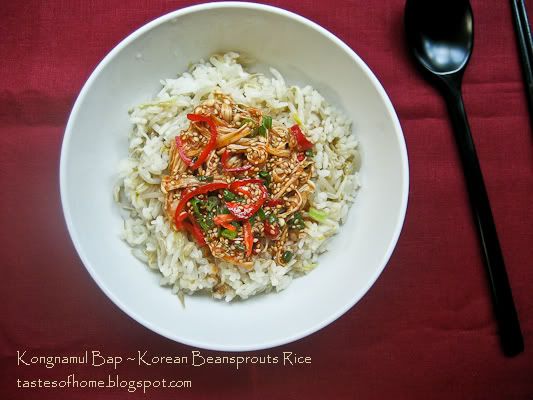 I do hope that you will give this a try, I know that when cooking different cuisine, the list of 'exotic' ingredients may seem daunting so I think this is a great beginner's Korean dish as most of the ingredients are easily found in regular grocery stores with the exception of gochugaru perhaps. A little pinch of this spicy powder goes a long way so if you buy a small packet it will be more than enough for you to try out many Korean dishes. Gochugaru is also used in other popular broths like maeuntang and kimchi chigae. Preparation of this dish is also relatively simpler and shorter compared to many Korean dishes that use a large variety of vegetables so although not difficult, does require a fair amount of slicing and chopping.





Recipe adapted from Book of Japanese and Korean Cooking

Ingredients:

1 cup short-grain rice
2 cups of mung bean sprouts or soya bean sprouts
1 clove garlic, crushed and roughly sliced
1 tbsp sesame oil
1 tsp light soy sauce
Pinch of salt

Sauce:

1 tbsp sliced green onions
1 clove garlic, crushed and roughly chopped
2 tsps grated ginger together with the juice
3 tbsps light soy sauce
1/2 tsps gochugaru (more if you want it spicier)
2 tbsps toasted sesame seeds
1 tsp sugar or to taste
Handful of lightly boiled enoki mushrooms (optional)
1 large red chilli pepper, seeded and sliced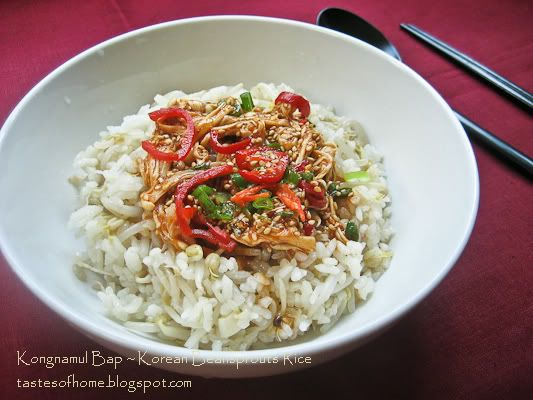 Method:

1. Soak the rice for 30 minutes. Drain and rinse well until water runs clear. This is to remove excess starch.

2. Boil about 3 cups of water with a pinch of salt in a medium-sized pot. Once boiling, add in the rinsed beansprouts and boil for about 2 minutes. (3 minutes if you are using soya bean sprouts which are larger). Remove the beansprouts and set aside in a separate bowl. Reserve the cooking liquid for the rice.

3. Add in the soy sauce, sesame oil, garlic and a small pinch of salt into the beansprouts and mix well. Set aside.

4. Place the soaked rice in the same pot earlier. Add in the reserved cooking liquid until it covers the rice by about 1 cm. Bring to a boil and boil on high for 5 minutes. Add in the marinated beansprouts and boil on low heat for another 10 minutes until water is evaporated. The rice should be cooked at this point, if still hard for some reason, add a tiny bit of water and continue boiling.

5. Now, prepare the sauce by mixing the ingredients above together in a separate dish. Do a taste test and add of the above ingredients to your taste.

6. Spoon the cooked beansprout rice into individual serving bowls and spoon a generous amount of sauce on top. Allow your guests to mix it up themselves and provide more sauce at the table just in case.