I love laminated doughs like croissants and of course creations made out of puff pastry, there is just something inexplicably fun when biting into a flaky pastry, hearing the slight crunchy sound and feeling the soft yet crisp textures plus of course smelling the decadent buttery scent - what a delight to the senses. When I made my
croissants
earlier, I also went about making puff pastry that went to making these palmiers today. The main difference between the two doughs is that yeast is usually not used in making puff pastry. Making laminated dough is really not that difficult but it does require patience and a little more awareness than the norm as there are many rounds of rolling and folding. I also got a little bit more fastidious as I broke out my ruler to make sure my dough was rolled to the correct size, something I have not done in my previous baking adventures as I usually eyeball how large the dough is. My absolute favourite part is the shaping of the dough, somehow all the waiting, rolling and measuring seem worth it when I get to fashion the dough into the desired shapes for baking.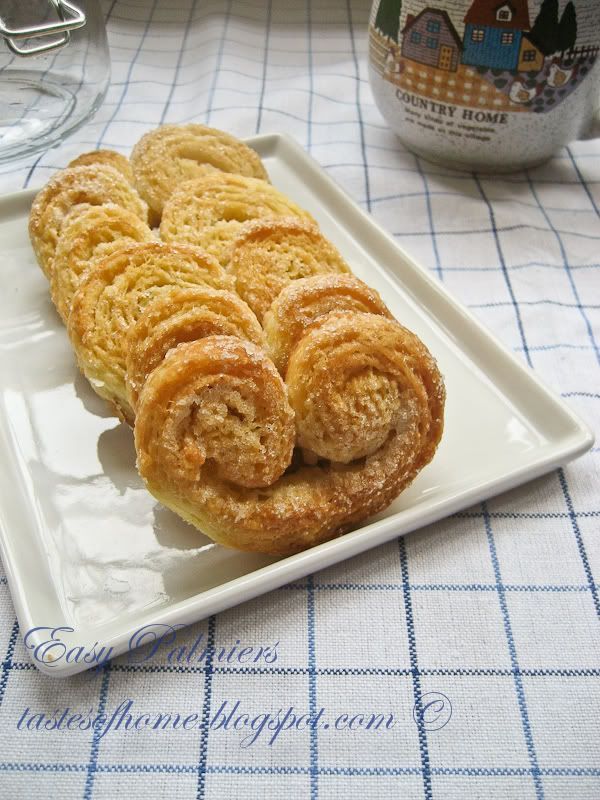 Palmiers are pastry-like biscuits that are one of the representative French biscuits and are extremely easy to make. Puff pastry or
pate feuilletee
as the French call it is sugared then rolled from both ends to meet in the middle, then sliced and placed on the baking sheet to bake to a golden hue and sugar is caramelized, perfect with a hot cup of tea or coffee. This is another great basic recipe that you can be creative with and expand on endlessly, for example flavouring the dough itself, adding other spices or herbs to the puff pastry before rolling for savoury versions and the list goes on. For a fast version, just use store-bought puff pastry which works fine although I still think making your own puff pastry will be more fun and rewarding.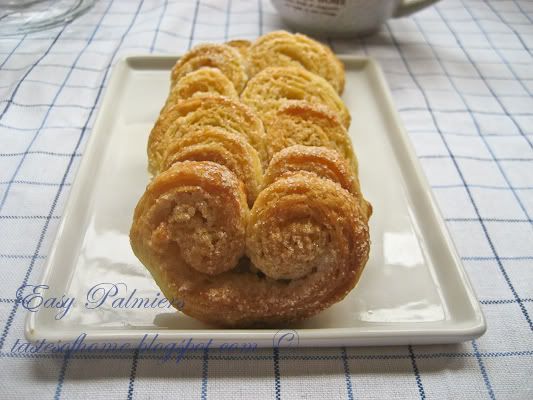 If you intend to keep the dough overnight in the fridge before baking (which is advisable) do wrap it properly to avoid the dough from being exposed to the air and drying out. The puff in puff pastries and the many layers that you see once you bite into one comes from the layers of butter which steam and cause the area between the flour and butter to expand in the oven. I did not know about this previously but apparently in classic puff pastry, you want to create 729 layers of folded dough for the 'perfect' pastry much like how 9 layers are considered ideal when rolling tamago.
I would also like to thank Kristy from
My Little Space
and Holly from
Beyond Kimchee
for presenting the Stylish Blogger Award to Tastes of Home recently.
Recipe for puff pastry from
King Arthur Flour
Ingredients:
Homemade puff pastry (above) or store-bought (defrost according to package instructions)
Enough sugar
A little bit of water to moisten hands
Method:
Firstly, dust your work surface with some sugar (you will be rolling the dough onto it). Roll the dough thinly on the sugar to about 1/4 inch. Sprinkle more sugar on the top part of the dough. Make a rough mark of where the center is. Roll both ends towards each other and with moistened hands make sure the the middle line where both rolls meet are gently stuck together. If the dough feels too soft, place in fridge for 20-30 minutes before slicing.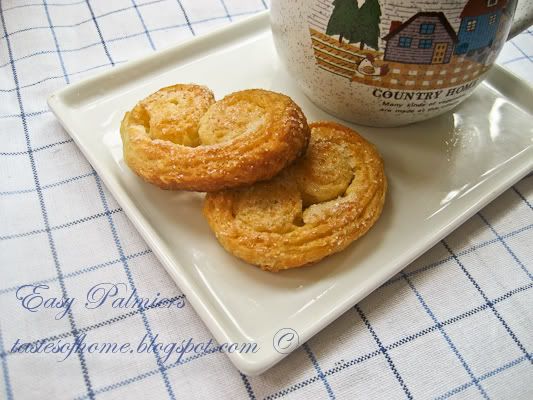 Heat an oven to about 350 F. Start slicing the dough, about 1/4 inch each slice. Place the palmiers flat-side down on a baking tray and sprinkle with a little bit more sugar. Bake until golden brown, this should take about 15 minutes. Done!