I have been craving for some good pancakes recently and I thought there would be nothing better than pancakes on a lazy Sunday morning. I served my basic pancakes with some homemade lemon curd I made (for the first time incidentally) 2 days ago. I have to admit, I must have been living under a rock for quite a bit, I only very recently discovered lemon curd on toast, lemon curd is traditionally English and it's a wonder how I never tasted it (except in pastries) while living in London. If you like sweet lemony flavours, you will probably like lemon curd and homemade really beats store-bought - the refreshing citrusy scents while you are making the curd are more than worth it. My lemon curd consisted of lemon juice, lemon zest, egg yolks, sugar and butter. I think some recipes call for corn flour or other kinds of flour that may probably lengthen the lemon curd's 'life' but I much prefer lemon curd without the above.




These pancakes were very easy to make, as I wanted my pancakes to be fluffier, I changed the recipe a little by whisking the egg white separately first before adding to the milk mixture and as I was serving my pancakes with lemon curd, I lessened the sugar in the recipe. I think it's also quite important to allow the egg and the milk to cool to room temperature before using, it does make for a better pancake, probably along the same principles for baking. This is a great basic recipe that you can expand on and always a good choice for those lazy weekend breakfasts.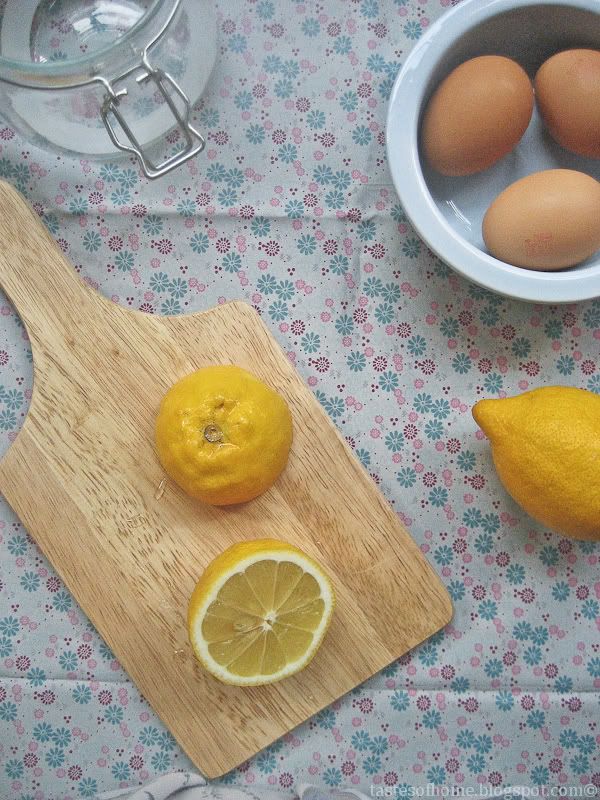 For the pancakes: (Makes about 8 pancakes)

Recipe adapted from Martha Stewart

Ingredients:

1 cup milk, room temperature
1 large egg, room temperature
1 cup all-purpose flour
2 tsps baking powder
1 1/2 tbsps sugar
1/2 tsp salt
2 tbsps unsalted butter

Method:

Preheat an oven to about 100 degrees C to keep the finished pancakes warm as you are cooking.

Separate the egg. Set the yolk aside. Place the white into a greaseless bowl and whisk until almost stiff.

In a medium sized bowl, pour in the milk and yolk. Add the slightly stiff egg white into the milk mixture. Whisk until well-incorporated.

Add in the flour, sugar, baking powder, salt and butter. Mix just enough to incorporate, try not to overmix, small lumps are totally fine.

Prepare a pan and heat over medium heat. Grease the pan with butter well, you can use a scrunched up paper towel for this. Spoon about 2-3 spoons of batter to form a pancake and lightly 'shape' the pancakes with the back of your spoon.

The pancakes should cook up pretty quickly, you should see bubbles forming on the surface of the pancakes. Once a few bubbles start bursting, it is ready to be turned over. Once turned over, it should take about 30 seconds (gas stove) and close to 1 minute (electric stoves) for the other side to cook. Flip over to check and place in prepared dish if desired brownness is achieved. Repeat with remaining batter.

Serve with butter and maple syrup if you are not using lemon curd.

For lemon curd:




Ingredients:

Juice of 1 lemon
Zest of 1/2 lemon
5 tbsps sugar
3 egg yolks
5 tbsps unsalted butter

Method:

Prepare a jar for storing the lemon curd. Sterilise it according to the instructions that came with your jar. Alternatively, you can sterilise the jar by placing in the oven at about 80 degrees C while you are making the lemon curd.

Place the lemon juice, zest, sugar and egg yolks in a heavy bottomed sauce pan. Whisk the mixture until just combined. Place the saucepan on the stove and heat with medium heat while stirring the mixture all the while.

You should see the mixture thickening after about 4-5 minutes. The consistency should be creamy and only slowly drip of the back of a spoon. Remove the jar from the oven and add in the lemon curd into the jar. The basic principle is to make sure your jar and your contents to be of roughly the same temperature. Place a small piece of cling-wrap right on top of the lemon curd - this is to avoid a 'skin' forming on the curd. Cover and allow to cool to room temperature before placing in fridge. Keep up to one week.