There is nothing as comforting and delicious like a good and classic pasta dish sometimes and carbonara is one of my favourites. You know, it was only a few years ago that I discovered in classic carbonara recipes, cream is not used and I was more than delighted to note that as I always refrained from making carbonara at home since it felt too sinful what with the cheese and the cream so I only order it occasionally at restaurants. With classic carbonara, only eggs and cheese are needed for the sauce - of course the ratio of the eggs and cheese may vary and it is totally up to you how 'cheesy' you want your dish to be. I like to stick on the not-too-cheesy side and allow guests to add more at the table if desired.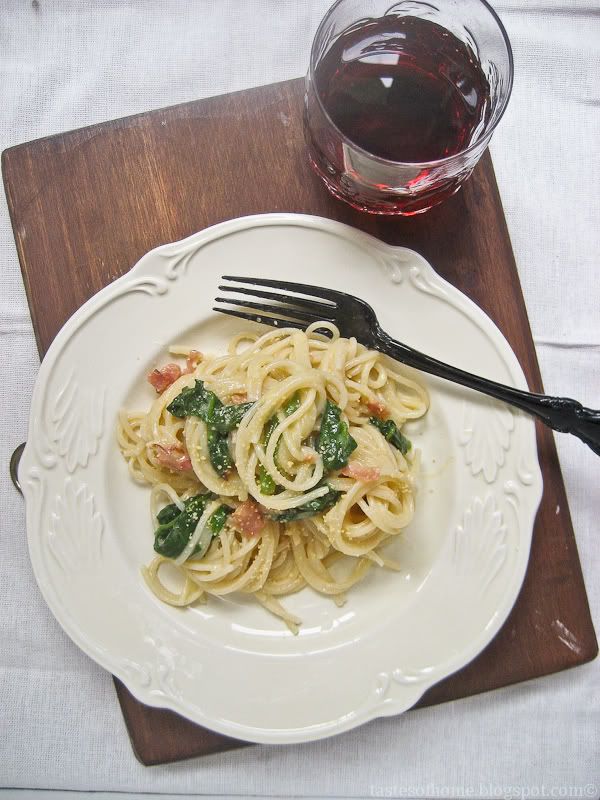 This dish was cooked, photographed and served in under 30 minutes. Preparation is minimal, you only need to dice up the bacon and rinse some spinach. Add a clove or two of minced garlic if you like as well. Timing is pretty important too in this dish as you don't want the pasta to go cold before it is ready for tossing with the other ingredients. Freshly grated cheese works the best with this recipe but of course you can substitute with store-bought grated cheese (usually pecorino is used) although I have had good results with just parmesan as well. Instead of spinach, you can also add mushrooms - in fact pancetta is more the classic meat of choice than bacon but the latter works great I think.




Serves two

Ingredients:

Half a packet of spaghetti or pasta of your choice
Enough salted water to boil the pasta
6 slices of streaky bacon, diced
1 cup worth of baby spinach or spinach, rinsed well
2 eggs
6 tbsps worth of freshly grated cheese or store-bought grated cheese (add more cheese if you wish, really this is to taste)
Salt, to taste
Black pepper, to taste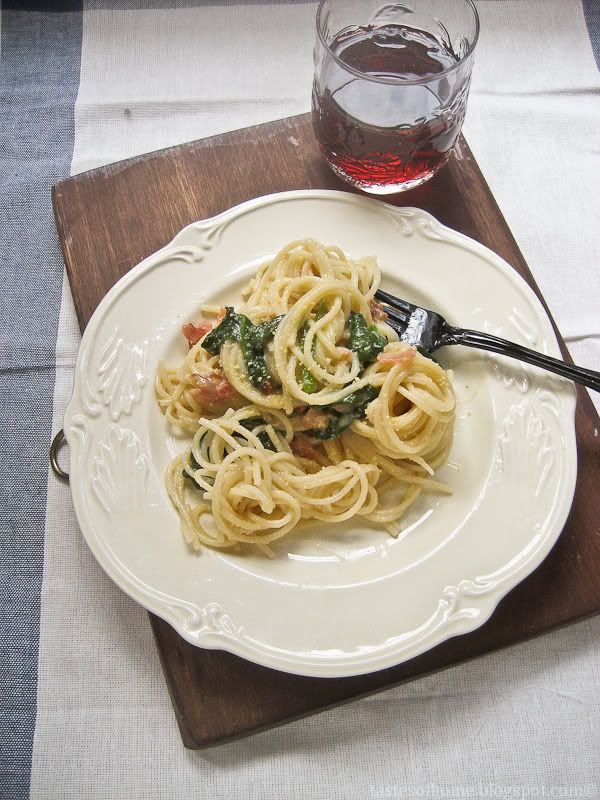 Method:

Firstly, boil the pasta in the salted water. While that is going on the stove, fry the bacon bits until almost crispy. Set aside. In a separate bowl, whisk the eggs well to break up the yolks, then add the cheese. Set aside.

Once the pasta is about to be cooked till 'al dente' add the spinach and cook until wilted. Remove pasta and spinach from the pot and drain, saving about 1-2 tbsps of the pasta water. Add the bacon bits into the pot. Immediately pour in the egg and cheese mixture and toss pasta rapidly with a pair of tongs to coat pasta well with both the bacon and the egg mixture. You have to do this quickly so that eggs do not cook on their own. If the sauce appears too thick, you can dilute with a little bit of the pasta water saved, adding a little at a time.

Add a bit of salt and freshly ground black pepper to taste. Serve hot.