These tasty chicken bites make for great party food and today's feature was actually a result of me trying to use up some ground chicken I bought earlier in a slightly 'different' way. A quick look through my blog statistics showed that a lot of my readers like to click on the 'Asian Hors-d'oeuvres' recipes so I thought this would be a great addition. Ground chicken is marinated in some sake, mirin, soy, ginger juice and then mixed with some crushed seaweed (nori) sheets and cubed carrots and finally lightly coated with potato flour and then fried. If you don't like carrots, you can substitute with corn kernels for a stronger tinge of sweetness as well. The toasted seaweed adds unexpected pleasing flavours while the tiny carrot cubes provide some naturally sweet crunchiness.




I served these chicken patties with two different dipping sauces of appetizing lime-soy and wasabi mayonnaise. This recipe allows for a lot of creative interpretations - the possibilities are truly endless. For today's feature, I mainly used Japanese condiments, if you prefer something spicier, you could try using Thai condiments (perhaps adding some bird's eye chilli peppers to the chicken mixture instead of nori) and making a kaffir lime mayonnaise as the dipping sauce. I do hope you give this easy recipe a try when you want to serve some Asian style appetizers at your next party or just when you feel like it, with or without company.

This feature is part of my Yuen Chun recipes, an ongoing project I am collaborating on with Yuen Chun, my preferred brand for Asian cooking sauces.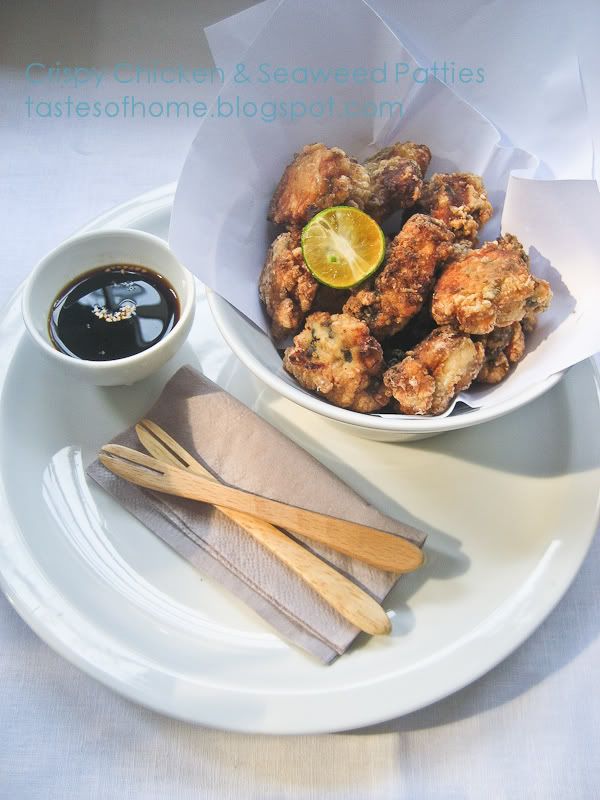 Ingredients:

Chicken patties:
1 pound of ground chicken or minced chicken
1/2 carrot, cubed
1 carrot, cubed
1 sheet toasted nori (seaweed)
Enough potato flour for coating (you can substitute with corn flour but potato flour will be crispier)

Marinade:

1 tbsp light soy sauce
2 tbsps mirin
2 tbsps sake
1 egg
2 tsps corn flour
2 tsps fresh ginger juice (or freshly grated ginger together with the juice)

Dipping sauces

Wasabi-mayonnaise:

4 tbsps mayonnaise
1 tsp light soy sauce
1 tbsp wasabi

Lime-soy: (I used Yuen Chun's light soy sauce, my preferred brand for most of my Asian cooking sauces)

Juice of 1 lime
Grated rind of 1 lime
2 tbsps sake
2 tbsps light soy sauce
Pinch of sugar




Toasted sesame seeds for garnish (optional)

Method:

1. Prepare the marinade (excluding egg and corn starch) in a large bowl. Lightly chop up the ground chicken again with a cleaver or large knife. Toast the seaweed sheets atop open flame to make it crackly and easier to tear up.

2. Add the ground chicken, torn seaweed and carrots into the bowl to marinade. Add the corn starch and egg. Mix well with a fork or chopsticks.

3. Heat up enough oil for shallow or deep frying. Once hot, turn heat to medium-low.

4. Spoon about 6 tbsps potato flour onto a plate or shallow bowl. Use a wet spoon to scoop up a portion of the ground chicken mixture and lightly coat with the potato flour. Set aside. Do the same until you have about 6 patties or enough for one batch to fry together. Fry for about 2-3 minutes.

5. Repeat with remaining chicken mixture. Drain on paper towels.

6. While the chicken patties are draining, prepare the sauce by simply mixing the ingredients listed above together.

7. Serve the patties hot with the dipping sauces.