This is probably the easiest soup recipe I have on this blog. This is a quick and simply flavoured soup of fish balls, preserved vegetables or otherwise known as 'dong choy' or 冬菜 and glass noodles. To make this easy soup more wholesome, I used fish balls without preservatives but if that is not readily available where you are, go ahead and use regular ones. The preparation and cooking of this dish requires less than 30 minutes and you can make it a complete meal by adding pre-soaked glass noodles at the table. I added glass noodles only at the last minute to avoid the texture of the noodles becoming overly soft.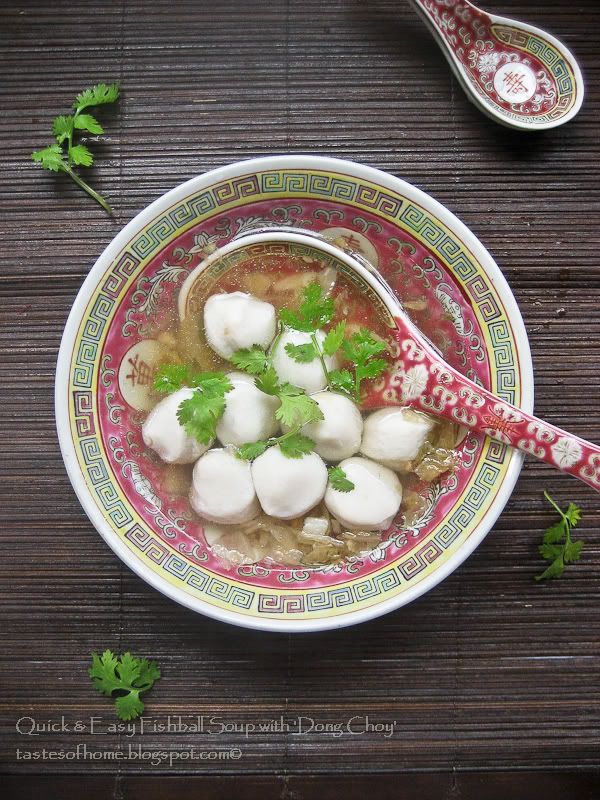 If you are using store-bought fish balls, it is quite important to get good quality ones as the ingredients are so simple. I did not need to add salt to the soup as the preserved vegetables are already (obviously) preserved in salt so much of the savoury flavours come from the vegetables. These vegetables are usually sold in clay jars at most Asian grocery stores and somehow go very well with fish balls. I like to keep the clean flavours of this dish hence I did not add any lard but it is quite common to see lard being added for added fragrance especially if you order a bowl of fish ball soup noodles in Malaysia.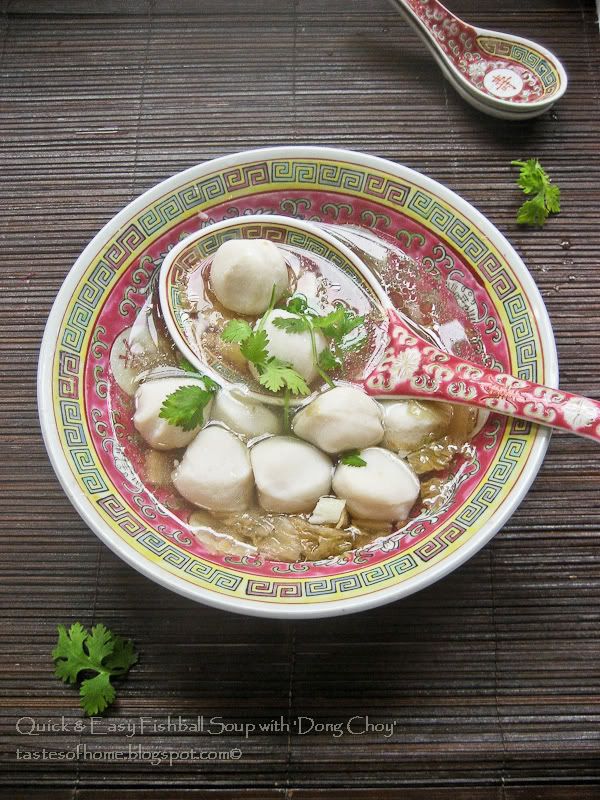 Ingredients:

Adjust quantity depending on how many you are serving, this serves 4.

2 dozen (24) fishballs
4 cloves garlic, roughly chopped
8 cups water
2 packets glass noodles (optional)
3 tbsps 'dong choy' or Chinese preserved vegetables, rinsed and squeeze water out with hands
Splash of light soy sauce
Fresh cilantro or green onions, for garnish (optional)

Method:

Firstly, saute the garlic and the preserved vegetables in a large deep pan or wok with about 1 tbsp of cooking oil. Add a tiny splash of light soy sauce.

Once aromatic, add the water. Then cover and bring to a boil. Once boiling, add the fish balls into the soup. Cover and bring to a boil again.

Remove cover and check to see that the fish balls are cooked. Do a taste test and add more soy sauce if needed.

Serve hot. Add pre-soaked glass noodles right before eating if using.