The swiss roll is such an old favourite and it's definitely not hard to see why, essentially sponge cake rolled and made with a filling of your choice, this basic recipe can be tweaked and adapted to your liking. Another thing I like about swiss rolls is the lightness as no butter is required which also makes for easier cleaning. For today I filled my swiss roll with lychee and plum in a light hand-whipped cream in another attempt of mine in creating an 'East meets West' dessert tracing the footsteps of my strawberry and dragon fruit tartlets.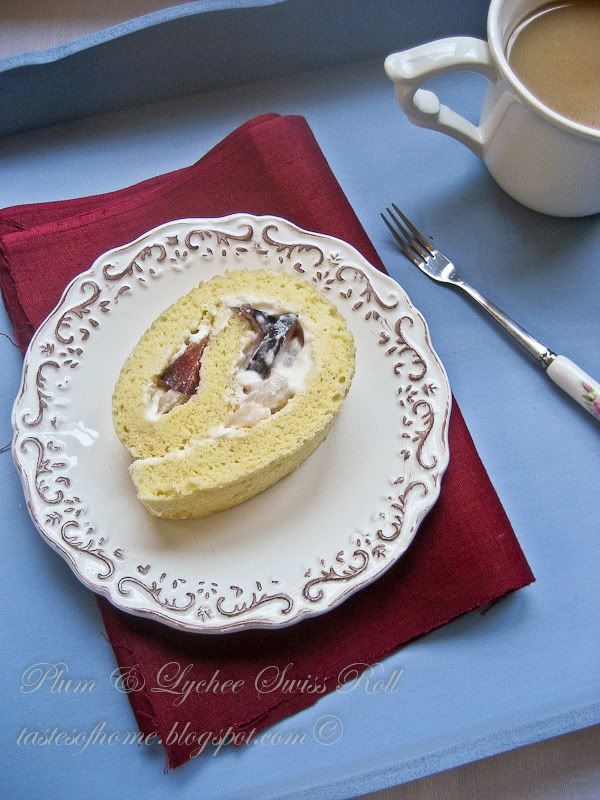 When I saw the lovely black plums in the local grocery store, I just had to incorporate some into my filling although I had initially wanted to go with just lychees. I thought the black plums would provide a nice colour contrast and went surprisingly well with lychees in the sweetened cream. Unfortunately, lychees are not in season now so I went ahead and used canned ones. The canned ones are usually in syrup so I used a light hand when I added some icing sugar to the cream before whipping. I thought about poaching the plums as well before incorporating into the filling but decided against it as the lychee was already in syrup - I was quite pleased with the 'light as air' cream and absolutely loved the refreshing flavours of the lychees mixed with plums.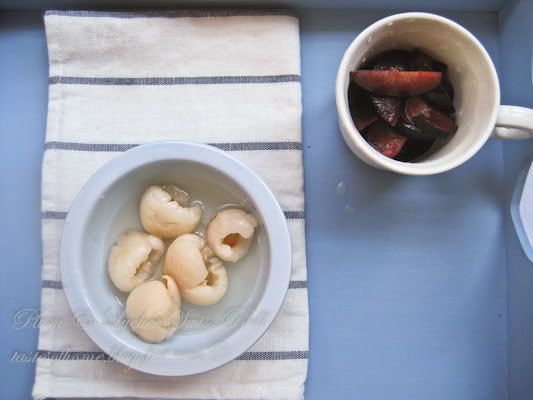 On a side note, my sister who is now in Singapore really loves swiss rolls and black plums are her favourite fruit - I remember how she would always try to grab the last one when we were kids and me being the eldest would always 'sacrifice' myself and give to the younger ones - such is the plight of the eldest eh? Alright, enough with the dramatics, I hope you will give this easy swiss roll a try and if you don't like this simple fruit filling, get your creativity flowing and make your own unique filling - I would love to know what you came up with. The cake itself can also be flavoured with matcha, coffee, chocolate, really a recipe ready for your own personal touch.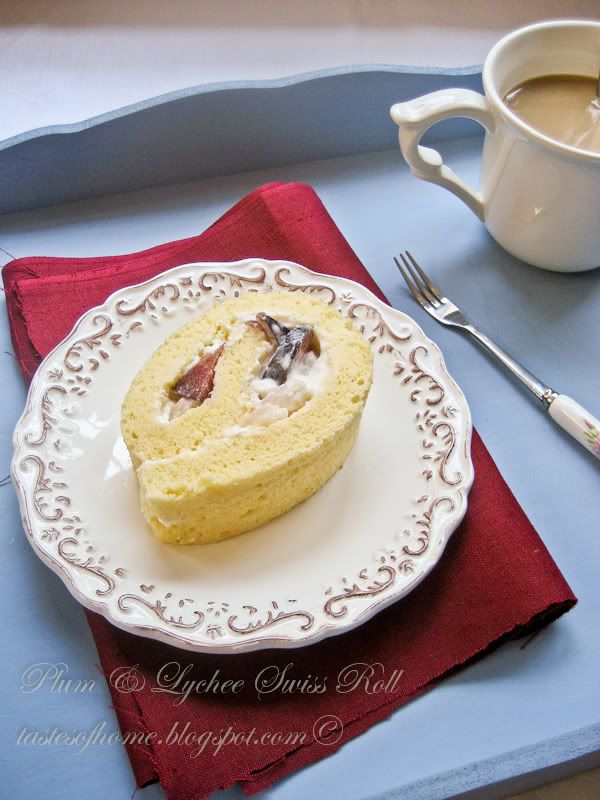 Note on food photography: As some of you may notice, I have been trying to do more in terms of food styling and photography on this blog, in the past I was just satisfied with cooking a good dish but there is just so much to learn about food photography, I think I have 'improved' from when I just started blogging but it is so obvious that I have tons to learn! I consulted my dear fellow blogger and friend Xiaolu of 6Bittersweets on the photos for this post and she gave me very good pointers. If you haven't already, do hop over to her blog and check out her amazing food photos, she is also a great food stylist. Thanks Xiaolu!

I shot the swiss roll again with some tips from her, but note that the cake does not keep that well, it looked better on the day it was freshly made. But I am happier with the styling in this photo, what do you think?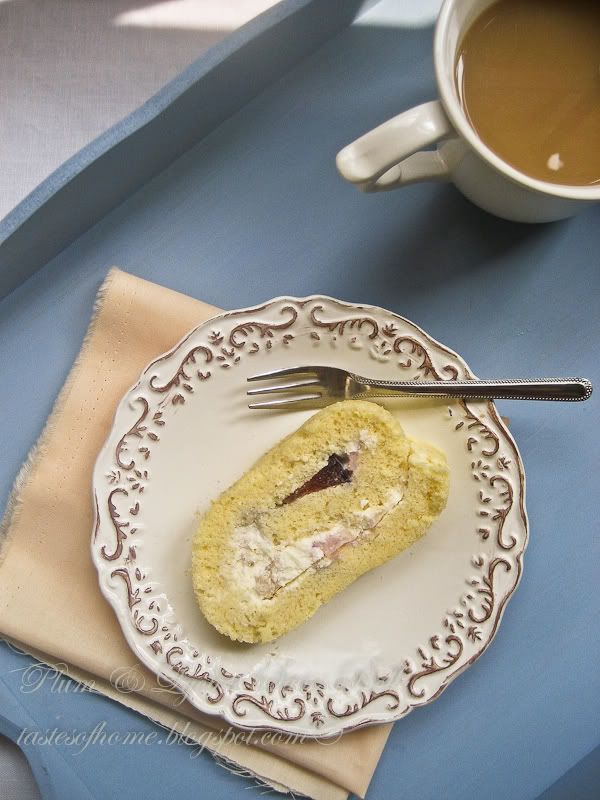 You will need:

A swiss roll pan or a cookie tray with raised sides
1 clean tea towel, large enough to place the cake to be rolled together
1 piece of foil for covering the tray in the oven
Baking or parchment paper for lining

Ingredients:

6 eggs, yolks and whites separated (room temperature)
6 tbsps sugar
6 tbsps all-purpose flour

Filling:

1 plum, pitted and sliced then halved
4 canned lychees, roughly shredded with your fingers
1 cup whipping cream
2-3 tbsps icing sugar (add more if desired)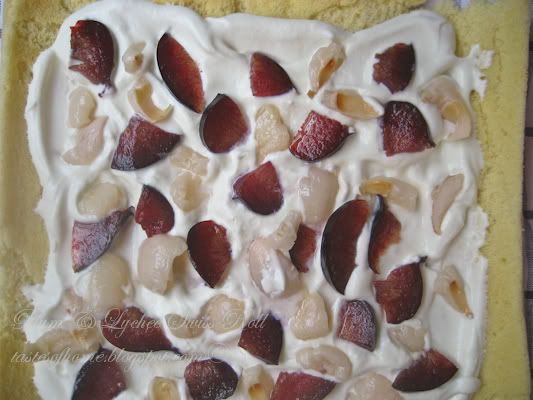 Method:

Firstly, whisk the egg whites in a large, clean bowl until slightly stiff but not until peaks form.

While mixing, add the sugar tablespoon by tablespoon. Then add the egg yolks one by one, all the while mixing to incorporate well.

Add the flour and salt and mix just enough to incorporate. Pour batter into a tray lightly greased and lined with parchment or baking paper. Try to evenly spread the batter in the pan. Cover with foil without touching batter. This step is to avoid the cake from browning too much but if that's what you like, you can skip the foil.

Bake in a preheated oven at 220 C or 450 F. Bake for 10 minutes covered, then remove the foil and bake for a further 5-7 minutes. Test doneness with a toothpick or cake skewer. Remove from oven and immediately invert onto a clean tea towel. Gently roll the cake up with the towel and allow to cool in the rolled position. Letting the cake cool in the rolled position will avoid cracking as it is most pliable while still hot.

This makes for easier rolling and less cracking issues if cooled in this rolled position.

As the cake is cooling, prepare the filling.

Add the icing sugar to the whipping cream and whip with a whisk until it thickens and form a creamy consistency. Place in fridge to chill. Slice the plums and place in fridge as well.

Once the cake is completely cool, unroll and spoon the cream onto the cake and spread leaving a 1/2 inch border around the cake. This is because the cream will get 'squeezed' out as you roll again. Scatter the plum slices and lychees randomly on the filling. Roll again gently and your swiss roll is formed!

Wrap entire roll in foil or cling wrap and chill in fridge again. This makes for easier slicing as well. Slice when ready to serve.