Everyone loves a good roast chicken right? I'm guessing that most do - but what makes a 'good' roast chicken? Based on a brief look around the web, it looks like there many different schools of thought for what represents the perfect roast chicken. Some swear by crispy skin where no or close to no steam is allowed in the oven hence those recipes usually do not include much liquid or butter while roasting. However, to get the crispy skin, one might have to 'sacrifice' the tenderness and moistness of the meat underneath so I opted for the middle way - perhaps its' my Libra tendencies coming out to play again. Hmm. For today's feature, I adapted Jamie Oliver's roast chicken recipe and I was quite pleased with the results. The chicken turned out tender and juicy underneath while the skin although not crispy, still provided just the right amount of 'bite'.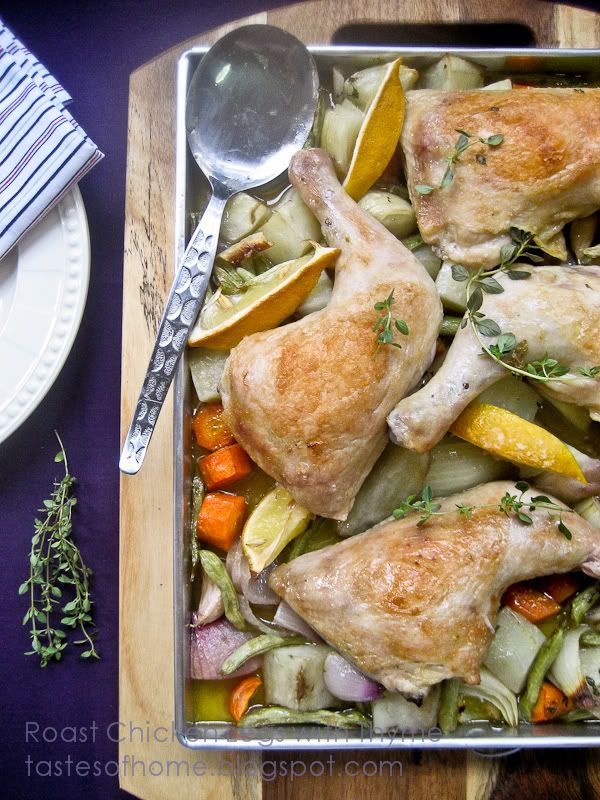 What I loved about this recipe was also that it was easy but do bear in mind it takes at least 1 hour for the roasting part so do plan accordingly - the original recipe did not require herbs nor a sauce but I had wanted to use up some thyme that I had left from my baked eggs earlier. I mixed up some butter with a handful of crushed thyme and used that as my rub for the chicken legs. For the sauce, I made a very simple concoction of red wine, the juices from the roasting pan and a dash of corn flour for a slight thickening effect. The sauce to me actually completed the dish although I'm usually not a sauce person so I would really recommend making the sauce.




Recipe adapted from Jamie Oliver

Ingredients:

4 chicken legs (rinsed and drained well - absorb moisture with paper towels then allow to drain)
2 medium carrots, roughly chopped
2 red or yellow onions, roughly chopped
6-8 cloves garlic, skin on and lightly crushed
Handful of long beans, sliced
2 russet potatoes, roughly chopped (or substitute with your favourite kinds and adjust accordingly)
Handful of fresh thyme or other herbs of your choice
4 tbsps unsalted butter (softened but not liquid)
2 tbsps salt
Olive oil, enough to drizzle over vegetables
Water (to spritz on vegetables halfway through cooking just in case they become too dry and start burning)
Black pepper, to taste

Sauce:

2-3 tbsps red wine
3-4 tbsps water
roasting liquids
1 tsp corn flour dissolved in 1 tbsp water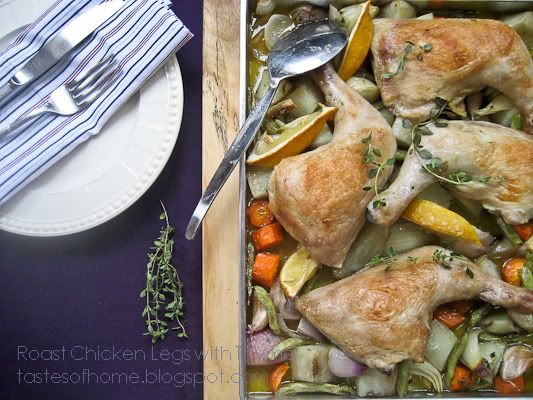 Method:

1. Prepare the vegetables and place in a roasting pan. Drizzle with olive oil and lightly mix around.

2. Preheat the oven to 250 C. Mix the butter and thyme together. Rub the chicken legs with the herbed butter. Add the salt and black pepper and rub well.

3. Place the well-rubbed chicken legs on top of the vegetables.

4. Right before placing the chicken into the oven, turn the heat down to 200 C. Place the chicken and the vegetables on the middle rack of the oven and roast for about 1 hour or slightly longer.

5. Halfway through baking, check if the vegetables are dry, if so spritz or splash some water on the vegetables.

6. After the chicken is done, place the chicken and vegetables on serving platter. Use the roasting liquids to make the sauce.

7. Heat up the roasting liquids in a separate pan, add the red wine then water. Bring to a boil. Add a dash of salt if needed (do a taste test), add 1 tsp of corn flour for slight thickening or more according to your preferences.