Congee or porridge is definitely one of the most 'effective' comfort foods to many Chinese/ Asians especially when one is sick. Congee is essentially rice cooked with a lot of water to make for easier consumption and digestion. Nevertheless, congee has long since 'graduated' from sick food to a gourmet's delight with the many creative culinary twists that have been added to congee over the years. Congee is also popularly served at breakfasts, at dim sum especially the classic congee with lean pork and century eggs, as a light lunch and even as a late-night snack.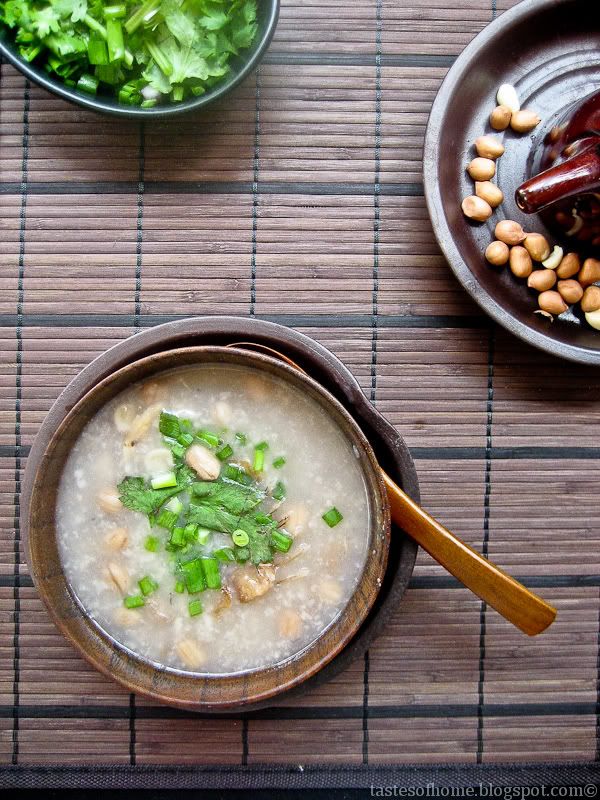 Today's feature is another Cantonese classic, congee cooked with spareribs and flavoured with 'chai yu' or dried fish and crunchy peanuts. For smooth congee, I usually soak the uncooked rice for at least 30 minutes before cooking for easier breaking up in the pot. I actually used a claypot today for a more traditional feel and somehow I have yet to use my pressure cooker for Chinese soups and congee (although I draw the line at charcoal stoves as I just don't know how) as I just think it's more fun to use the traditional apparatus. I am always marvelling at how people of the past got by and created so many wonderful dishes without all the modern conveniences we have at our fingertips nowadays.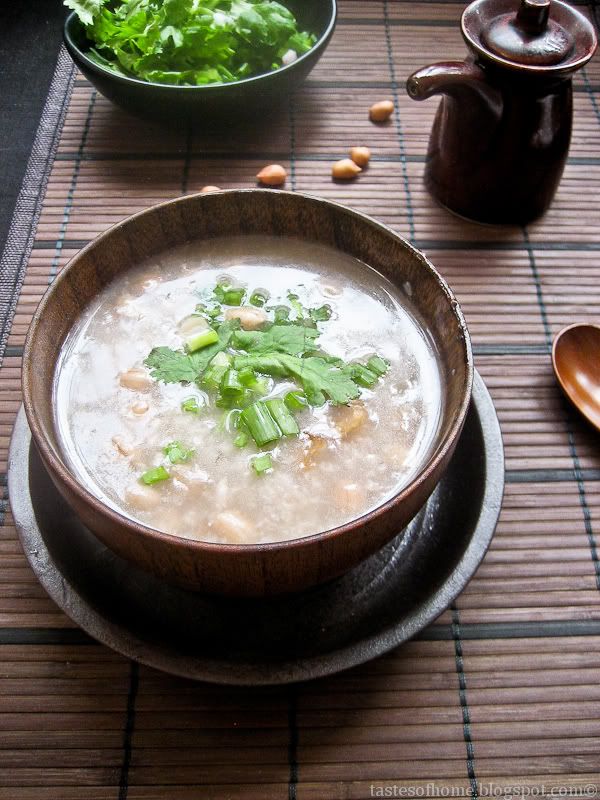 The flavours in this congee are very welcoming to me, a savoury smokiness from the toasted dried fish, crunchy texture from the peanuts and richness from the spareribs. If you can't find dried fish, you can substitute with dried oysters but spareribs congee with just peanuts is also extremely tasty.

Serves 4

Ingredients:

3/4 cup rice
1 tbsp of salt & 1 tbsp of oil for soaking the rice
10 cups water
1 dried fish, toasted in a toaster oven for about 1-2 minutes (it will be aromatic) - don't include the small bones
3/4 cup of peanuts (you can find these in neat packets at the Asian grocery stores)
1/2 pound of spare ribs
Green onions and cilantro for serving
Light soy sauce for serving (optional)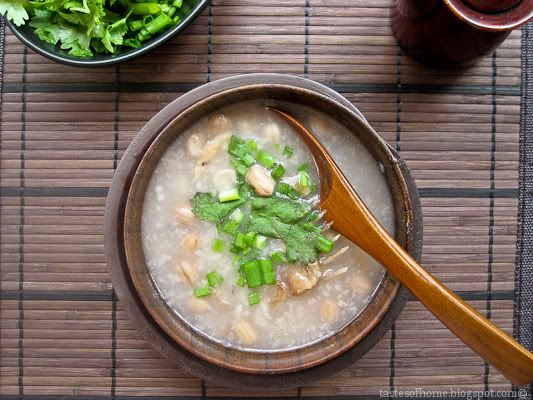 Method:

Firstly, rinse the uncooked rice a few times until the water runs clear. Soak the rice with the salt and oil for about 30 minutes or more if you have the time.

Boil a large pot of water for blanching the spareribs, this is to remove impurities. Rinse the spareribs and plunge them in the boiling water quickly just until the meat turns white on the outside and remove, set aside. Discard water and clean the pot.

Prepare your pot with the water, place the soaked rice and spareribs into the pot and bring to a boil together over high heat. Add in the peanuts and dried fish. Turn heat to medium-low and allow to simmer for about 2 hours, keeping the cover partially on. Do remember to check constantly and stir. The congee should be ready by then. Do a taste test and add salt if required but do keep in mind that the dried fish is already salted so salt may not be required at all. I did not have to add salt to my congee as I simmered it for over 2 hours.

Serve hot with cilantro and green onions at the table.