I absolutely adore Korean fried chicken - fried and then coated in a finger-lickin' good concoction of spicy, sticky, sweet and sour sauce. The chicken is usually fried twice to give it extra crispiness, a 'secret' that I have been using in almost all my fried dishes. The heat in the dish comes from gochujang, the celebrated Korean condiment of fermented red chilli paste while the caramelized effect is a gorgeous result of the corn syrup (mulyeot) used, a popular condiment in a lot of Korean banchan (side dishes) - the sweetness also helps to tone down the spiciness. Do note that the spiciness from gochujang is earthier and not really sharp since gochujang is made of fermented soybeans, red chilli peppers and glutinous rice powder. In addition, I added some toasted sesame seeds before serving for added fragrance and texture. Apparently, every Korean family has a slightly different recipe and for today, I added some plum sauce to impart some fruity sweetness and tartness to the sauce as my own little twist. I was quite pleased with the results and can't wait to experiment more.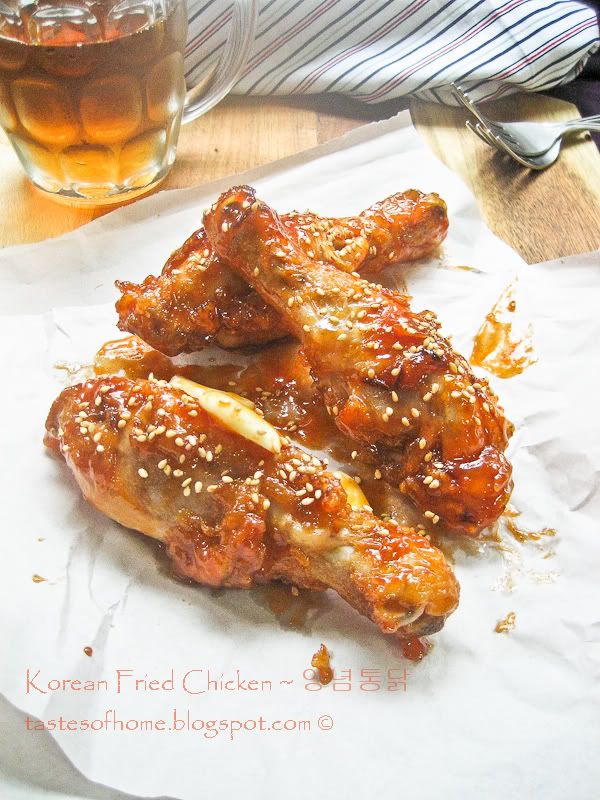 These delectable fried chicken are usually served as snacks or in fast food restaurants and are one of the most popular foods to be eaten with maekju (beer) in Korea. Since my tolerance level for alcohol is close to zero (this is a source of amusement to a lot of friends of mine by the way) however, I can't really vouch for that personally but I can guarantee that this crispy chicken dish will be a delightful and extremely popular addition to your cooking repertoire. Just in case you're curious, the beer-like beverage I have in my photos is actually Shandy, a drink of beer and lemonade that originated from England and is extremely popular in Malaysia - not a surprise as Malaysia used to be a British colony. Finally, although certain Korean dishes require an acquired taste or at least an open palate, these fried chicken should be well received by most palates.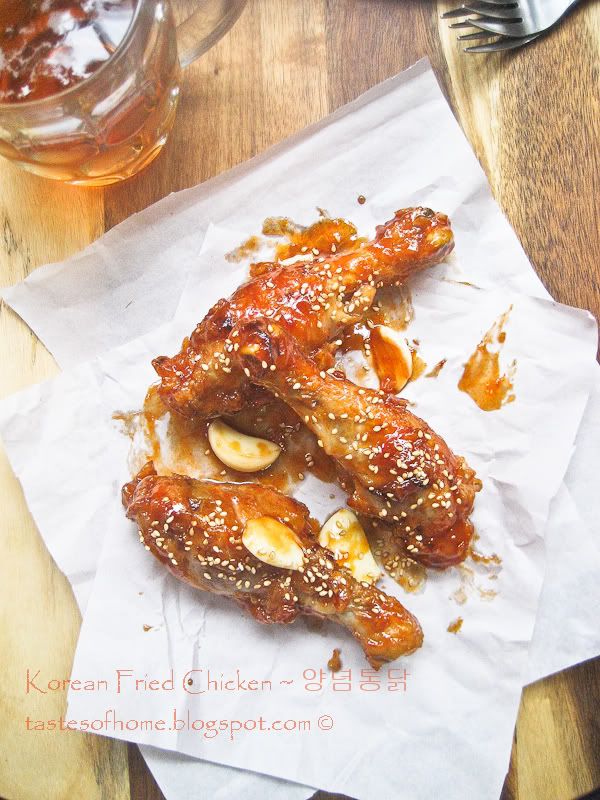 This feature is part of my Yuen Chun recipes, a project I am collaborating on with Yuen Chun, my preferred brand of Asian cooking sauces.


Recipe adapted from Maangchi

Ingredients:

6 chicken drumsticks (or use wings if you prefer)
1 egg
1/3 cup corn flour
1/3 cup potato flour

Marinade:

1 tbsp cooking rice wine
1 tsp light soy sauce
1 tsp salt
1 tsp pepper
1/2 onion, sliced finely
3 cloves garlic, smashed

Sauce:

1-2 tbsps gochujang (Korean chilli paste) - depending on how spicy you want this
1 tbsp corn syrup or mulyeot
1/2 tbsp sugar
1 1/2 tbsps plum sauce
1 tsp white vinegar
2 tsps light soy sauce

Plum sauce from Yuen Chun that I used for the sauce:




Garnish:

Handful of toasted sesame seeds (either dry-fry in a wok or pan or toast in oven)

Method:

1. Rinse the chicken drumsticks in cold water and then pat dry lightly.

2. Marinade the chicken drumsticks in the above ingredients. Heat up enough oil for deep-frying. Add in the egg, corn flour and potato flour and mix well with your hands, coating each drumstick as evenly as you can.

3. Once the oil is hot, turn the heat to medium heat and fry the chicken drumsticks for about 8 minutes or until 3/4 cooked. Remove from oil and drain on paper towels. After about 10 minutes, deep-fry again for 5 minutes on medium heat then high for another 5 minutes. Remove from oil and drain on some paper towels.

4. Mix up the ingredients above for the sauce in a bowl. Do a taste test and add more sugar or soy or gochujang depending on your preferences.

5. Add the sauce mixture into the wok or pan and bring to a boil. Place the chicken drumsticks into the sauce and coat evenly, turning over and over.

6. Garnish with some toasted sesame seeds. Serve.