Red mustard vegetables and salted egg soup is a definite Chinese home-cooking dish that you will hardly see in the 'better' Chinese restaurants or most Chinese restaurants for that matter. This is an easy vegetable soup that is always satisfying to me and what's more, this can be cooked and served under 30 minutes. However, this kind of vegetable soup differ from slow-fire soups which are almost considered tonics to the Chinese. Nevertheless, if you don't have time to boil soup for at least 5-6 hours and the inclination to source for the usually longer list of ingredients, today's feature is a great alternative. The Chinese believe however, that one should not consume these vegetable soups on too regular a basis as these soups are considered to have overtly 'cooling' properties so as the Chinese try to seek balance in meals, too much 'coolness' or yin would not be good for one's equilibrium. This is particularly applicable to women as too much yin in a woman usually foretell a troubled pregnancy or even the lack of one according to traditional belief.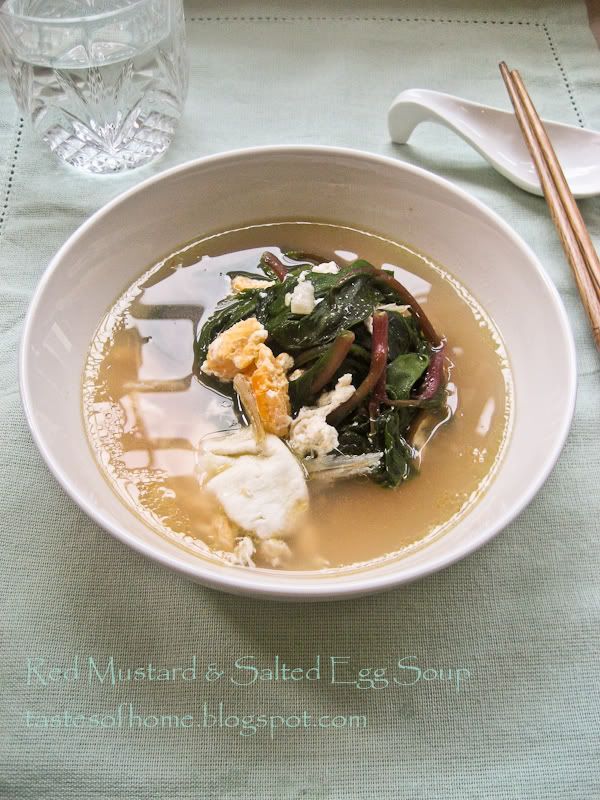 The red mustard vegetables are very smooth and are a part of the cabbage family where the stem of these vegetables are reddish and the leaves are broad while texture is toothsome yet tender. Anchovies are first sauteed with garlic, splashed with a bit of soy then cooked into a broth with the red mustard vegetables and raw salted eggs. Extremely simple and very satisfying, do give this humble soup a try if you are able to find red mustard vegetables. The salted eggs act as the perfect flavouring ingredient for this easy soup and you don't have to add salt as the eggs are already salty enough. Altogether, this soup is definitely on my list of delicious comfort foods from home.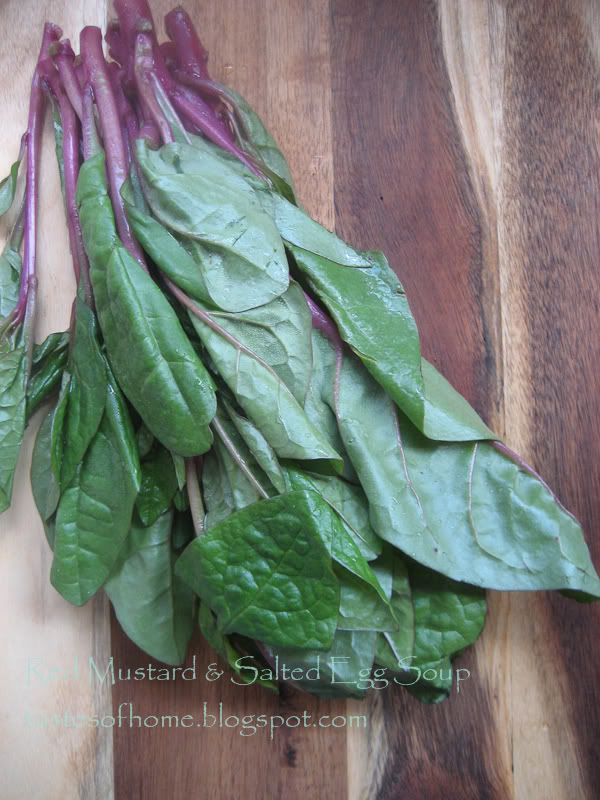 * Not recommended for people with gall bladder problems.





Ingredients:

2 large bundles of red mustard vegetables, rinsed well and plucked into stems
50g (approximately 1/2 cup) of dried anchovies, rinsed well
8 cloves garlic, roughly chopped
2 raw salted eggs (cooked ones won't work)
8 cups water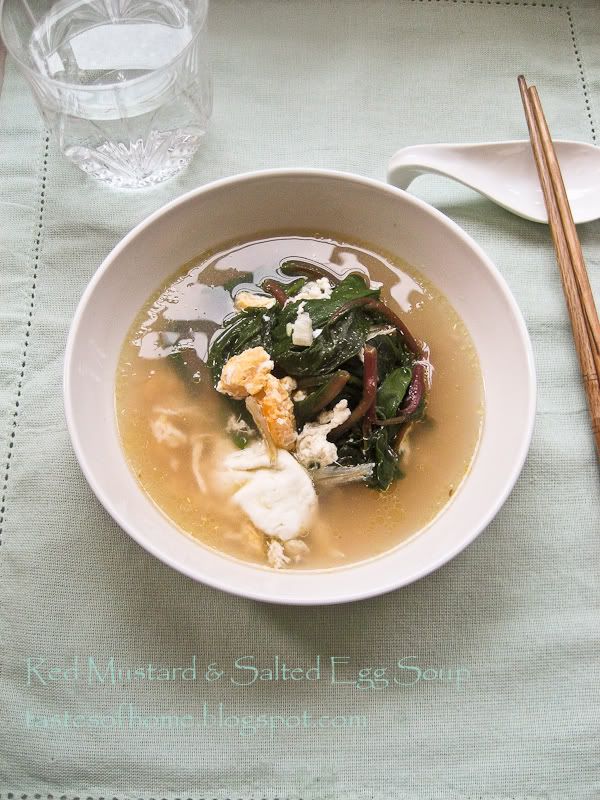 Method:

Firstly, heat up 1 tbsp of cooking oil in a large wok or shallow pot - you will use this for the broth as well. Once hot, turn down heat and add garlic. Add a splash of light soy sauce and add the anchovies. Saute until fragrant.

Add the water slowly into the wok. Cover and allow to boil. Stir in broken up salted eggs and bring to a boil again. Add in vegetables and cover, allowing to boil rapidly. Remove cover and if the soup is boiling rapidly, it's ready! Do a taste test and add salt only if desired - usually the soup will be salty enough.