Being Chinese and growing up in Malaysia, I think the first time I tasted lamb was in either an Indian curry or in a classic Chinese stir-fry with ginger and scallions. I then quickly progressed to the favourite Western styles of cooking, either grilled or roasted (rack of lamb) and have loved lamb ever since. I think I can safely say I have been exposed to many different cooking cultures at a young age which I attribute to my dear parents who are I must say rather fussy eaters, and of course lovers of good food. I always feel ecstatic when they have given my dishes their stamp of 'approval' and since they are parents, they are probably the most honest critics as well.




I also have them to thank for sending me to London when I was ready for college, when I studied there, I started to really like lamb kebabs - oh I do remember all the wonderful stalls along Piccadilly Circus (the best kebab I had was made in a hole-in-wall place in Cheltenham, a town north of London though) with the spicy and pungent smells of kebabs wafting about as you're strolling along ahh - telling you this brings back great memories of bygone student days. As students, apart from classes we would always trawl the streets of London as there was just so much to see and to experience, I definitely felt a lingering sadness that still hits me sometimes when it was time to graduate and leave - London will always hold a dear place in my heart. Funnily enough, I never hated the 'dreary' weather of London too much, I think the other experiences one can find there more than makes up for the weather or maybe I'm just not a 'weather-person' if there is such a phrase granted crossing the Tower Bridge everyday to get to the tube station for one year was not too fun.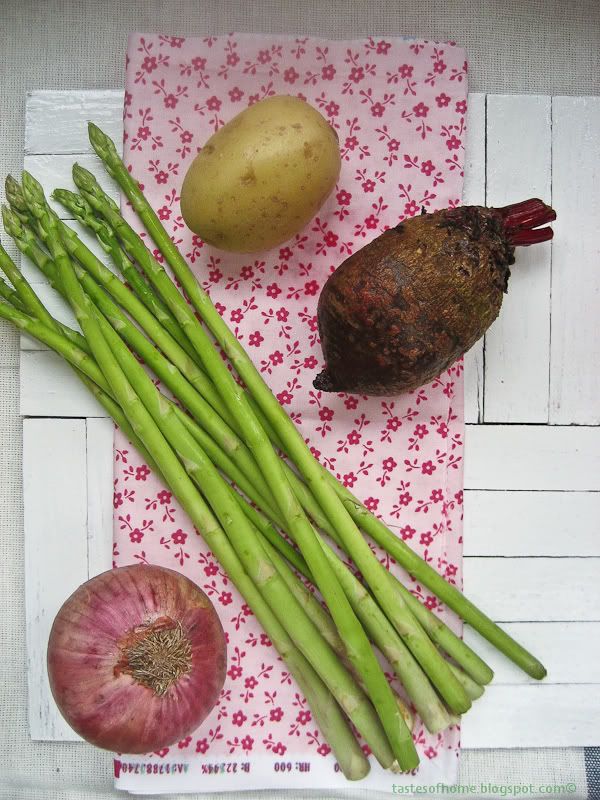 I hope you found the little tidbit above on my student days interesting or if not and you're impatiently looking for the description of today's feature, here you go. I marinated the lamb in some sea salt, English parsley and minced garlic before pan-frying. I also made a wasabi butter sauce to go with the lamb - this is one of my favourite sauces and is made with shallots or red onions, white wine, some rice vinegar, a dash of soy and of course wasabi and butter. The wasabi gives it a little kick while of course adding some Asian flavours (especially with the soy as well) and the rice vinegar brings out the sour notes of the wine. Indeed, a sauce bursting with different 'East meets West' flavours that somehow gel together deliciously. For side dishes, I made roast potatoes with red onions, boiled asparagus and garlic bread.



Note from Jen: Since I am providing recipes for the side dishes as well, please note that I will be writing the recipes in the order I made them, potatoes first as they take the longest and they can be placed in the oven while you get the other dishes done. Next up is the wasabi butter sauce as this can be heated up in the microwave when the lamb is ready, the garlic bread and finally the lamb. Also, the asparagus was merely boiled with some salt but remember to remove the woody part, it will snap off when you bend the asparagus.

The lamb needs to be marinated for at least 30 minutes so plan accordingly. I marinated the lamb as soon as I placed the potatoes for roasting since the potatoes took around 1 hour. After the potatoes were ready, I proceeded with the garlic bread then lamb.

Roasted Thyme Potatoes with Red Onions: (I added some roasted beetroot to the potatoes after they were done)


Ingredients:

6 small potatoes (I used fingerling), halved or quartered depending on size
1 red onion, quartered then separate by hand
4 tbsps olive oil
3 sprigs of thyme or you can substitute with other herbs
Salt, to taste
1 beetroot (optional) & 1 tbsp butter

Method:

Pre-heat oven to 200 C. In a baking dish, toss the potatoes and the onions with the olive oil well. Place the sprigs of thyme on top of the potatoes. Sprinkle some salt and bake in pre-heated oven for about 1 hour or until potatoes become soft. In a separate baking dish, add the beetroot slices and 1 tbsp of butter. Bake in the oven together with the potatoes. I baked the beetroot separately as they stain. You can also just skip the beetroot.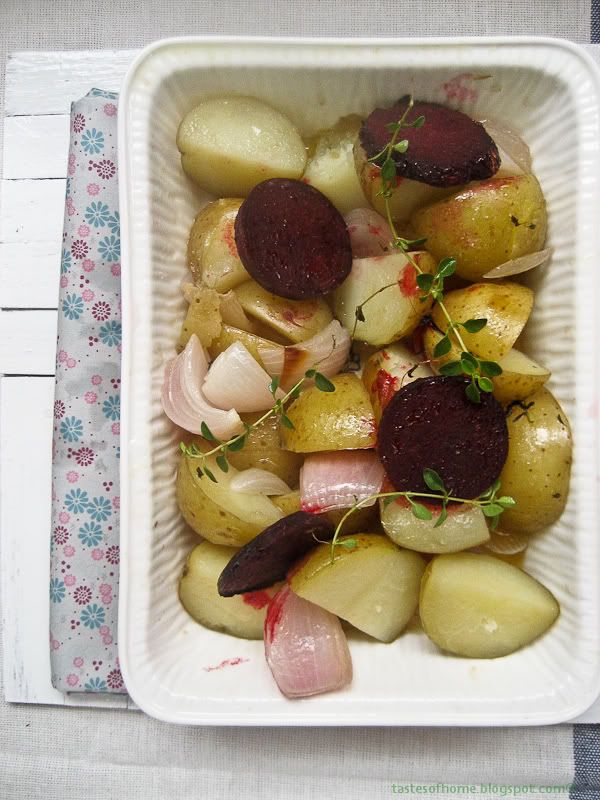 Wasabi Butter Sauce:


Ingredients:

8 shallots, sliced
1 cup white wine
1 tbsp rice wine vinegar
1/2 cup butter
1 tbsp wasabi (either in powder or paste form)
1 tsp light soy sauce or add more to taste

Method:

Firstly, bring the 1 cup of white wine in a heavy saucepan together with the shallots to a boil on medium heat. Once the liquid reduces to about 1/4 cup, remove from heat and strain liquid, discarding shallots.

Bring the liquid to a boil again on medium heat and add the rice wine vinegar. Add the light soy sauce and wasabi. On medium heat, boil until liquid reduces to about 6 tbsps. Finally add the butter on low heat - do not let mixture boil. Once the butter incorporates into the sauce, remove from heat. Set aside. Reheat when the lamb is ready.

Garlic Bread

Ingredients:

1/2 loaf of store-bought ciabatta or baguette, sliced
3 tbsps minced garlic (fine or just use garlic powder)
A sprinkling of thyme (optional)
Enough butter to spread on the bread slices

Method:

* As the oven should still be hot from the potatoes, there's no need to pre-heat the oven.

Spread the butter on the bread slices. Add the minced garlic and herbs. Place on baking tray and cover with foil. Bake for about 10 minutes. Then remove foil cover and bake for another 5 minutes. Remove from oven and wrap with kitchen towel to preserve heat.





Lamb with Parsley

Ingredients:

3 lamb chops (adjust quantities accordingly)
Generous amount of fresh English parsley, roughly chopped
3 tsps sea salt (or just use regular table salt)
8 cloves garlic, minced finely
Butter for pan-frying

Method:

Note: I started the lamb as soon as the garlic bread was in the oven. When my lamb was ready, the garlic bread was just ready as well.

Firstly, generously spread the minced garlic, parsley and salt on both sides of the lamb chops and place in a dish to marinate. I marinated the lamb for about 40 minutes, longer if you wish but not more than 2 hours.

In a non-stick pan, heat until hot then turn heat to medium and add about 3 tbsps butter. Fry lamb on both sides - the length of time depends on how done you want your lamb to be of course so adjust accordingly.