This is my first Daring Cooks challenge and I'm glad I made it in time! We were challenged to make any edible savoury containers with a suitable filing by the host Renata of Testado, Provado and Aprovado. It was an extremely fun challenge and guess what? For this month's challenge, there are prizes to be awarded to the most creative entries. I am not quite sure if my entry is creative enough but I can say that it was delicious and definitely fun to make the rice noodle 'baskets'. I made a simple stir-fry of spicy pork in yellow bean sauce and it went really well with the crunchy fried rice noodles - the small amount of the sauce from the stir-fry softened the rice noodles in the middle of the 'basket' a little bit and all in all, this was a texture-filled dish with spicy, savoury and earthy flavours.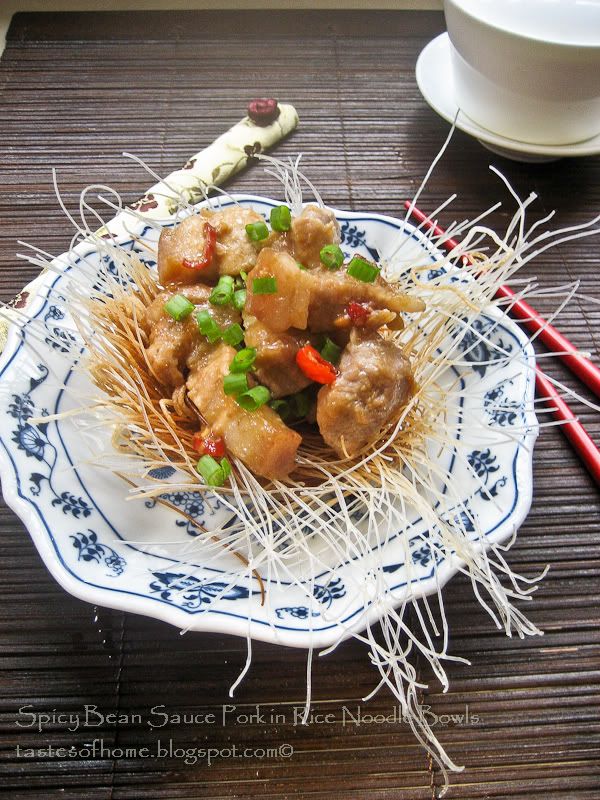 For the yellow beans or otherwise known as taucu in Malay, I used my favourite brand of sauces, Yuen Chun. If you don't like pork, you can substitute easily with chicken and even add a few of your favourite vegetables like green beans or snake beans. For the 'baskets', I soaked some rice noodles in water until relatively soft and then I dried them completely before frying. The roundish shapes were made by placing a bunch of the rice noodles in a steel strainer and as I was frying, I pushed another soup ladle on the rice noodles in the middle, creating a bowl effect. The baskets are ready as soon as the rice noodles start to puff up. If you are short on time or not fond of deep-frying, simply skip the rice noodle baskets and serve this easy stir-fry with rice.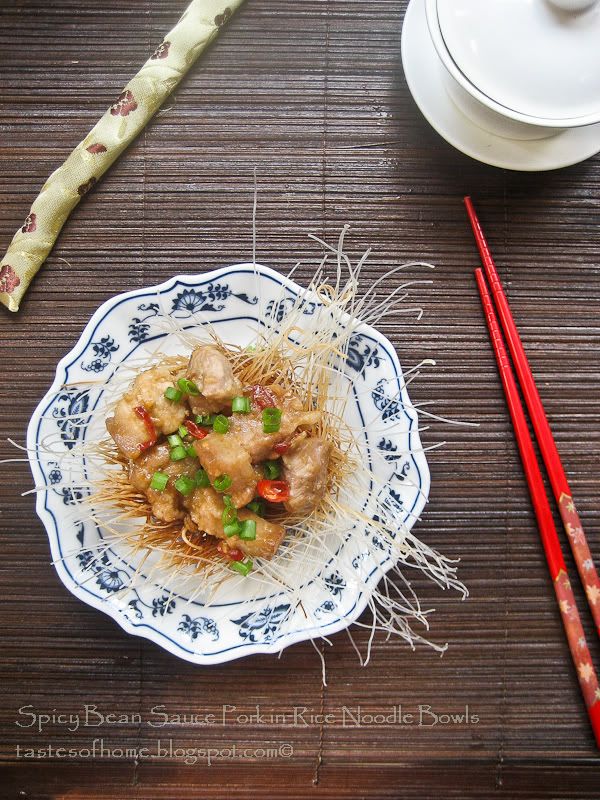 This feature is a part of my Yuen Chun recipes, an ongoing project on this blog.

Note from Jen:

Plan ahead for the rice noodle baskets as after soaking, you have to wait for it to dry completely before frying into the baskets. You can also make the baskets without soaking but I it's obviously much easier to shape after being soaked. I made the baskets both ways i.e. with soaking and without, it was easier to shape with soaking.

Ingredients:

For stir-fry:

1/2 pound fatty pork or substitute with lean pork, spareribs or chicken - add 1 tsp corn starch to marinate for about 1 hour (this is for a springier texture)
4 cloves garlic, roughly chopped
2 stalks green onions, sliced - save some of the green parts for garnish
3 bird's eye chili peppers, sliced (seeded if you want less heat)
Tiny dash of light soy sauce
1 tbsp of Yuen Chun Whole Bean Sauce
1/3 cup of water




For the crispy baskets:

1/2 packet of rice noodles
Oil for deep-frying

Method:

For the stir-fry:

Heat about 1 tbsp of cooking oil in a pan or wok. Once hot, turn the heat to medium then saute the garlic and chilli peppers until aromatic. Then add the bean sauce. Add in the pork and then stir around to coat well. Then add a tiny splash of light soy sauce. Stir around until well coated again. Add about 1/3 cup of water into the pan. Cover and bring to a boil on medium heat.

After about 5-7 minutes, remove cover and stir the pork around to absorb more of the water. Turn heat to high and stir around quickly for about 1 minute, you have to continuously stir to avoid burning. Dish out and set aside.

For the rice noodle baskets:

Soak the rice noodles until soft. Leave to dry completely.

Prepare oil for deep-frying. In a steel strainer (roundish shape), place a bunch of the rice noodles, arranging it to form a rough circular shape. The oil is ready if a little rice noodle dropped in immediately puff up.

Once the oil is ready, place the steel strainer with the arranged noodles into the oil while pressing down on the noodles with another steel ladle. The noodles should puff up almost immediately and remove from oil once it does. Remove and drain on some paper towels. Continue making as many 'baskets' as you want.

These baskets should be served freshly made. You can make the pork ahead of time and heat up when ready to serve.

Spoon the pork into the rice noodle baskets. Garnish the stir fry with some green onion slices (optional). Serve hot.