As some of you may notice, I don't have that much of a sweet tooth, probably evidenced by the long list of savouries I have on this blog compared to the list of recipes I have for sweets. Still, like many people, I do hanker for something sweet sometimes and I love fruit tarts either with the classic shortcrust pastry like the French apple tart I baked awhile ago or with puff pastry. For today, I used puff pastry as I froze half of the classic puff pastry I made earlier and I was ready to put it to good use today. Also, with the focus of this blog being Asian cooking, I thought it appropriate to use dragon fruit apart from the more traditional strawberries- dragon fruit is highly nutritious, in terms of taste and texture it rather resembles kiwi fruit as there are also many tiny black seeds in the flesh which can be eaten together.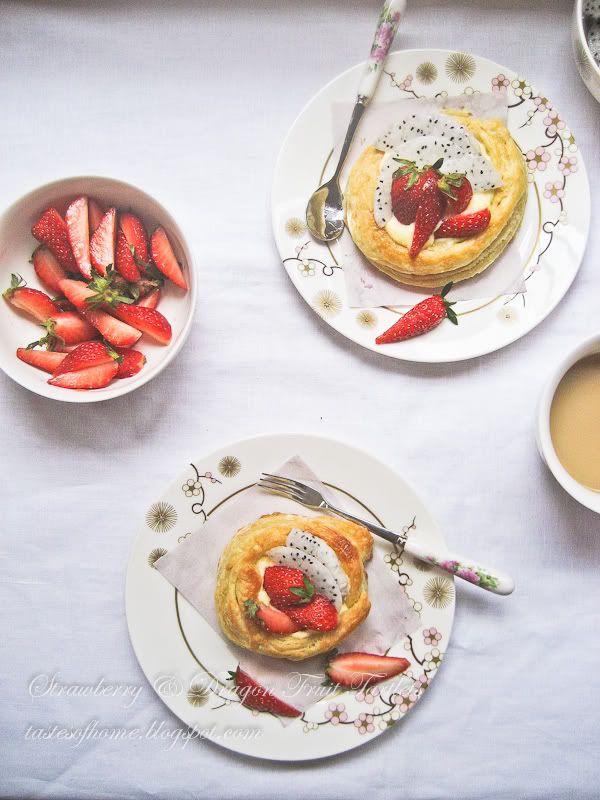 The tartlets were filled with a classic crème patisserie and then the fresh fruits were simply laid on top of the cream - I did not want to brush the fruits with gelatine or jam as I wanted to really taste the fruits and we were eating them immediately but if you prefer, do go ahead and brush with either as doing so will make the fruits shinier, this is especially so if you don't plan to eat them right away. I thought the tartness of the dragon fruit went very well with the strawberries and the rich pastry cream. The puff pastry tarts provided the perfect base in my opinion but do bear in mind that I love puff pastry in general. If dragon fruit is not easily available where you are, you can substitute with other fruits like kiwi fruit, peaches or just strawberries alone.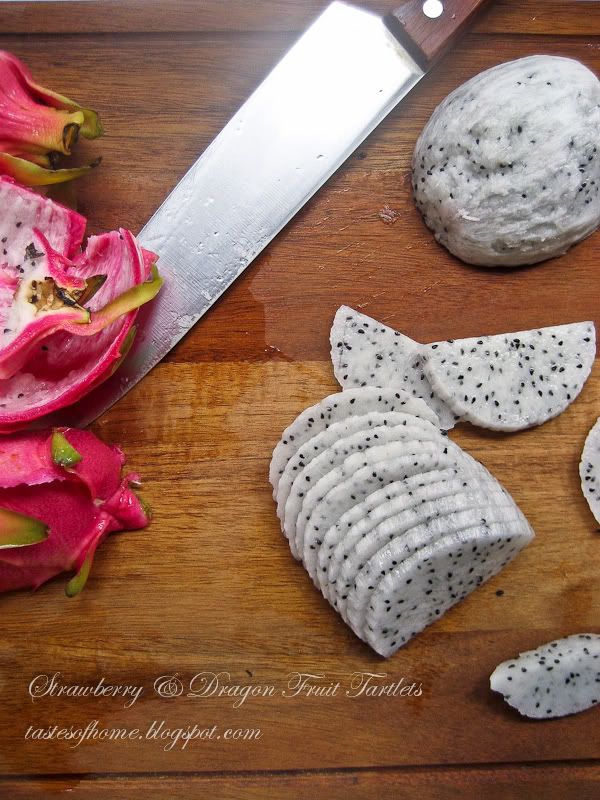 As the pastry cream and the pastry shells can be made ahead of time, these pretty tartlets can be assembled really quickly and will be perfect for your next dinner party.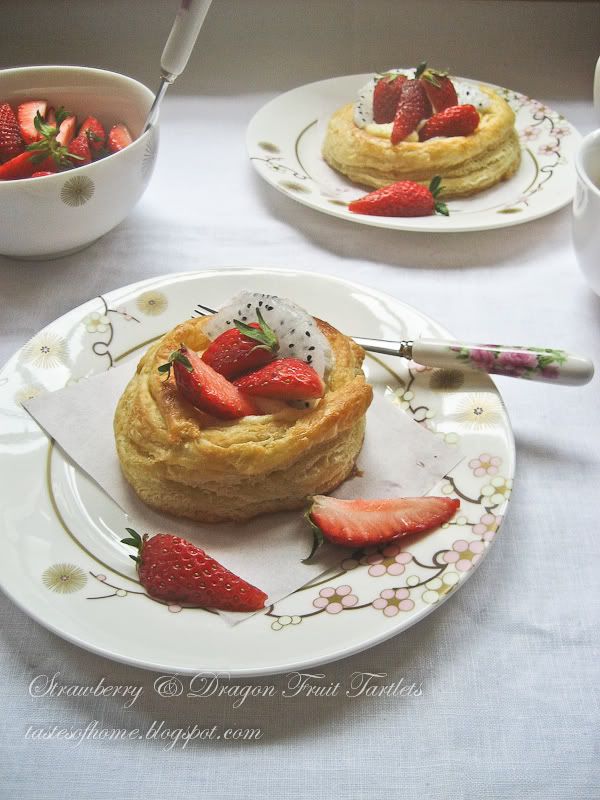 Note from Jen: The dragon fruit I used is the white-fleshed one which is more common but is a little bit more bland in taste which goes well with the rich pastry cream. There is another type of dragon fruit which has a dark-pink almost fuchsia shade which is usually more flavourful. Check out this link for pictures.

Makes 6 tartlets

Ingredients:

1/2 quantity of my classic puff pastry (refer to this for my easy photo tutorial) or store-bought puff pastry
1 egg + 1 tbsp water for eggwash

Pastry cream recipe adapted from All Recipes

2 cups milk
1/4 cup sugar
1 egg + 2 egg yolks
1/4 cup cornstarch
2 tbsps sugar
1 tsp vanilla extract
2 tbsps unsalted butter

Fruit Toppings:

10 strawberries, halved or quartered
1 dragon fruit, remove skin and sliced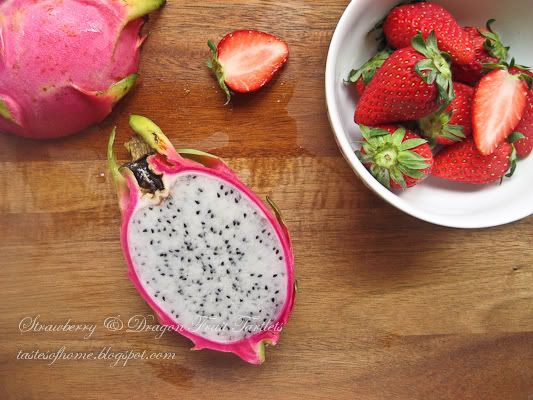 Method:

1. Prepare the pastry cream first. Mix the milk and the 1/4 cup of sugar in a heavy saucepan. Bring to a boil on low (if gas stove) or medium (electric stove) heat. Mix well to ensure sugar is dissolved. You have to watch the stove carefully to ensure it does not curdle.

2. In a separate bowl, whisk the 2 egg yolks and 1 egg together. In another bowl, mix the cornstarch and remaining sugar together well. Add into the egg mixture and mix well.

3. Remove milk from heat once boiling and pour slowly into the egg mixture, all the while mixing well to ensure the eggs don't get cooked.

4. Put the mixture above into the saucepan again and bring to a boil on low heat.

5. Once the mixture thickens and starts to boil, remove from heat and add vanilla essence and the butter. Mix until the butter completely blends in. Place in a bowl and use plastic wrap to cover touching the top of the cream to make sure a 'skin' does not form. Let cool to room temperature then place in fridge to chill.


Update: Here's a shot I took of a pink-fleshed dragon fruit which will work well with this recipe too, the pink-fleshed dragon fruit is usually more flavourful and slightly sweeter than the white variety.



Pastry shells:

1. Roll out the puff pastry into a thin sheet (1/8 inch thick), use a bowl to create the round shapes or you can just make rectangular or square tarts by using a knife to cut out the dough.

2. With the dough scraps, place on the border of the doughs to form a little 'wall'. Prick the base of the dough with a fork gently.

3. Brush the sides of the shells with eggwash. Bake the pastry shells in a preheated oven at 160 C for about 20 minutes or until golden brown.

4. Allow to cool completely.

Assembly:

1. Once cool, spoon the pastry cream into the shells. Arrange the strawberries and dragon fruit slices on top of the cream. Serve immediately.