I seem to have a thing for making bread recently, eh? Well, apart from the fact that I love bread and flatbreads especially, there's also a practical reason that is I bought a whole box of active yeast packets and I really want to use the active yeast up before they become well, er inactive. This is also in line with one of my culinary resolutions, that is I am going to strive to use up the ingredients I buy before I buy more different ingredients to save on storage space and also for my own peace of mind since seeing many half used up containers of ingredients is a little vexing to me. Today's flatbread of choice is the ever-classic pita bread. Making pita bread is really quite easy and does not require much more than flour, water, yeast, sugar, salt and a bit of oil, all pantry ingredients. Now, I love pita bread served with hummus or as a wrap with savoury fillings and for today's feature I chose a roasted chicken in hoi sin sauce after much deliberation, to be honest thinking of what to feature next late at night before going to bed is definitely not a good idea as it made me extremely hungry! I love using the oven to cook as it makes minimal mess and for today's feature both the bread and the filling were made in the oven.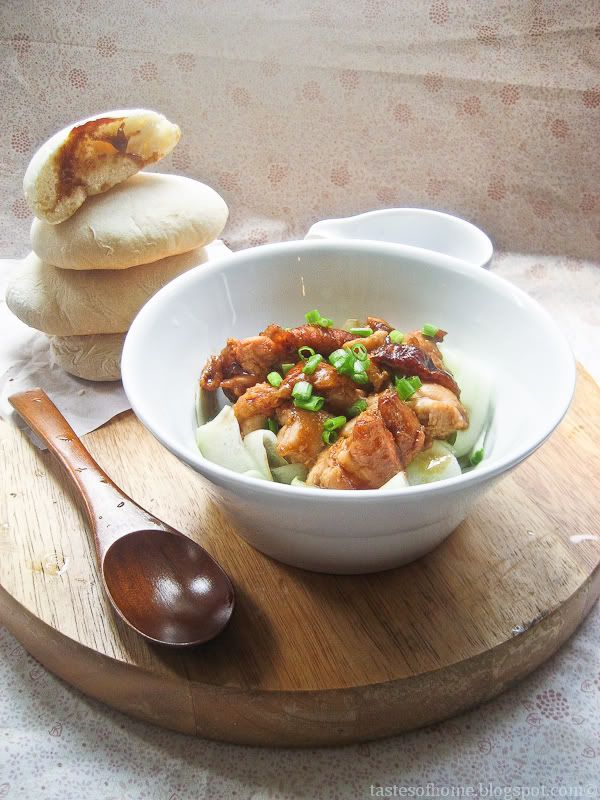 The chicken is simply coated with some 'hoi sin' sauce, thick caramel sauce, soy sauce and a pinch of sugar before baking to caramelized perfection. So far, everything sounds easy right? There's a caveat though that is you do have to do some kneading for the pita bread dough but of course, there's always an option of store-bought pita bread. It is however really fun and so much more rewarding to make your own. Proofing time required is about 1 1/2 - 2 hours, depending on your local weather. A warmer weather will of course speed up proofing time. I used Yuen Chun's hoi sin sauce and thick caramel sauce for the chicken and I was extremely pleased with the results. Today's feature is a part of my series of Yuen Chun Recipes, an ongoing project on this blog.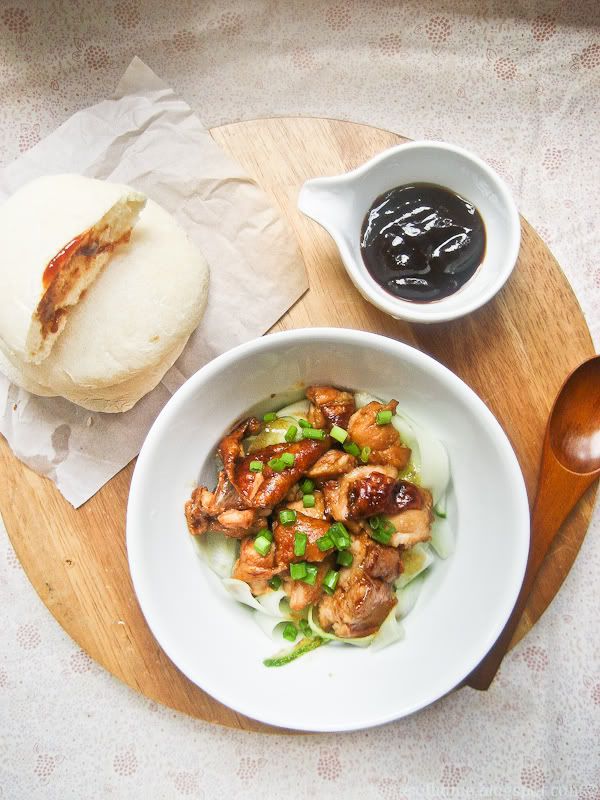 Finally, I have a rather shameless proposition to make -, that is if you like this blog, I would really appreciate if you could take a few moments of your time to vote for me in this local internet contest held by DIGI in the foodie category. Thank you very much in advance!


Pita Bread Recipe (Recipe adapted from About.Com)

3 cups all purpose flour
1 tbsp active yeast
1 tsp sugar
1/2 cup lukewarm (room temperature) water
1 tsp salt
3/4 cup lukewarm (room temperature) water (You may have to adjust this, if the dough looks too dry, add a tiny bit more of water, tablespoon by tablespoon, not more than 1 cup in total)
Additional flour, for dusting.

Method:

First, dissolve the yeast and sugar plus 1/2 cup lukewarm water in a cup and set aside for 10-15 minutes or until yeast froths up. If the mixture does not froth, it means your yeast is dead and you will have to redo this step.

In a large bowl, add in the flour and salt. Mix lightly to incorporate. With a wooden spoon, make a well in the middle of the flour mixture and pour in the yeast mixture. Mix with the wooden spoon again. Now, gradually pour in the warm water while mixing until it forms a dough.

Now, start kneading with your hands until the dough becomes smooth and elastic. This should take about 10-15 minutes. Use dusting flour as necessary. Shape roughly into the shape of a ball.

Grease a large bowl and put in the dough. Roll around the bowl to lightly coat with oil. Cover with a damp kitchen towel and allow to proof until it doubles. This took me around 1 1/2 hours.

Once the dough has doubled, remove and knead a bit more to get rid of the air. Shape into a roll and roughly divide the roll into 10 pieces and pick off each piece to roll into a bowl and place in a floured pan. Repeat with the remaining. Pre-heat your oven to 230 C. Prepare a middle rack for baking the breads. The balls have to rest for about 10 minutes (covered also with a damp kitchen towel) before baking.

Line a baking pan with baking paper. Lightly brush the surface with a bit of oil (this is to prevent the pita sticking). I used olive oil but you can use other cooking oil or butter.

Take each ball you made earlier and either with a rolling pin or with your hands, flatten into a circular shape and place on prepared baking tray. Repeat with remaining balls.

Bake for about 5 minutes or until puffed up. Remove from oven. Place the pitas to cool on a cooling rack.

Meanwhile, turn the oven temperature down to 180 C for the chicken.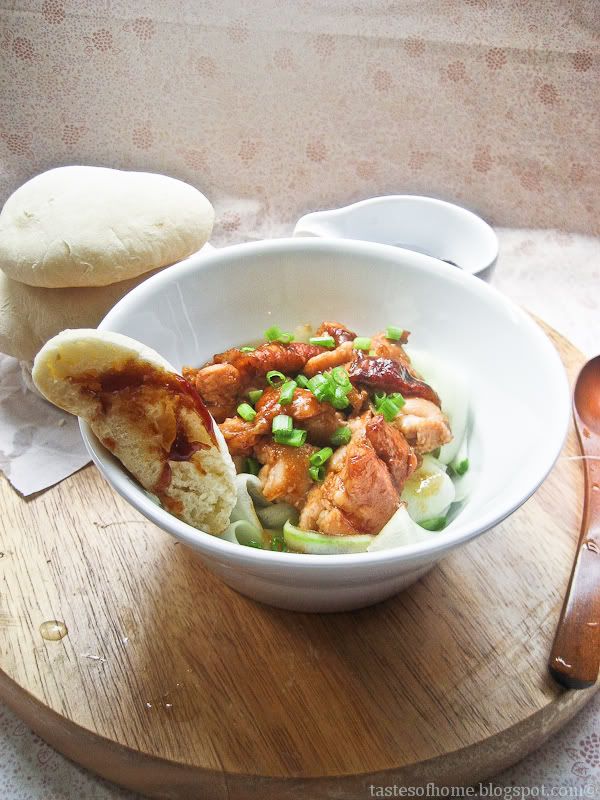 Hoi Sin Chicken Recipe

Ingredients:

2 boneless chicken thighs,
3 tbsps hoi sin sauce
1 tbsp thick caramel sauce
1 tsp light soy sauce
1/2 tsp sugar

Additional hoi sin sauce to serve with.

Garnish:

1 tbsp sliced green onions
1 cucumber, peeled into ribbons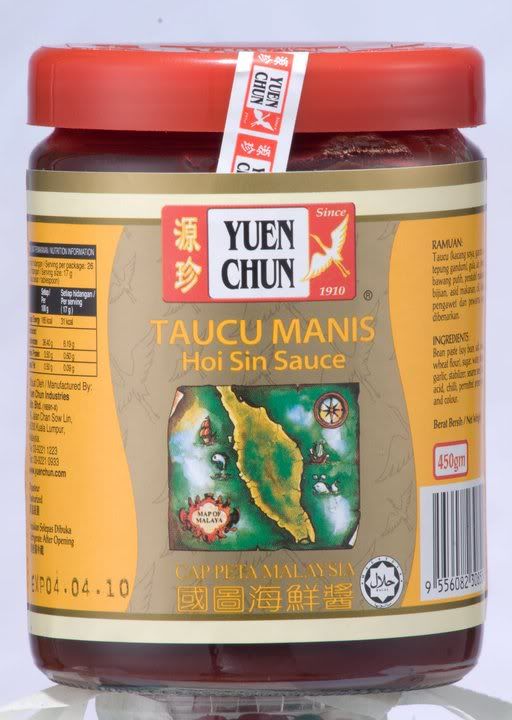 Method:

Rinse the chicken thighs and pat dry. Place in an oven safe tray/ pan. Add the sugar, light soy sauce and hoi sin sauce on top of the chicken. Add in the caramel sauce and with the back of a spoon, brush the mixture on top of the chicken, letting excess drip into the pan. Roast for about 20 minutes on 180 C.

Check to make sure chicken is cooked. Cut up with some kitchen shears into bite sized pieces and serve on top of the cucumber bed. I prepared a cucumber 'bed' by peeling ribbon-like strips of cucumber and laying them in a bowl. Garnish with some sliced green onions.

Serve chicken with the pita breads and additional hoi sin sauce.