If you have been following this blog for a bit, you may notice that I am a big fan of Cantonese slow-fire soups or 老火汤. The latter basically refers to soup that has been boiled or rather simmered for at least 5-6 hours with various nutritious ingredients that are regarded as almost health tonics to the Chinese depending on the ingredients of choice. Old cucumber soup is a classic ingredient for slow-fire soups and is believed to have heat-reducing properties so this is especially good in hot weather. Chinese soups essentially try to balance one's equilibrium and when there's too much yang (heat) in one's body, this soup is really ideal. As for the accompanying ingredients, I added dried squid, Chinese Yunnan ham and a small handful of red dates. Since the soup was boiled long enough, there was no need to add salt which I think is even better for this genre of soups.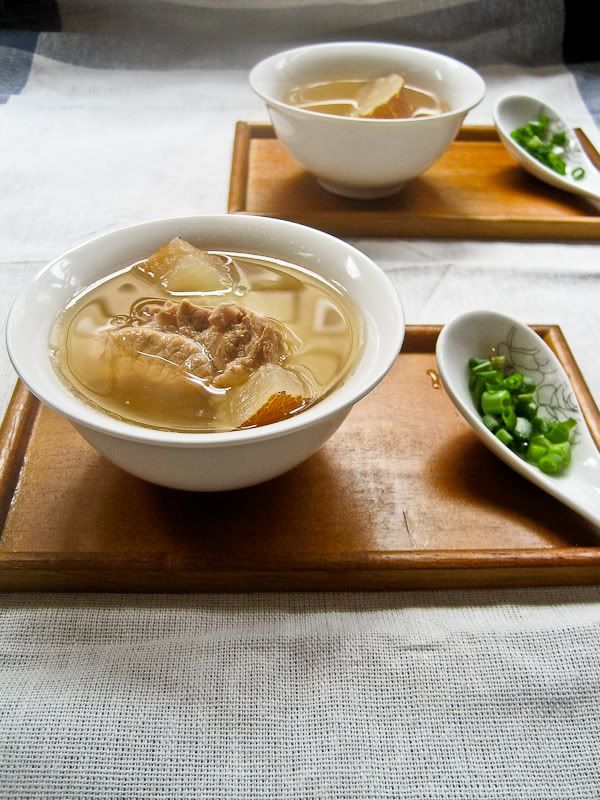 I prefer to boil my Chinese soups in a claypot and I like to boil them for the stipulated time of usually 5-6 hours instead of resorting to a pressure cooker - it just feels more nutritious that way and to me more comforting when I finally get to taste the soup. However, this is totally up to you of course. If you can't find Yunnan ham, you can substitute with Virginia smoked ham. The dried squid, old cucumber and red dates can be found at most Asian grocery stores.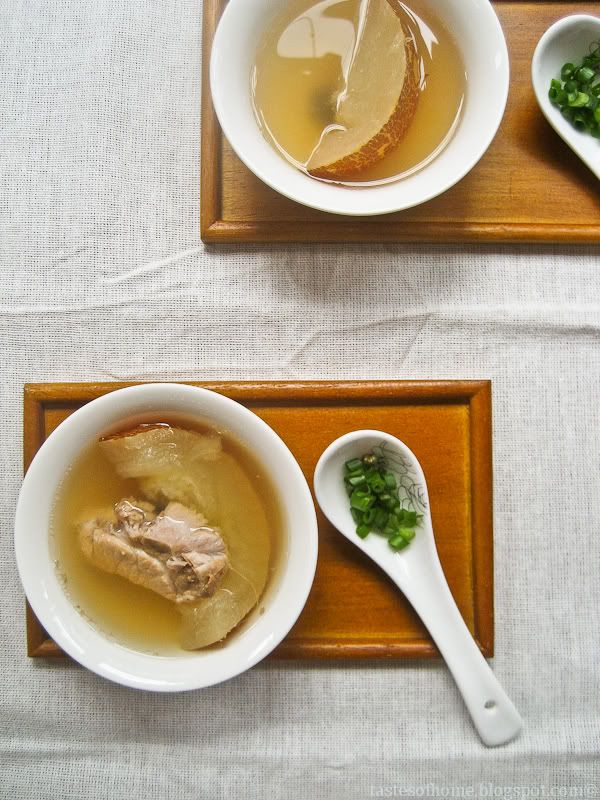 Serves 4 generously (soup can be kept overnight in the fridge)

Ingredients:

1 large old cucumber, rinsed and cut into wedges (just scrape the skin a little, you don't have to remove the skin)
6 red dates, pitted
5 inches worth of Chinese Yunnan ham
About 10 inches worth of spareribs
1 piece of dried squid (squid not octopus)
2 stalks green onions, sliced (garnish - optional)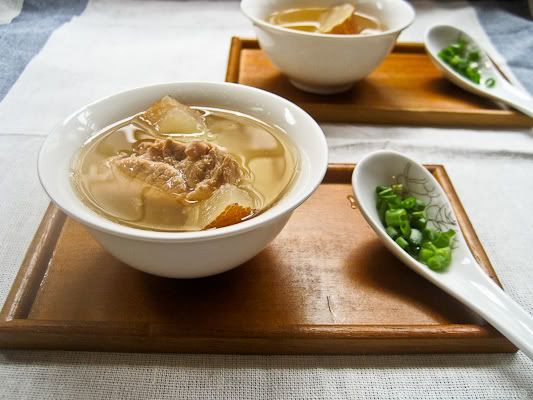 Method:

Firstly, bring a pot of water to boil for blanching of the spareribs. Once the water boils, place the spareribs into the water and remove once the surface changes to white. Remove, drain and set aside. Discard the water.

Clean the pot briefly. Prepare a deep soup pot of water This was about 12 cups of water. Add the squid, ham, red dates and spareribs. and bring to a boil. Once rapidly boiling, add in the old cucumber wedges and bring to a boil again.

Turn heat to medium-low or low (if using gas stove) and allow to simmer with the cover slightly tilted (not entirely covered) for 5-6 hours, checking occasionally. Serve hot with green onions for garnish and added fragrance if desired.