Here I am baking again and yet I still claim I don't have much of a sweet tooth - oh well whenever I bake I will only eat very little of what I baked for a taste and the rest are given to family and friends. So I guess that makes my earlier claim not too conflicting with my recent posts. Today's recipe is an extremely easy and quick one I adapted from the ever-inspiring Donna Hay - I really wish I could visit her store in Australia but I guess I have to be content with ordering some items she has online for now. A quick peek in my fridge showed me some chocolate bars that were bought from the UK that have been sitting around for a while (but not expired yet) so I thought including Cadbury's French Vanilla chocolate bar into these little muffins would be in order.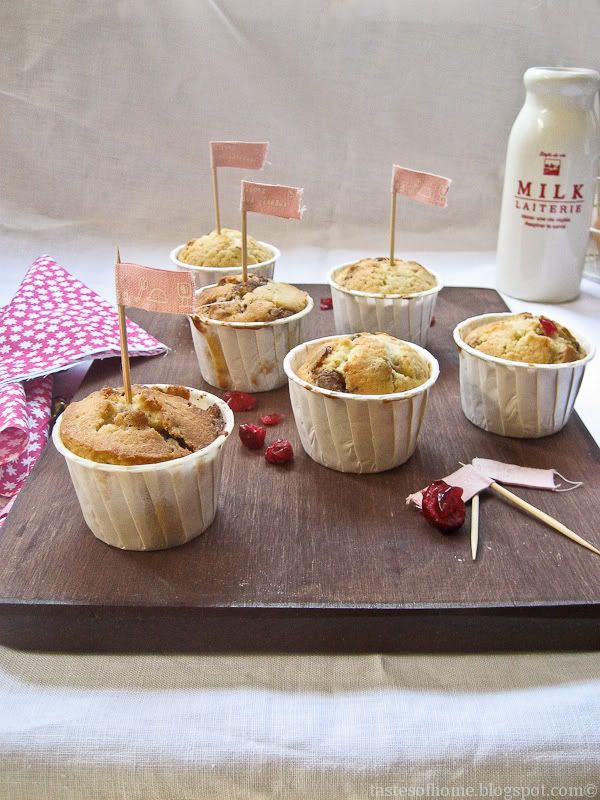 I really love trying out new recipes and the like but I am also trying to incorporate my concept of maximising what I already have to minimise wastage and of course to clear up space. I seem to have a lot of opened bags of ingredients of which I have used just a little of sitting around in the pantry which is quite vexing when I think about it, so I hope I can stick to this concept for a while. The muffins rose well, have good texture and the combination of cranberries and chocolate was a pretty good idea, I must say. Do note that depending on the kind of chocolate you use (or if you do use), make sure to adjust the quantity of sugar in the recipe as it might be overly sweet.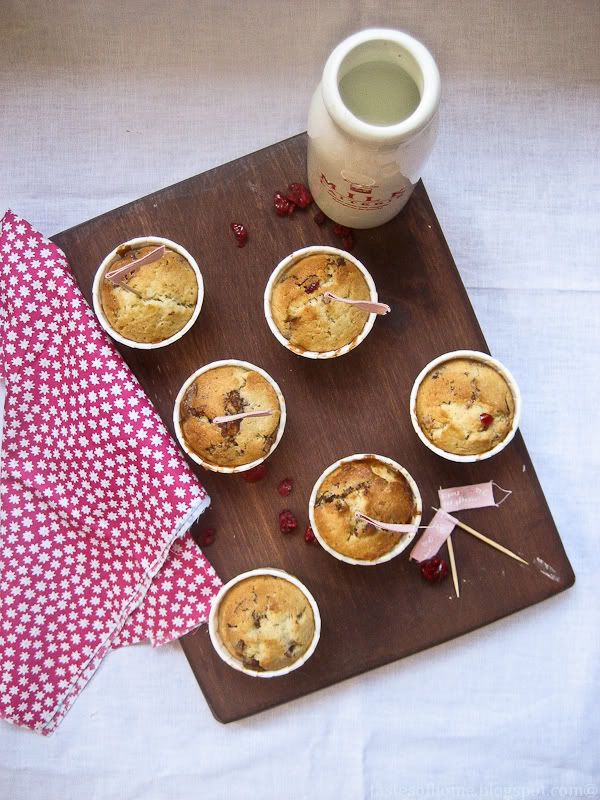 Finally, I made some little 'flags' with toothpicks and pieces of ribbon as muffin toppers since I felt a little celebratory as Mother's Day is coming up this Sunday and this year is extra special since this will be my first year celebrating mother's day with my mom together after 5 years of living away from home. Happy Mother's Day in advance!




Recipe adapted from Entertaining by Donna Hay

Ingredients:

1 3/4 cups all-purpose flour, sifted
1 1/2 tsps baking powder
3/4 cup white sugar
1 cup sour cream
1 egg, room temperature
60g butter, softened at room temperature
1 bar Cadbury French Vanilla chocolate, chopped (about 1 cup) - or another chocolate of your choice
3/4 cup dried cranberries (or use raisins/ blueberries)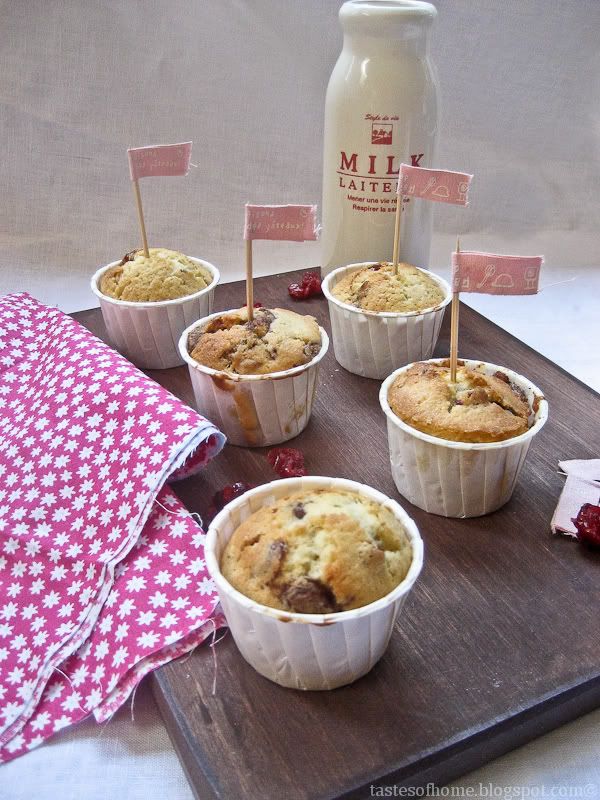 Method:

Firstly, preheat the oven to 180 degrees C.

Mix the flour, baking powder and sugar in a large bowl. In a separate bowl, mix the sour cream, egg, butter and chopped chocolate together. Mix to incorporate.

Add the sour cream mixture into the flour bowl and mix enough just to incorporate the ingredients. Sprinkle in the cranberries. Mix to incorporate cranberries in batter. Spoon batter into muffin cups about 3/4 full.

Place in oven on middle rack and bake for about 20-25 minutes. Check with a toothpick or cake tester after 20 minutes, if the pick comes out clean, the muffins are ready. Remove and allow to cool.