It was not very long ago that I 'discovered' the classic French breakfast of baked eggs or otherwise known as oeufs en cocotte - ever since then, I've been totally hooked. This is easy, quick and delicious - what more can I ask for? This really suits me to a tee as I am not a big cereal person, and I am also getting a little tired of the typical heavy Asian breakfasts (think noodles, rice etc) and since I love eggs in almost all its' forms, baked eggs are my current breakfast favourite since there is no need to break out the frying pan (hence getting the kitchen messy) - as you can see, the pitches I can make for this classic dish can go on and on, so I shall spare you and stop right here! There are a variety of methods to create this rustic French classic, the method I've used today is extremely simple, butter up your ramekins or any oven-safe dish you prefer, heat in the oven until the butter melts, add some cream, the eggs (of course!), and other ingredients of your choice, finally sprinkle with some herbs and cheese before placing in the oven. Sounds so simple right?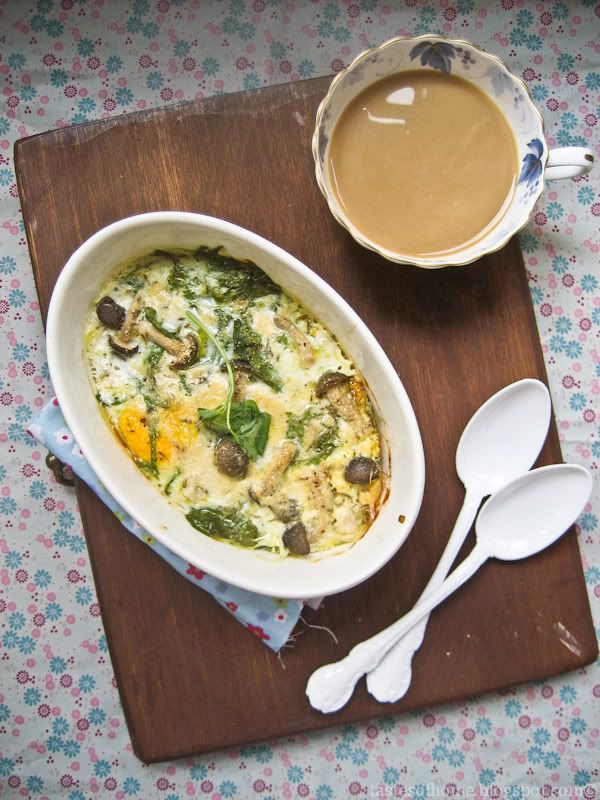 Today's feature is a vegetarian version where I added spinach and shimeji mushrooms as my accompanying ingredients. You can make this dish more substantial by adding bacon or sausages like what I did here. Apart from regular eggs, you can use quail eggs for this dish as well. I also love that this dish is wide open to one's creativity and you can literally create so many personalised versions of this breakfast classic entirely tailored to your own taste buds.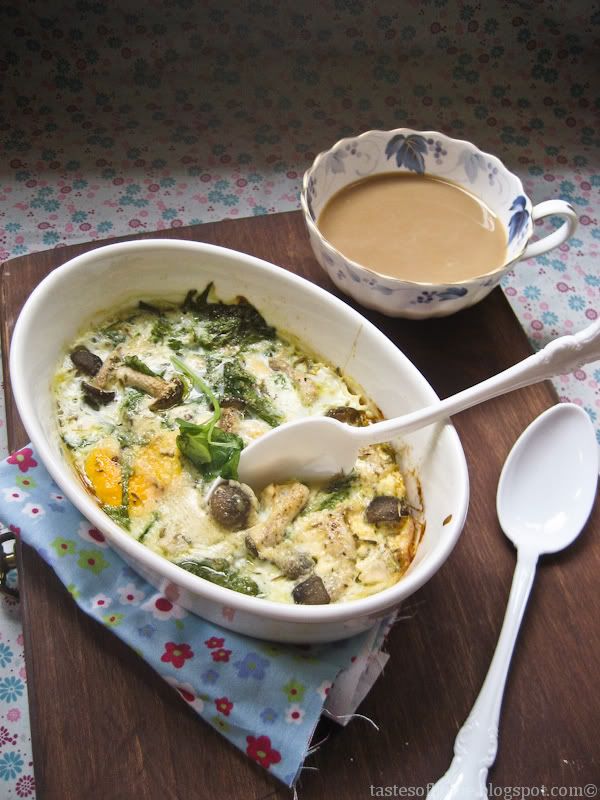 So, if you have not given this a try yet, do give it a go soon, I promise you will have a great breakfast idea to use on lazy mornings.


Serving suggestion: with toast or any crusty bread


Ingredients:

2 eggs
2 tbsps unsalted butter
2 tbsps heavy cream
1 small bunch of baby spinach or spinach, rinsed well
5-6 shimeji mushrooms, trimmed
2 tbsps freshly grated parmesan cheese (or substitute with other cheeses)
Salt and black pepper for seasoning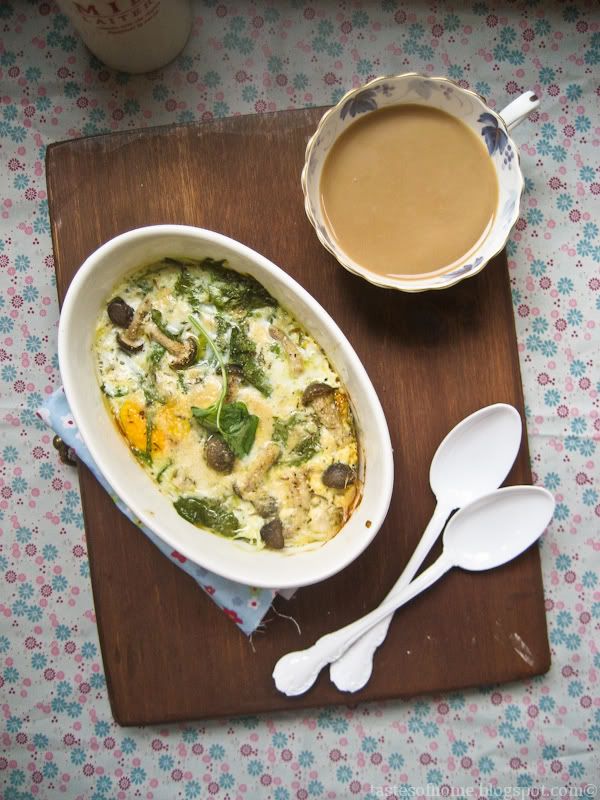 Method:

Firstly, pre-heat your oven to about 150 degrees C. Start prepping the ingredients. It is better to break the eggs into a separate bowl before adding just in case you have any bad eggs on your hands!

Once the oven is hot, place the ramekin with the butter into the oven. After about 5 minutes, the butter should have melted and be bubbling in the oven. Remove ramekin from the oven and add the cream, spinach, mushrooms and finally the eggs. I don't add the eggs first as I don't want the heat from the ramekin to start cooking the eggs too quickly.

Sprinkle some herbs of your choice if you desire on the mixture, and then the cheese. Season with salt and black pepper (about 1/2 tsp each). You can always add more seasoning at the table.

Bake the eggs for about 10-15 minutes depending on how runny you want to yolks to be. Serve hot.