Making bread at home is extremely therapeutic and not to mention, rewarding to me. There is just something about well risen dough and the bread-shaping process that pleases me immensely, the delicious smell wafting out of the oven does not hurt either of course. I have always been a big fan of the soft and buttery brioche and have actually been wanting to make this for a while. They say inspiration is found everywhere and well, I agree - little did I expect that the catalyst for this post would come from leafing through Gwyneth Paltrow's new cook book while waiting for my friend at a local bookstore last weekend. One of the recipes in her book that caught my eye was a challah bread French toast, once I saw that I was immediately reminded of my talented blogger friend, Xiaolu's (of 6 Bittersweets) chocolate challah braid and French Toast post some time back. I guess the two factors were enough to inspire me to make my own version of homemade brioche French toast today. I am not attempting to do a review of Paltrow's book but the photography is definitely pretty -you may like it though I am still undecided if I will purchase it.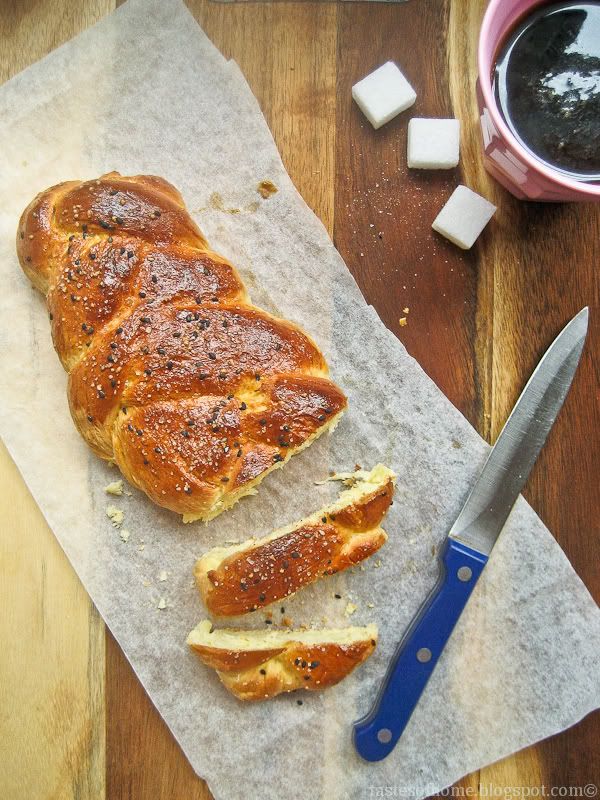 The brioche recipe I used today is extremely simple and does not require waiting overnight although proofing (is of course) required where the total proofing time is about 3 hours. With making bread, you must adjust the proofing times and the baking times/ temperature according to your weather and your oven. Although general guidelines are given, it is also up to one to be able to improvise accordingly. I actually oscillated back and forth when the time came for bread-shaping from either making the little brioche buns with the little 'heads' or braiding the bread. As you can see, I opted for braids as I wanted to make French toasts out of the brioche as well. If you like, you can divide the dough into 6 balls instead of 3 balls and make mini braids instead of my medium-sized braids. As I have mentioned earlier in my tangzhong bread posts, my favourite part is the bread-shaping as you can be as creative as you want and plus, it's just really fun to play with dough.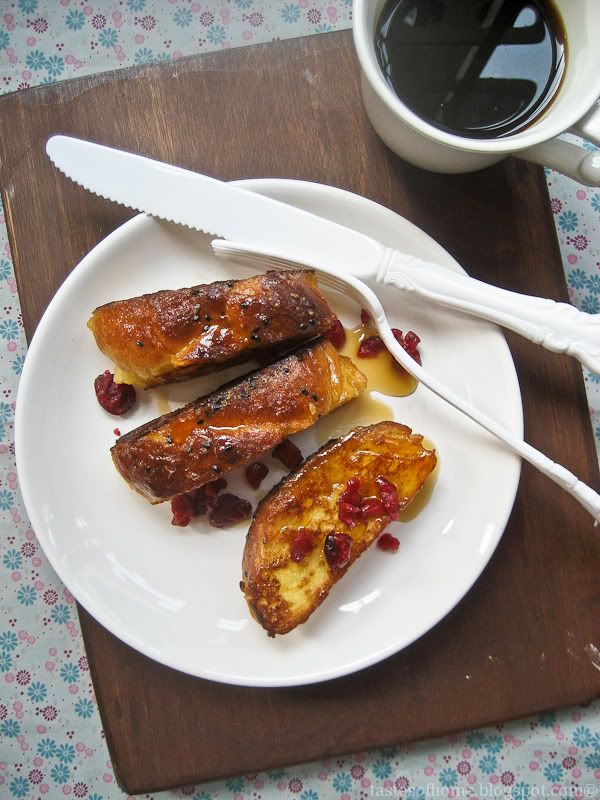 I am also submitting this to the weekly YeastSpotting event created by Susan of Wild Yeast.
Brioche Recipe

Recipe inspired from Gwyneth Paltrow's My Father's Daughter and 6 Bittersweets and adapted from About.com

Ingredients:

1 2/3 cups all-purpose flour
2 eggs plus 1 egg for eggwash
75g softened unsalted butter
3 1/4 tsps dry active yeast
3 tbsps granulated sugar
1/3 cup warm milk
1/4 tsp salt

Optional: (for sprinkling onto bread right before baking)

Handful of toasted black sesame seeds
Handful of sanding sugar

Method:

Firstly, mix the dry ingredients in a large bowl together i.e. the flour, sugar, yeast and salt. Make a well int the middle. Gradually add the butter, warm milk and 2 eggs into the well and mix well with a wooden spoon to just incorporate the ingredients.




Start kneading with your hands until dough is smooth and pulls away easily from the bowl, this took me about 15 minutes. Cover and allow to rise for about 2 hours or until doubled in size. Note that dough rises the best in a slightly warm temperature. If the weather where you are is rather cold, you can try turning on the oven to the lowest temperature then place the bowl of dough for proofing on the oven door (after you open it).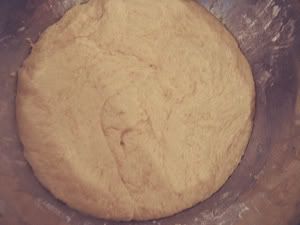 After the dough doubles, transfer to a floured surface and punch it down a few times. Divide the dough into 3 more or less equal balls (form into balls with your hands). Take one ball and divide it further into 3 sections and roll each section into a 'rope'. Try to shape the 3 ropes into more or less the same thickness.




You can now start braiding the bread. Start by placing the ends of each rope on top of one another and start braiding by lifting one rope over the other. Tuck both ends of the braid underneath and lightly press.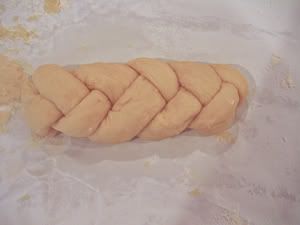 Cover and proof the braids for another 1 hour or until doubled in size. Pre-heat your oven to 190 degrees C. Prepare to bake the braids on the middle rack.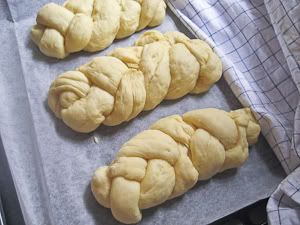 Prepare the eggwash by whisking the egg well in a bowl. Brush the eggwash on top of the braids and sprinkle some toasted black sesame seeds and sanding sugar on top of the braids (if using).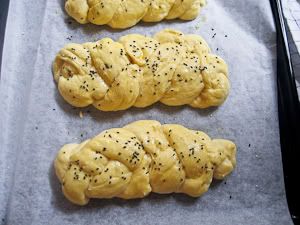 Bake the braids at 190 degrees C for about 8 minutes. Once you see the tops of the braids browning well, (this should take around 8 minutes), continue baking at about 150 degrees C for another 20 minutes. Cool on wire rack and serve warm.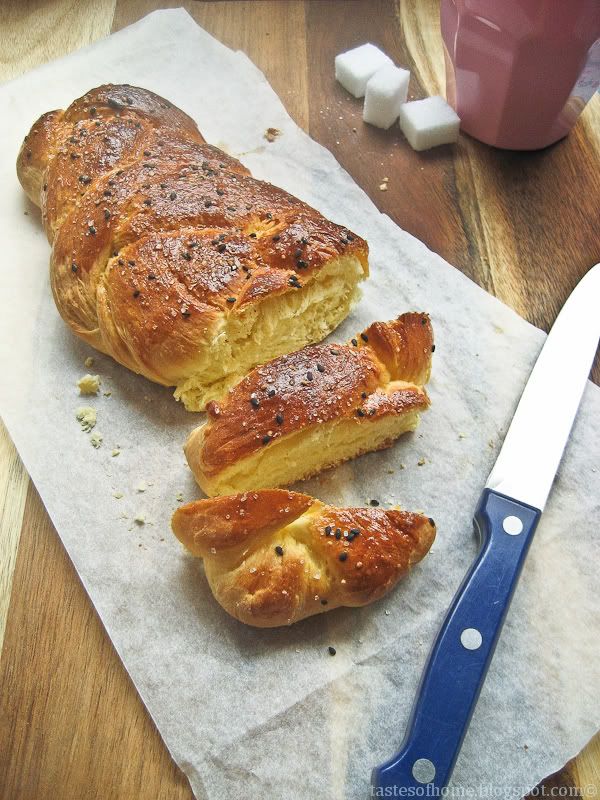 French Toast Recipe

Ingredients:

1 Brioche braid (from above)
1 large egg
1/3 cup milk
2 tsps unsalted butter
Cranberries, to serve (or substitute with bananas/ blueberries etc)
Maple syrup (slightly warmed) to serve

Method:

Whisk the egg, milk and butter together. Soak the slices of brioche in the egg mixture for about 1 minute. Heat a pan and add about 1 tsp of butter, swirl to coat, turn heat to low.

Pan-fry the soaked slices on each side until golden brown. Serve hot with some warm maple syrup and cranberries.