Growing up in Malaysia, there is a kind of lemon sandwich biscuits that I have loved since childhood. These sandwich biscuits are nothing fancy and will most definitely not be found in any patisserie, but whenever I taste (more like see as the taste seems to have deteriorated) them, they transport me back to my carefree childhood days and it is probably for this feeling alone that I still buy them when I see them. Another one of my favourite childhood sweets are Danish butter cookies, the ones sold in the round blue tins that I think most Malaysians grew up with, it was always fun for me to pick and eat each shape in the tin and I think the one shaped like the figure 8 was my favourite shape. So, what do my favourite childhood sweets have to do with today's feature? I bet you have already guessed it - today's feature is simply a result of me combining these two 'child food' memories of mine into one neat little post.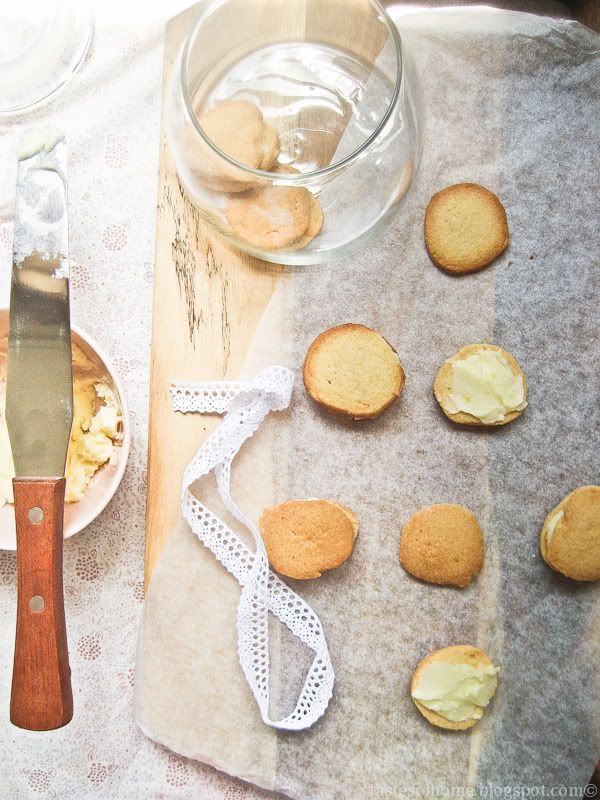 Although sables are obviously French and not Danish, they share the same delicious buttery taste and although the textures differ a little I am equally fond of both. These cookies are incredibly easy to make with minimal mess- these are slice and bake cookies where you don't even have to break out your cookie cutters, so none of those rolling and 'oh no batter too soft', place in fridge, roll again issues that are just ugh-inducing for lack of a better term. The batter is rolled up into logs, refrigerated to firm and then sliced into rounds for baking. Then all that's left to do is to assemble the cookies to sandwich the lemon cream. Easy and just a tad more sophiscated than plain (but just as good) sables. Oh by the way, you will need to make the lemon cream too though which I promise is also a breeze to make. The lemon filling I made has a very subtle lemon scent and that is how I like it but please do tailor it according to your preferences.




On friendship, I just saw three of my friends earlier whom I have not seen in ages - the longest one being a decade ago and yet when we met, it was just the same as always, not a tinge of awkwardness and just hanging out like there was no decade-long break in between. I guess that it's true what they say of true friends, we don't have to always see each other physically to be friends and real friendships don't disappear with distance. It was such fun to reminisce with friends I have not seen since we last studied together in London, oh how naive we were during those days (not that I am very sagely now) but you know what I mean, to see my old coworker from my first job ever and to be reminded of both the good and seemingly bad memories that seemed to have happened ages ago etc etc. With all that in mind, I would like to dedicate this post to my dear and true friends - you know who you are and that includes you my dear readers and twitter/ blogger friends. You know, it has definitely happened more than once when on a day I am feeling inexplicably meh, your kind or totally hilarious comment or tweet totally brightens up my day so thank you very much and hope you'll all like these lemon sandwich sables. :-)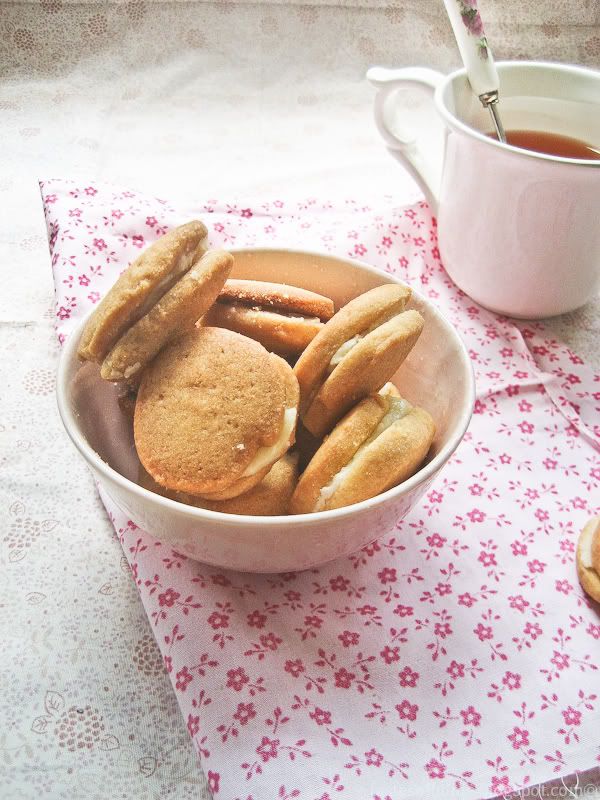 Makes about 2 dozen sandwiches

French Butter Cookies Recipe (adapted from Martha Stewart)

Ingredients:

2 1/2 cups all purpose flour, sifted
1 cup of butter/ 2 sticks/ 225g, softened
2/3 cup packed light brown sugar
1/8 tsp salt
1 large egg, room temperature
1 tsp vanilla essence

Method:

Use a wooden spoon to beat up the butter until slightly fluffy. Add the sugar in 3 increments and mix well after each addition. Add in the egg, mix to just incorporate and add in the vanilla and mix again just to incorporate.

Add the sifted flour in 3 increments as well and mix well. Divide batter roughly into 3 portions. Spoon each portion onto some baking paper and roll into a log. Repeat with remaining batter. Place in fridge to harden for at least 1 hour or more.

Pre-heat you oven to about 180 C. I prefer to bake my cookies in 2 batches although they can all fit in 2 trays but I prefer to bake these on the middle rack. So plan accordingly.

Get the logs from the fridge and start slicing into around 1/2 inch discs. Place on baking tray, flat side down and bake for about 15-20 minutes. Note: If you find the cookies a little too soft, place them in the fridge again to harden before baking, if not it might spread too much in the oven. Please watch your cookies closely after the 15 minute mark as each oven behaves differently.

Lemon Buttercream Recipe:

Zest of 1 lemon (about 1 1/2 tbsps)
1 tbsp fresh lemon juice
2 cups packed icing/ powdered sugar
1 stick of butter (about 115g), softened
1/8 tsp salt

Method:

Firstly, beat the butter up well. Add in the zest and lemon juice. Mix well. You can do a taste test now and if you want a heavier lemon scent, add in more zest. Add the sugar in 3 increments, mixing well each time. Finally add the salt and mix well to combine.

Place in fridge. This can be made in advance and kept in the fridge before assembling the sandwich cookies. Once you are ready to assemble the cookies, take this out from the fridge and allow to rest for a few minutes before using for easier spreading.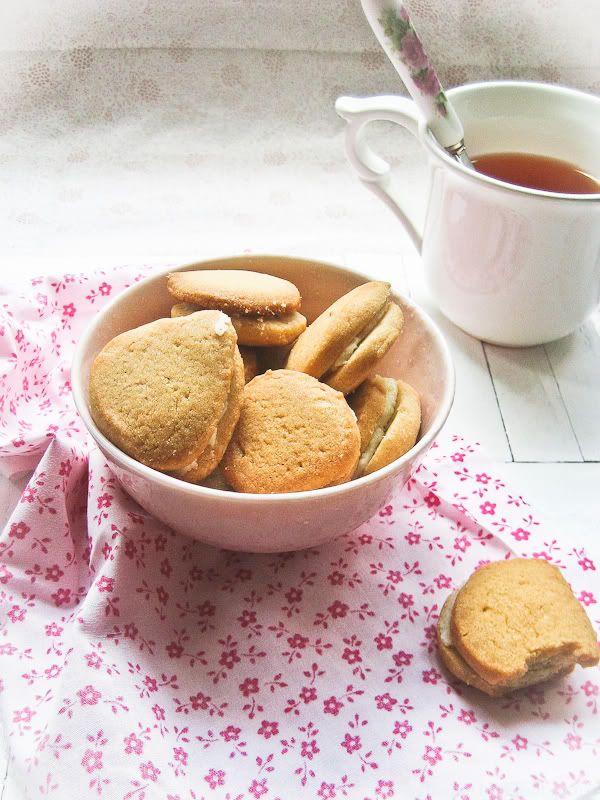 Notes from Jen:

1. All-purpose flour is the same as plain flour.
2. Don't substitute with self-raising flour since this recipe does not contain baking soda/ powder at all.
3. If you prefer plain sables, just leave out the buttercream but add 3 more tbsps of light brown sugar to the recipe above, I purposely lessened the sugar amount as the lemon buttercream would make it a tad too sweet.
4. Do use good quality butter as these cookies derive a lot of their flavour from the butter (French Butter Cookies right?) :O
5. Do ask me if you have any further questions, I will do my best to help.