I was pleasantly surprised the other day when I saw some passionfruit for pretty cheap here (Malaysia) so of course I bought some and have been mulling for a few days on what to do with it. All of a sudden, my aunt calls and says she has a ton of passionfruit in her garden and if I wanted any :O. Anyway, I decided on easy mini pound cakes after going between passionfruit curd, passionfruit cheesecake, passionfruit tarts and on and on. My mom has also been asking me to make my go-to butter cake for a few days so I thought it would be a good idea to just incorporate some passionfruit into the recipe.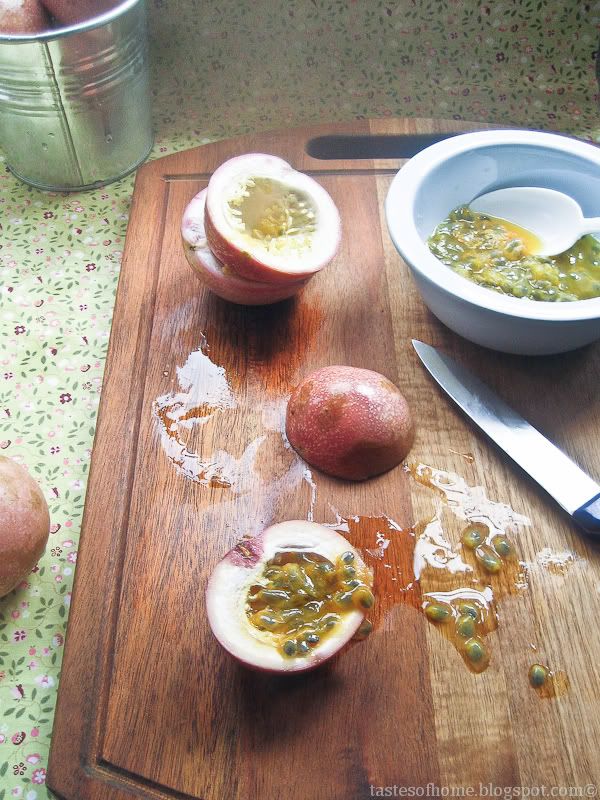 The texture of this butter cake is a little coarse (the way we like it) and is not ultra-fine, so if you prefer fine cakes, you might want to take a look at these vanilla cupcakes I made earlier. I loved the results of incorporating the passionfruit - the tartness of the fruit blended in well with the buttery cake. I added in a bit more sugar than usual into the cake batter to balance out the tart passionfruit.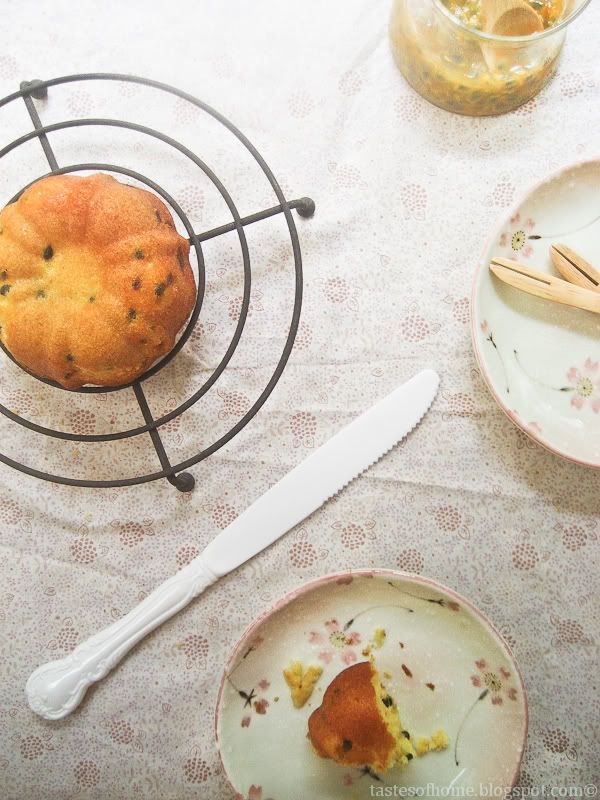 In other news, I am impatiently counting down to early July when my little brother studying in the UK returns for the summer holidays. I will be baking and cooking up a storm I suppose as he has already browsed through my blog and emailed me a list of dishes he wants to try when he's back. I as the eldest sister will of course happily oblige.

Note: I had a lot of passionfruit left so I made passionfruit soda by simply combining the juice (I sieved out the seeds) with some ice cream soda which tasted simply delicious and refreshing.




Recipe adapted from Food-4-Tots

227g softened butter (you can soften in the microwave at 5 second bursts)
3/4 cup sugar + 3 tbsps
4 eggs at room temperature
1 1/2 cups flour, measured by levelling off, do not thump
2 tsps baking powder
1 tsp vanilla essence
3 tbsps milk
1/2 tsp salt
1/4 cup of pulp and juice from 2 fresh passionfruits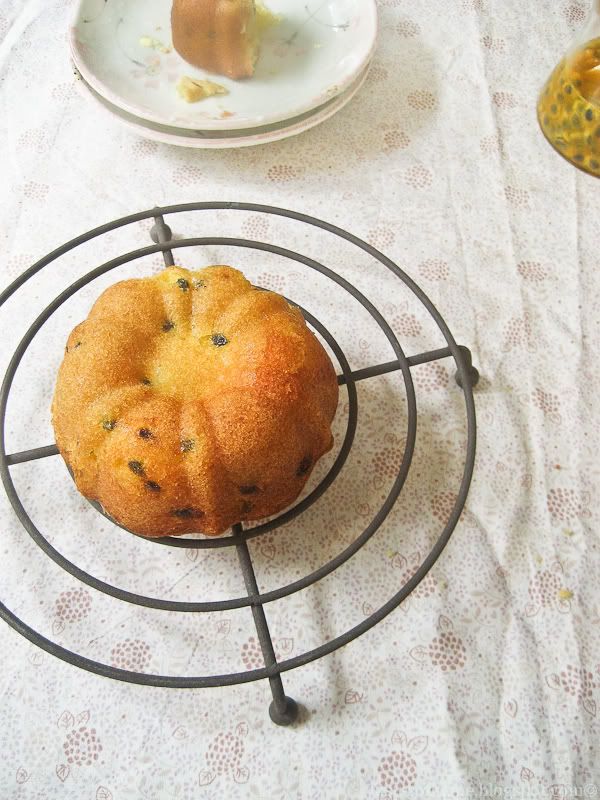 Method:

1. Pre-heat the oven to 180 C (approx 350 F). Line your cake pans with baking paper. Mix the flour and baking powder together. Sift into a medium sized bowl. Set aside.

2. Beat the butter well in a large bowl. Add the sugar in gradually while mixing to avoid 'drowning' the butter. Beat till fluffy.

3. Add in the eggs one by one, advisable to break the eggs separately into a bowl first before mixing in just in case you've got some bad eggs on your hands. As you add in each egg, mix briefly to incorporate well before adding the next. Occasionally scrape the sides of the bowl with a spatula to ensure even mixing.

4. Once that's done, add in the vanilla essence. Now, add in the flour in 3 portions while mixing well.

5. Add the milk, tablespoon by tablespoon. A rule of thumb that I use is I stop when the batter if tipped from the mixing spoon drops after the count of 3. Weird, but it works at least for me. For the humid weather in Malaysia, 3 tbsps of milk is enough.

6. Add in the passionfruit pulp and juice from the fruits. Mix well. Spoon batter into ramekins or individual cake pans to bake. If you don't have mini cake pans, just use the regular ones. Only spoon to about 2/3 of the pan as this cake rises quite a bit. (Recall the 2 tsps baking powder).

7. Bake in your pre-heated oven for about 30-40 minutes. The time it takes in the oven will also depend on which size cake pans you used so please adjust accordingly. You can test for doneness with a toothpick or a cake skewer by inserting it into the middle of the cake. If it comes out clean, it's done.

8. Allow to cool for about 5 minutes at least before inverting the cake. You can serve the cakes warm or allow to cool to room temperature before storing in an air-tight container. This cake is best consumed within 1-2 days of baking.