The star ingredient of today's feature is one of my absolute favourites, egg tofu or 玉子豆腐. Egg tofu is a more flavourful version of tofu due to the addition of egg (of course!) and makes for a more delicious dish as plain tofu is rather bland to me most of the time, although this is just my personal preference. In today's feature, egg tofu slices are lightly dusted with corn flour then pan-fried until golden and slightly crispy and served on top of lightly sauteed broccoli. Finally, a savoury and umami-filled concoction of the shimeji mushrooms, ginger and garlic is spooned on top of the tofu as the finishing touch. For a touch of luxury, I used Yuen Chun's abalone sauce to cook the shimeji mushrooms. In a lot of Chinese cooking, the quality of the sauces used are of utmost importance and the Yuen Chun brand of cooking sauces has not disappointed us since the days of my beloved late maternal grandmother. The flavours in this dish are savoury, slightly sweet from the abalone sauce while the pan-fried egg tofu offers a crispy exterior with a luscious creamy interior while the shimeji mushrooms and broccoli provide refreshing crunchiness.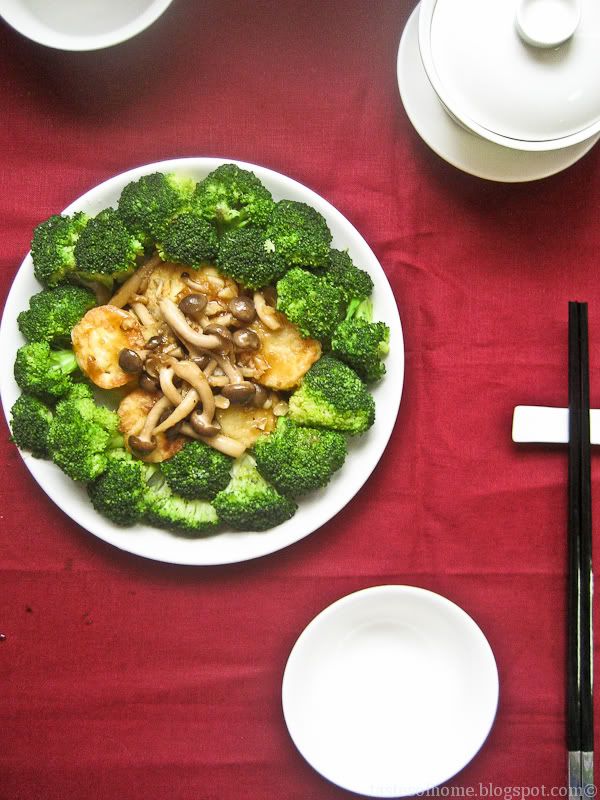 On a side note, food served atop a bed of broccoli or other kinds of vegetables seem to be a favourite Chinese way of food styling but there is also a practical reason (I think) why it is traditionally done in such a way. Usually the food with the sauce will be served on top of lightly cooked vegetables as the sauce from the 'star ingredient' will inadvertently drip a little onto the vegetables and guess who always goes for the 'decorative' vegetables at the table? Yes, yours truly does. Sometimes, it is my way of refreshing my palate especially if I find the sauces too heavy or too msg-filled.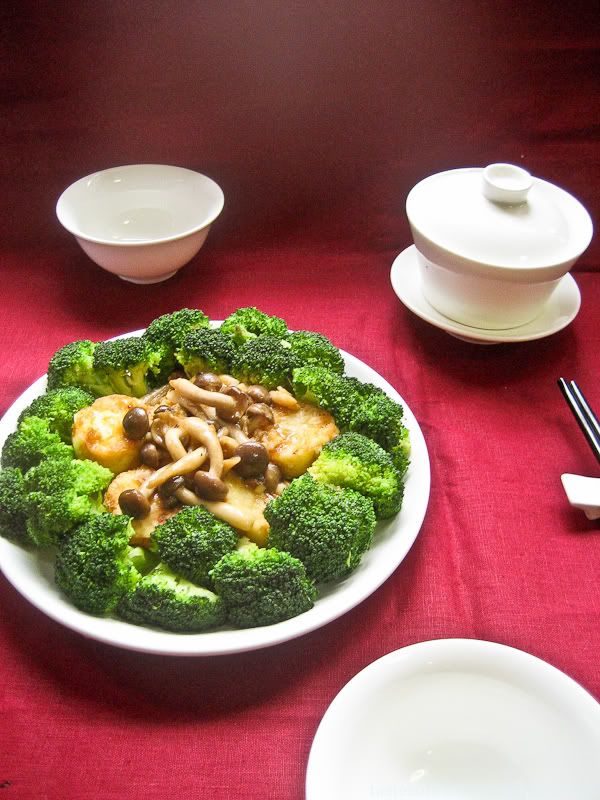 This dish was a hit with my guests and was not too difficult to whip up either, although pan-frying the tofu does require a bit of patience, if you want, simply deep-fry the tofu which will be quicker. I do hope you will give this a try and let me know what you think if you do.

This feature is a part of my Yuen Chun Recipes, an ongoing project on this blog.



Serving suggestion: Best served with steamed rice

Serves 4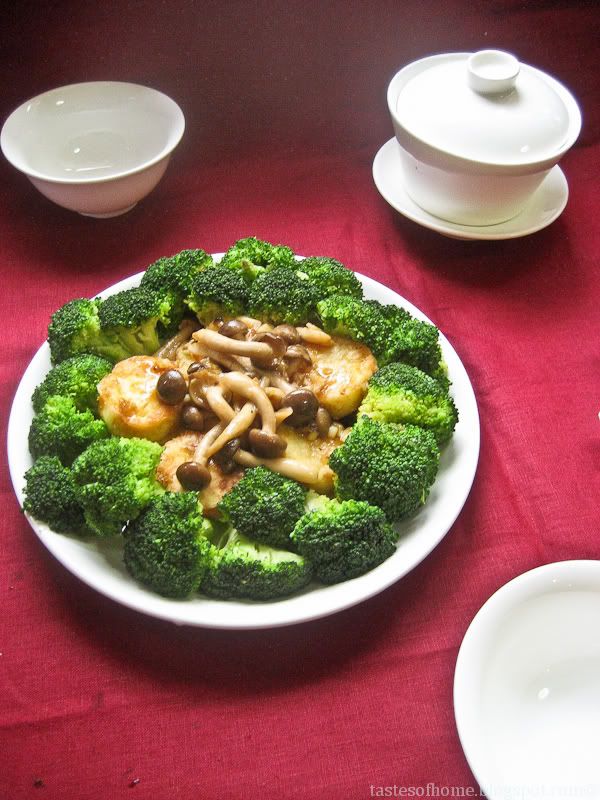 Ingredients:

3 tubes of egg tofu, sliced + enough corn flour for dusting
1 box of shimeji mushrooms, ends chopped off
2 bunches of broccoli, cut into florets
3 cloves garlic, minced
1 tbsp grated ginger (freshly grated)

Seasoning:

1 tbsp Yuen Chun abalone & chicken sauce
1 tbsp light soy sauce
Dash of Shaoxing Rice Wine
1 tsp salt
1/4 tsp sugar





Method:

Firstly, heat up a wok until hot. Turn heat to medium and add about 6 tbsps of water and add in the broccoli florets with a pinch of salt. Stir around until water is almost evaporated and cover on low heat. Remove cover after about 1 minute and the broccoli should have cooked slightly while still retaining its' crisp and turns into a deep gorgeous green.

Remove and arrange on the sides of a serving dish. Briefly clean the wok.

Now, dust the egg tofu slices with corn flour. With the same wok, heat until hot again. Add in about 2 tbsps of cooking oil and turn heat to medium low. Gently add in the tofu slices and pan-fry for about 1 minute or slightly less on each side or until golden brown on both sides. Remove from wok and gently place on the same platter as the broccoli, stacking them in the middle of the serving plate.

Clean the wok again. Heat wok until hot. Add in about 1 tbsp of cooking oil. Turn heat to low and add in the garlic and ginger. Once aromatic, (be careful not to burn the garlic), add in the seasoning sauces. Give it a quick stir and add in the shimeji mushrooms. Turn heat up again and cook until mushrooms are soft. Do a taste test and add more soy or salt if desired. Pour the shimeji mushrooms with the sauce on top of the pan-fried tofu slices in the serving plate.

Serve hot.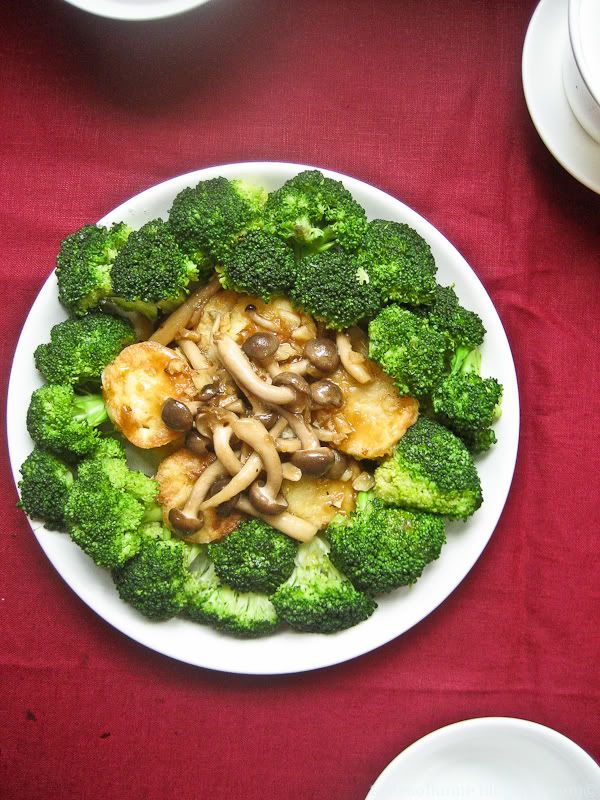 Notes from Jen:

1. To get the egg tofu out of their vacuum sealed packs, it's easier to slice the tube, plastic and all in the middle of the tube and then gently squeeze the tofu out.
2. For the seasoning, it's easier to mix the sauces up in a separate bowl before adding, I usually add as I cook but that's because I'm used to cooking with a wok, so it's up to you.
3. You can substitute the abalone sauce with oyster sauce if you can't find the former.